Countries: United States of America (Alaska)
Miles Driven:Â  163 Miles
Song of the Week: "Hard Sun" –Eddie Vedder
Book of the Week:  "The Last American Man" – Elizabeth Gilbert
The Last American Man
Quote of the Week: "It sounds like you guys are on a pretty awesome adventure yourselves."-Mount McKinley climber, who we were able to talk to, as his group was about to ascend the mountain.  He had just got back from successfully climbing Mount Everest.  It was an incredible experience to be able to chat with them before their epic climb.
Sometimes I have to take a step back, look around, and maybe even pinch myself to realize that this is real.  We are beyond fortunate, and this last week has been like no other.  When one is able to mix incredible people with amazing adventure its result is almost surreal.  Alaska and its people are one of those places, hands down.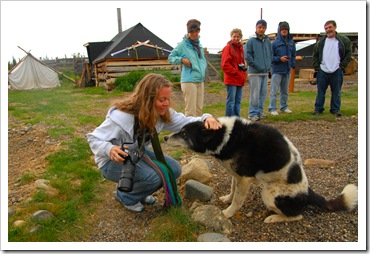 From Nenana we headed south to Healy, Alaska and had the opportunity to stay at Barbara's Touch of the Wilderness B & B Inn, right on the Stampede Road.  The rooms were comfortable and cozy, and right out in the parking lot was a salt lick that got the attention of three moose.  In the next couple days we met and got to know Jon and Karin Nierenberg, owners of Earth Song Lodge, and got a great tour from Jon of his sled dogs.  Their story is as inspiring as it gets as they went from living in a homestead to building the lodge, cabins and coffeehouse.  Their hospitality, stories and graciousness, as well as being able to play with the dogs, made our experience with them very memorable.
Next door to John and Karin lives experienced hunter/trapper/guide, Coke Wallace, who also was an incredible human to get to meet, and who owns and runs Midnight Sun Safaris.  His hunting and trapping stories are one for the ages, and it was great to sit in an old shack on his property to have a thought.  He also offered to take us out to the "Into The Wild" bus, which is 26 miles from his doorstep.  Craig, Coke and I made it out on his Polaris Ranger 6X6, 18 miles out toward the bus, but had to turn back due to the raging Teklanika River, the same river Christopher McCandless couldn't cross forcing him return to the bus ("Into The Wild" blog will be up soon).  It was beyond disappointing to be so close, and not be able to get there, but one can't always battle with the power of Mother Nature.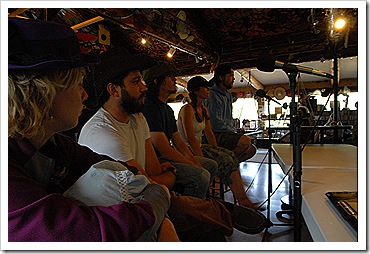 Craig and I then met up with Steve, Celeste, Meagan and Kristen in the stellar little town of Talkeetna, Alaska.  The girls got the privilege of staying with Alice at Talkeetna Bed and Breakfast, while the guys headed to the Denali View Lodge, hosted by Renae and Tom Redman.  After a wonderful breakfast with Alice, we headed over to Whole Wheat Radio, to meet Jim Kloss and Esther Golton, for an interview on-air with Jim, and delicious pasta dinner prepared by local musician, Pam Emerson.  They are one of a kind, and their kind spirits are more than admirable.  They play independent, mostly acoustic artists, open their home to the community, and strive to help people in any way they can.  They are truly special humans, and we learned so much from them in the time we were able to spend with them.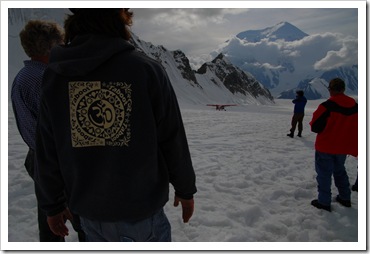 Between our interview and dinner with the great folks at Whole Wheat Radio, we got a call from Talkeetna Air Taxi, saying that they had spots on their planes and to get over as soon as possible.  We split up in threes, and headed up.  Steve, Meagan and I went out first and were fortunate enough to make it ahead of the weather that forced the plane with Craig, Celeste and Kristen back to the base.  Our pilot navigated the mountainous region skillfully, and with Mother Nature cooperating we were able to not only see the summit of Mount McKinley, but were able to land on a glacier at the Mount McKinley base camp.  The experience was truly magical, and felt as though we were in the middle of a movie.  To top it off we were able to talk with some climbers about to begin their own adventure as they started their climb to the summit.  "We are some of the luckiest people on the world," beamed Shoppman as he took in the view.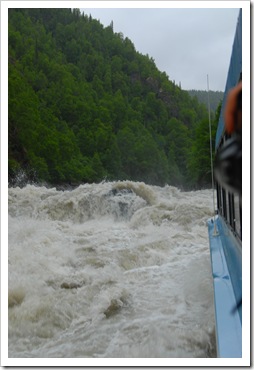 The following day we were able to film, along with a Travel Channel crew, the adventure we had with Mahay's Riverboat Service as we made our way up the Susitna River.  The riverboat trip, which was 150 miles roundtrip, was done with the most technologically advanced river jetboat in Alaska that is designed to safely navigate rivers that were previously inaccessible.  The boat went as far up as it could in the canyon 75 miles upstream, showing the boat's ability to do battle with class 4 and 5 rapids.  On our way back we stopped at an old Dena'ina Indian Encampment and an authentic trapper's cabin with its original furnishings to view how the Dena'ina Indians and trappers lived in "Bush" Alaska at the turn of the century.  It was an incredible experience.
We ended the night by happening upon a community kick-ball game that seemed to involved the entire town.  Our crew teamed up with some stellar locals and took control of the night.  Games were three innings long, winners stayed and losers had to get back in line.  We stayed, went out Seinfeld style, and walked back to Trapper John's Cabin to rest our heads.
Yesterday was a our first day of rest in some time, but turned into a work day to get caught up on blogs, photos and video.  Steve went out and interviewed Jim from Whole Wheat Radio, and said, "The interview with Jim was one of my favorite interviews of the entire expedition."
Our time spent in Talkeetna has been more than well, and being able to meet so many great people is really amazing.  Being able to get out there and see the world is something special, but to be able to interact and listen to the stories of the people is next level.  We are very fortunate.  Fortunate indeed.
Photo Exhibition from the week: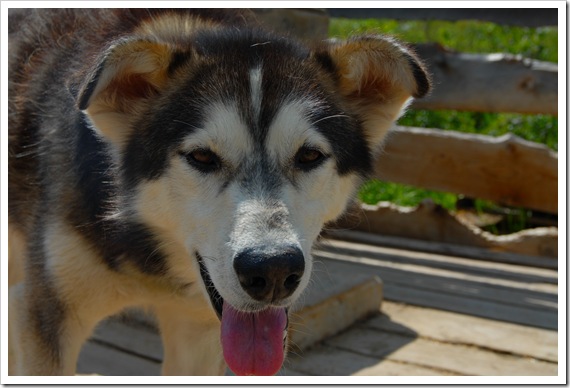 Strider, a sled dog at Earth Song, having a thought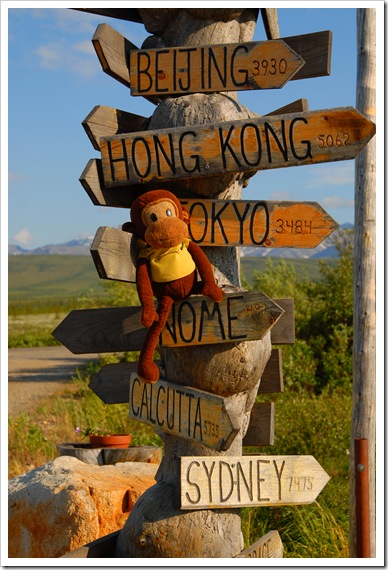 Swinger on a creative sign at Earth Song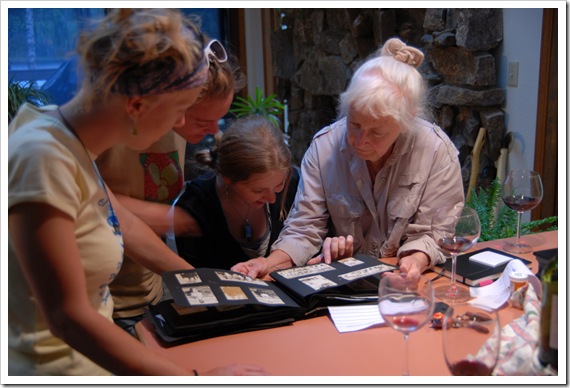 The girls having a moment with Alice at Talkeetna Bed and Breakfast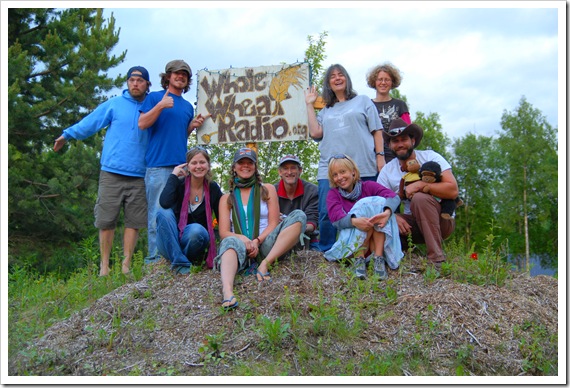 Whole Wheat Crew joins the TWBR crew for a picture by their sign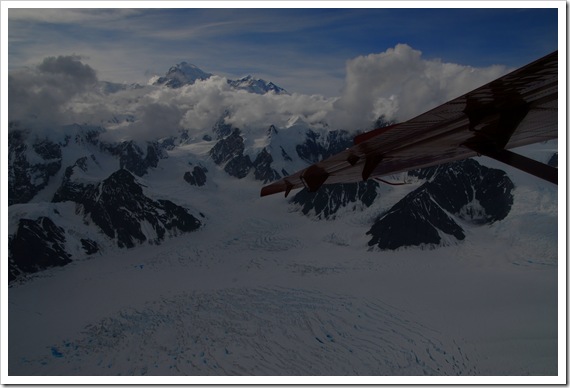 View from the plane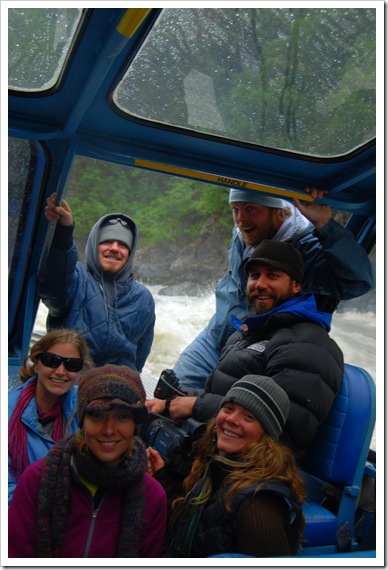 The crew on the river jetboat, in the rapids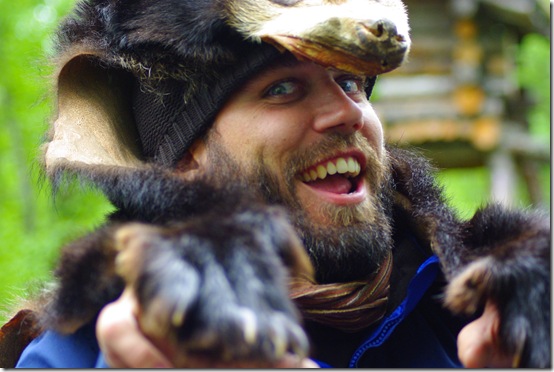 The bear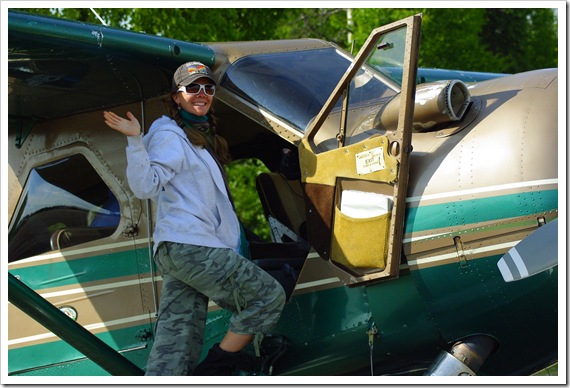 Co-pilot Celeste, ready to take flight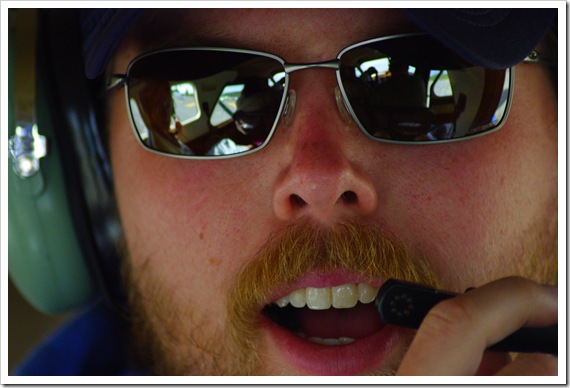 Golden stache communicating with the pilot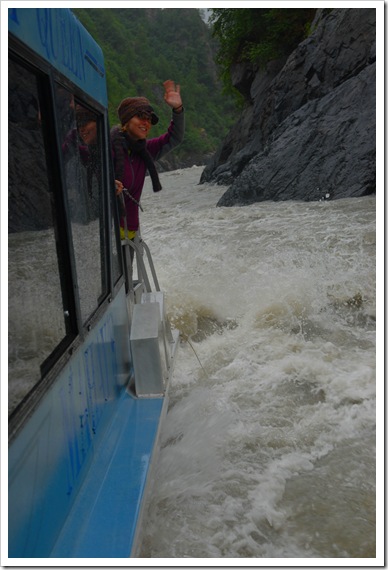 Cool and calm Kristen gives the rapids a wave "hello"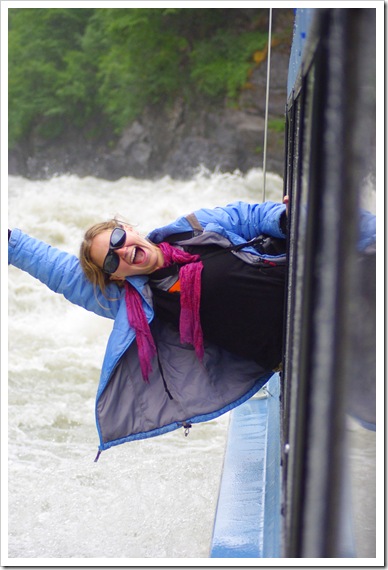 Not so mild-mannered Meagan attempts to jump ship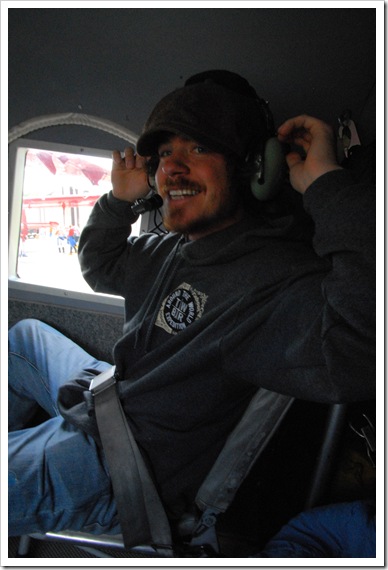 Ready for takeoff