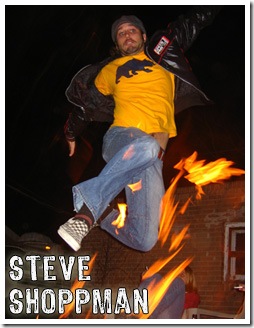 I grew up road tripping in the US with my father and traveling to various other spots in the Caribbean and Mexico. I have spent a good portion of the last 10 years traveling around the globe as much as possible. From Africa to New Zealand to South America I have tried to travel as many places as possible, but I just want more.
The opportunity to navigate a few different parts of the world by car spawned the idea for a trip through central Asia about a year ago. I realized that the one person who had the same interest and was crazy enough to join me was my roommate Steve Bouey. He did not hesitate to get on board and between the two of us we have managed to bring the original idea to what it is today.
Before leaving my livelihood was as a freelance multimedia designer and consultant, which gave me a flexible schedule to be able to pursue other adventures like canyoneering and skiing. Many of my clients were outdoor gear companies and retailers, so my relationship to the outdoor and adventure sports industry has been a big part of my career. I received my Canyon Guide Certifications from the American Canyoneering Association, my Wilderness First Responder Certificate from Wilderness Medicine Associates, and have been involved in many other outdoor organizations over the years.When not behind my laptop my time is usually spent kayaking, wakeboarding, or getting involved in whatever activity my mom tells me I shouldn't do.
Adventure and the diversity of world culture has always fascinated me. My excitement for this journey is huge and I truly enjoy the opportunity to share my experiences and inspire the spirit of adventure in others.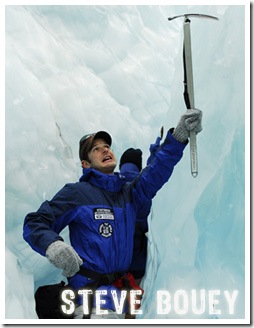 Although born and raised in Oakland California, I consider Colorado my home. I am a graduate of the University of Colorado Boulder with a degree in Political Science and a graduate degree in Public Administration. I have since worked in the public sector and have gained hands-on experience in how governments and people interact and have been fortunate enough to make recommendations on a state-wide basis on how to improve those relationships.
I was drawn to Colorado by its natural beauty and the wealth of outdoor activities available right outside the front door. I have always been fascinated by the outdoors and what our world has to offer. As an Eagle Scout, I have spent hundreds of days and nights hiking, camping and enjoying our natural surroundings. These activities continue to be a driving factor in my life including skiing, for which I am also a volunteer instructor at the National Sports Center for the Disabled in Winter Park, Colorado. A desire to push myself physically and mentally has also led me to be a competitive triathlete and subsequently, a 5-time Ironman finisher, having competed both nationally and internationally.
Through my travels over the years, and most recently spending an extended period of time in New Zealand and Australia, I have been exposed to different cultures, political systems and environments. However, I have found these experiences to be a double-edged sword: I feel enriched by these experiences but at the same time, I always find myself left with increased curiosity about what else lies beyond the horizon. Through this journey, I hope to not only satisfy my own curiosity about what the world holds, but to also enrich and motivate others by sharing these experiences.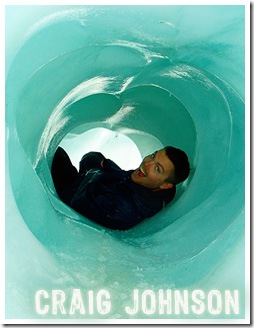 I've always known I was a little different, constantly questioning things and reaching outside my comfort zone. I'm from the outskirts of Chicago. My family eats meat and potatoes, I love exotic and spicy food. Our family vacations were to Wisconsin, I always dreamed of Australia's outback. I'm encouraged to "settle down and join the Real World," and all I can think about is experiencing as much of this world as possible. This led to over 2.5 years thoroughly exploring and working in Australia and New Zealand, including jaunts to the South Pacific and Indonesia.
The problem that I encounter while traveling is that when I like a place, I want to stay awhile and really get to know it. This is in direct conflict with my desire to wander and see what's next. This internal struggle fits my nature to be unsettled, which eventually pushes me onward.
I want to do things that I can't imagine doing. I want to see new places, meet new people, push myself in every possible way and consequently grow as a person. And I desperately wanted to join a group of strangers who live out of trucks on the other side of the world. What could make more sense than that? To me: absolutely nothing.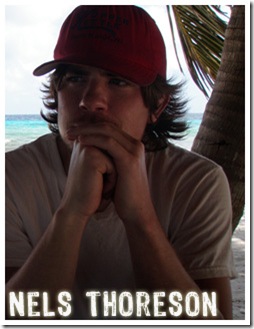 Life is an adventure. On January 15, 2009 I was teaching Pre-Kindergarten in Littleton, Colorado. Six days later I'm sitting on a balcony at a hostel in Panama City, Panama. I wouldn't want it any other way. On a bulletin board in my old classroom, underneath three pictures, read, "Explore," "Shoot For The Stars," and "Have Some Fun." I wouldn't be practicing what I taught if I didn't accept this great offer to become a crew member of The World by Road.
A rural town in northwestern Wisconsin is where I grew up, and a bed behind the couch in my brother's living room in Lakewood, Colorado is where I called home. I haven't been on a lease in at least five years. I prefer it that way, and find myself most at home on the road.
I have a degree in Political Science and Professional Writing and with that have been able to be a snowboard bum in Winter Park, CO, a lumberjack, high school football coach in the northwoods of Wisconsin, and a teacher in Littleton, CO.
The World by Road has now given me an opportunity to explore my passions. Being able to write, learn, teach, explore and help people with the crew will be an opportunity of a lifetime. There may be no better way to truly see the world than seeing it through the windows of a couple of Toyota's on the roads of the world.
Two roads diverged in a wood and I – I took the one less traveled by, and that has made all the difference. –Robert Frost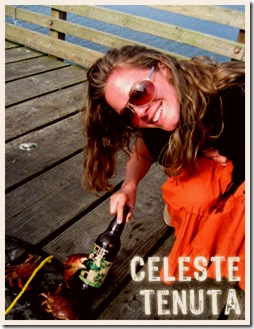 Growing up in the heat of Arizona didn't keep me indoors. I ran the open desert, hiked the grandest of canyons, and jet skied at every given opportunity. Secondary to my adventurous passion is photography. I thrive on capturing the emotion and spirit of a moment, and feel that beauty is all around us, even in the most tattered of places.
June of 2004, I wanted to venture out of AZ. After a week of contemplation, I sold all that I owned, except for my most favorite of outfits (a girl's gotta look good), and headed north to "the sunshine state." Equipped with a few hundred in my pocket, and no real direction, I settled in Denver, Colorado. The path I found seemed to suit me at the time and was exactly what my high school counselors, parents, and society advised. My job that provided stable income, a 401k, insurance, and a cubicle that closed me in.
I realized I was steering further from my beloved photography and befell tunnel vision. In a dire need of a change, I boarded a plane and soul searched my way across Panama in August of 2008. Two weeks after arriving home, I found The World By Road and applied. A few months later I met them in Puerto Vallarta, Mexico. I'm snapping photos left and right, engaging in charismatic encounters, and flying by the seat of my pants. Now excuse me, I must wash two Toyota 4×4's with Shoppman's tooth brush… (shhh! He doesn't know it's his.)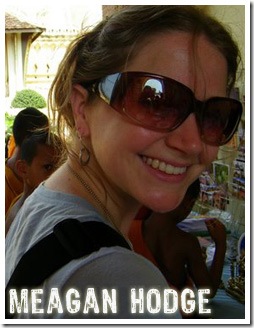 Mandeville, Louisiana is where my roots took form. Denver, Colorado allowed me to stretch out my branches and grow. Now, I am blossoming more than ever as the the road has become my home.
I grew up traveling standby through airports with my mother and sister. We were able to see the world starting very young and I always came home feeling the same underlying theme from every trip: I want to learn more! Wanting to learn, see and experience this crazy world has brought me through multiple countries, cities, villages…while traveling on planes, trains, boats, automobiles, buses and gondolas!!!
When resisting the urge to not be the nomadic soul that I am, I practice Interior Design in Denver. My job allows me to design on a daily basis, use my career as a creative outlet and save enough money to jump on board the next adventure. Photography, another creative outlet of mine, goes hand in hand with traveling.  Viewing life through the lens of a camera has become a deep passion and lifetime enjoyment of mine. The visual memories that I create help me communicate with people around the world and share my experiences with my family every time I return. Seeing the world is a blessing and I cherish every moment that I encounter!!
"I am embracing life.  Not running away from it. Why would I want to stop." Rita Golden Gelman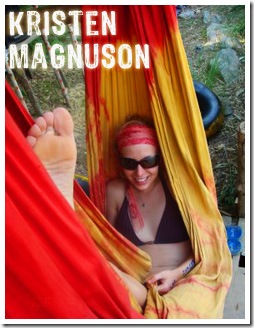 There is nothing more or less special about me than anyone else in this universe.  We are all connected as part of the unfathomable, unified whole.  From the closest personal relationships to the stranger standing beside you in line; from the ladybug on your shoulder to the creatures in the deepest depth of the light-less ocean, we are all one.  My basic outlook on our existence may be the driving force behind my desire to explore, learn, create, wonder, travel—to bond with this world.  Although born in New Orleans, Louisiana, I feel drawn to and intrigued by all people and places.  I love meeting people—questioning, listening, and watching the emotion in their eyes as they paint stories that have made up their lives.  For the rest of my life, I will be constantly and completely amazed with it all.   On more of the daily basis topic, I seem to always take on too much and so want to slap myself at times.  Running is one of my passions (I am always training for some race). I also enjoy swimming, my dog, painting, and being outside.  I currently work for an architecture firm in Denver as an Interior Designer and do design for children's hospitals and most recently have designed a cancer center.
I couldn't be happier to be on the road now, truly living, with a bunch of fools who know how to have fun.  Love is the universal language; laughter the eternal healer; never take anything too seriously; get out there and be amazed.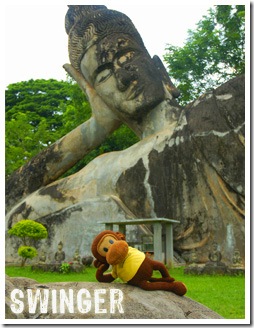 My name is Swinger I am 3 years old. I hail from Siem Reap, Cambodia although I think I was born in a factory somewhere in China, but I was an orphan for a while so no one is really sure. Some people compare me to Curious George but don't know what kind of monkey he is, nor do I want to be measured up to a monkey like him. I did not really know who Steve and Steve were or what The World by Road was before the two of them came through the front door of the Funky Monkey Bar where I live.
The Steves seemed like pretty cool guys and my parents, Mac and Trixie, thought it was about time that I got out of the house and did something with my life. My parents thought joining up as a crew member on the World by Road would be a great educational experience packed full of adventure, so here I am going around the world. I had to leave some friends behind, but will return with some great stories to share from my travels. I enjoy eating awesome burgers from the Funky Monkey, drinking Brass Monkey, swinging from vines and all kinds of ill s*#t.
Click here…I have my own personal photo gallery.
The World by Road has recently been lucky enough to acquire quite a few volunteers to help make this whole production all it can be. We have been so swamped trying to get everything done on the road it is a true blessing to get more help, and so wonderful that all of these people are helping on a volunteer basis.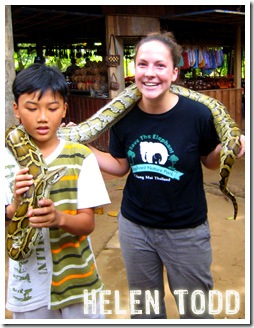 Traveling Team Member from July 24, 2007 to August 16, 2007
The start to a travel addiction was injected into my blood in Japan. My trip's intention was to climb Mt. Fuji, but a monsoon's pouring rain prevented the hike. Backpacking through Europe solidified the addiction and boiling need to travel. In some cities I stayed with locals at their homes and was given a completely local perspective, forever changing how I view travel. That fall I studied a semester in a university on the outskirts of London and fell in love with immersing myself into other cultures.
Next, the burning urge to travel came into fruition with an independent study taking me to Thailand to write a paper about marketing opportunities and tourism for the country. This experience opened up new doors to interact and see a country with a specific objective. The 2 Steve's contacted me on couchsurfing.com , an online network of people who host travelers. Now I am enjoying all the adventures that the road has to offer in S.E. Asia until the end of my trip.
Back in the states, home is in Tennessee at the foothills of the Great Smoky Mountains National Park. The South will always have a place in my heart. I currently live in Boston where I'm pursuing a Masters degree in Integrated Marketing Communications at Emerson College. Through couchsurfing, I stay plugged into the travel community and can often be found entertaining and hosting travelers. Where my travel addiction will take me in the future is to be determined…
---
If you are interested in helping us out with research, PR, web stuff, marketing or sponsorship, go to the join us page and submit with "help from home" in the segment box.