Countries: United States of America (Alaska)
Miles Driven:Â  525 miles
Song of the Week: "Heal The World" –Michael Jackson
Book of the Week: "Desert Solitaire"-Edward Abbey
Desert Solitaire
Quote of the Week:  "Little Nemo was walking around me, the intern said he was 'courting' me.  I think he was.  I just love Puffins." –Meagan Hodge after her Puffin Encounter at the Alaska Sea Life Center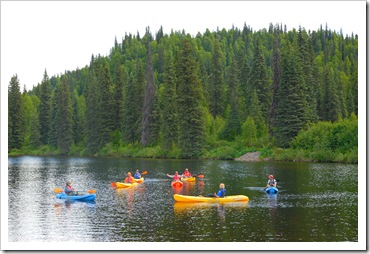 We've really enjoyed ourselves in Alaska, and all feel very fortunate for all that we've been able to see, experience, and the people we've been able to meet, so it was nice that we got to give back a little this week, as well.  It has been another great stretch of days in the northern most state.  It began with a great lake and river kayaking trip/fly fishing trip with Denali Southside River Guides.  We got the opportunity to go out with Craig Jorgensen and two of his crew members on Byers Lake to thoroughly enjoy a day on the water.  "I wouldn't give this day of kayaking and fishing up for anything," said the fisherman of the crew, Craig Johnson.
From there we made our way to Anchorage where Steve took the Sequoia to pick up returning crew member Zsofi Somali, as she came in from Hungary.  The rest of us took the Tundra to Seward, Alaska, where some of us stayed at the wonderful Harborview Inn for a night, while the others stayed in the great Ballaine House B & B and the new Glacier Lodge.  These places were very hospitable, and gracious hosts in our stays.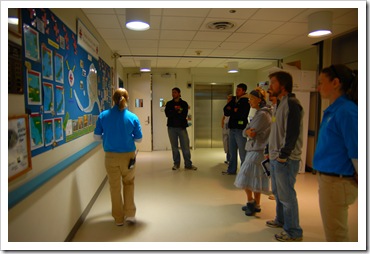 The following morning brought us to the Alaska Sea Life Center, where we watched a presentation on Sea Lions, went on a behind the scenes tour, and then Craig and Meagan went on a Puffin Encounter.  It was really interesting to see how they conduct their research, do their rehab with the animals and then educate the public with tours and exhibits.  It was also fun to see the pure excitement on the face of Craig when he saw an otter and Meagan when she saw the Puffins.
Our next activity got us up at 3:30 a.m. to make the trek from Seward to Moose Pass to go fishing for King Salmon with Chugach Backcountry Fishing.  Owner and guide Corey Hetrick got us out on the Kasilof River, and we gave it a go with the Kings.  We battled the rain and the cold, and got a couple bites, but luck just wasn't on our side.  That's just how it goes, and we'll be back to try it again with Chugach Backcountr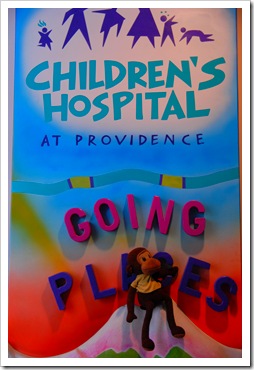 y  Fishing.
From there we made it to Anchorage to stay with Alaska Backpacker's Inn/Hostel from a couple nights in the town.  We settled in an through the work of the girls were able to set up a volunteer opportunity for us to serve dinner at the Brother Francis Shelter.  It was nice to give back, and do a small part in helping some needy people.
The following morning we stopped at the Children's Hospital at Providence in Anchorage for a tour/visit with some of the kids.  Bonnie, the Child Life Coordinator, was an incredible person to meet, and it was really inspiring to see all the people and staff helping out the children.  Their job is really important, and getting to meet and interact with the kids was really something special.  They're some really strong and courageous kids, and they really had a big impact  on us.
Valdez was the next destination after our Anchorage stop, and we really enjoyed the scenic drive that included snow-covered mountains peaks, waterfalls, and even a couple of black bears.  We got to the wonderful Brookside Inn Bed and Breakfast, and met a great couple that run it.  Today we have sea kayaking at the Columbia Glacier, and are really looking forward to what that has in store.