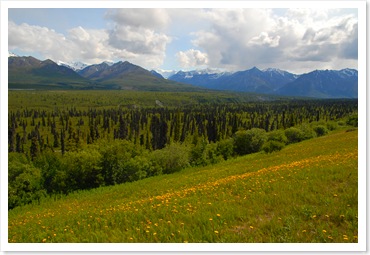 The Richardson Highway that we took down to Valdez, Alaska is one long, meandering curve after  another. Barely a stretch of straight road created awe-inspiring vistas that seemed to just spring-up of nowhere. One second we were driving along the road with tall trees and colorful wildflowers by our sides, the next second our eyes were popping out of our heads trying to comprehend the magnificence of a stunning sight of sun beams bathing massive, jagged snow-covered peaks that somehow just appeared in front of us. That stretch of highway was made for the gods, I do believe. Aside from the 1 in California, I have never been on a road loaded with so many we-HAVE-to-stop-here-to-take-a-picture spots. As a driver, I found it challenging to keep my eyes on the road, as I constantly had the urge to look up, down, and ahead of and behind me. After hours of driving down from Anchorage where we were the night before, we were greeted late that evening (as the sun still shone brightly in the sky) by a momma bear and a cub as we pulled into Brookside Inn Bed and Breakfast, which was to be our home for the next few days. Just after ringing the doorbell, our gracious host Suzy appeared on the other side, warmly greeted us, showed us where we'd be sleeping, and explained the breakfast routine. This is the point in time where we all politely nod and say aloud "that sounds great, mm hmm, sounds good, thank you so much" while what we are really thinking is "oh, dear lord, kind woman, you have no idea how freekin' amazing it's going to feel to sleep in a real bed and eat real food." You see, this is the epitome of the type of perpetual kindness lavished by strangers that allows  us to keep going day after day, and for that, the magnitude of gratitude cannot be explained or expressed.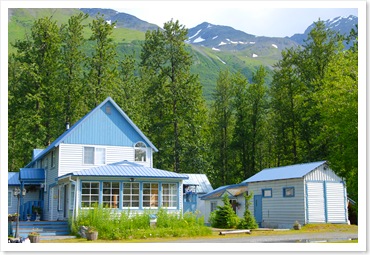 If anyone is interested in purchasing a B&B in Valdez, this one is up for grabs. Here's the scoop: it is located on 3 acres of gorgeous, lush landscape containing cottonwoods, ferns, and wildflowers near where the ocean meets the 3,500 foot extreme mountains of the Chugach Range; it has a gazebo with a generous hot tub, of which we took full advantage, of course; the buildings include the main house with a sunroom; a guest house with 3 bedrooms and 2 bathrooms; and a separate guide's quarters with 2 beds and a full bath. There is a running/biking path along the road on which Celeste, Meagan, Craig and I took group runs. This path also happens to be a superb place to view wildlife. As if that weren't enough, we also found out that Brookside Inn B&B is a true piece of Valdez and Alaskan history, as the main building was originally built by the U.S. Army at Fort Liscum in 1898. The fort was responsible for both saving gold seekers from the harsh Alaskan winters and surveying the Richardson Highway from Valdez to Fairbanks.  In 1908, the fort was moved to "Old Town Valdez" and became a house. In 1964, it survived the world's largest-ever-recorded earthquake, a 9.6 on the Richter scale. The house was relocated for the third time to its current location in 1968. So there you have it—any takers?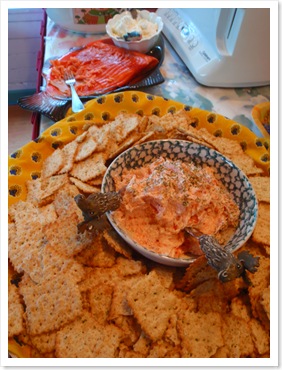 Louisiana has gumbo, po' boys, red beans and rice, and jambalaya (ok, I'm partial!), Chicago has deep-dish pizza.  Alaska has salmon and halibut steaks as thick as you wrist is wide. I'm not quite sure what we did to deserve the amazing meal that Suzy and Jerry at Brookside B&B prepared for us, but it must have been something pretty good. This was, hands down, the best meal that we ate while I was on the expedition. Suzy prepared two different salmon appetizers. One was a delicious creamy dip served with crackers and the other was a bright pink fillet served on a platter with the meat so perfectly flaky it nearly fell off the skin. Both were heavenly.  We swarmed around the plates, relentlessly pecking at  them like pigeons at a bread-crumb covered sidewalk, desperately trying to remember our manners, but somehow the savory, satiating salmon overtook us, causing temporary etiquette-omission. The rest of the dinner was equally as incredible as the appetizers—halibut steak and refreshing green salad, followed by homemade carrot cake. Like I said, we must have done something right. The conversations over dinner were just as wonderful as the meal itself. So, from all of us, thank you sincerely for your hospitality, stories, generosity, and the especially amazing meal.
The next morning, we woke up particularly early to get a good start on a long day of sea kayaking with the tour company Pangea Adventures. We pulled up to the building and were immediately verbally hurried along by the most loquacious, enthusiastic group of guides I have ever met. They possessed a never-ending flow of energy, evident right away and were definitely overzealous about their jobs. It's pretty powerful to be around people who are extremely passionate about what they do. Constantly joking around and laughing, but always in control of the moment, they exuded the kind of happiness that was contagious. We couldn't have had better guides than Aaron (aka Skipper), Pete, and Andy.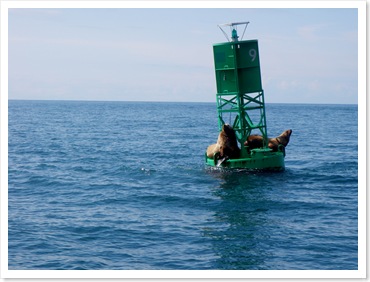 We jumped into our glacier-water-proof gear and were presented with some safety tips before loading the boats, gear, and people onto our water taxi.  Our route brought us through the magnificent Prince William Sound and into an area called Heather Bay where the kayaking began. Although this ride's purpose was to bring us out to the glacier to kayak, it turned out to be a wildlife-spotting trek. First, we saw multiple groups of sea otters, called "rafts". These have to be the cutest darn animals in the water. The rafts consist of single-sex groups, and there anywhere from 10-100 of these marine mammals in one raft. Our captain, Aaron, always made a joke of some sort as he instructed us to look to area where he'd spotted an animal. At one point, he yelled to the boat passengers "if your favorite number is nine and your favorite color is green, then you're in luck!" Perking everyone's interest, we all began darting out eyes and heads around like a bunch of startled kitty-cats trying to figure out where the mouse went. We looked over to see a large green buoy with the number 9 painted on the side in white with a couple of stellar sea lions trying to fit their massive bodies onto the too-small surface area that the buoy provided. Now, I am not sure how many of you know what a stellar sea lion looks like, but they are impressively enormous creatures, with males weighing up to 2500 pounds. This pair of one male and one female was just trying to get some sun as we gawked passed and startled them into the water. Eventually, they surfaced again and we were able to watch the clumsiness with which they  hoisted themselves back up onto the buoy, similar in awkwardness to a couple of beach balls trying to get comfortable on a tea cup saucer. Quite a funny sight to behold for sure. Gigantic seagulls, strangely out of proportion with their surroundings, were the first animals that we saw amongst the ice chunks once we got to the glacier. And, as we headed back towards Valdez after kayaking, a group of porpoises decided to swim in our wake, putting on quite a show for all of us, a perfect end to a wonderful day.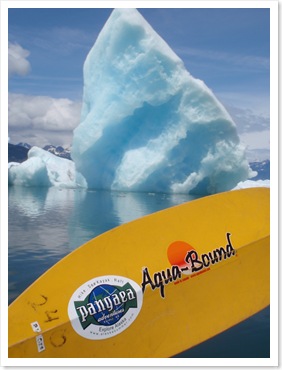 Once we arrived in the bay, we were dropped off close to the moraine of the Columbia Glacier, Alaska's second largest tidewater glacier named after Columbia University in 1899. It is one of the fastest moving glaciers in the world, and has been retreating catastrophically since the 1980's, leaving an eight mile long field of floating ice in front of it. This is where the kayaking began. Now, it's not every day that one is able to sea kayak through icebergs. I have to admit, for someone with lifelong mild claustrophobia who had never sea kayaked before, I was a little scared about the whole being fully connected to a boat that looks like it could flip at the tap of an index finger. As we were backed out and lowered into the water, I coaxed myself to breathe through it and trusted that my boat partner, Craig, would keep us upright. He did, and of course I enjoyed every second of the day. I believe that having a bit of anxiety in certain situations makes the experience that much more rewarding in the end. Our group consisted of our guide Aaron in the front boat by himself with three boats with two people in each following behind. Steve and Zsofi were in one boat, Celeste and Meagan in another, and Craig and I in the other. Aaron was surprisingly knowledgeable, kindly correcting us as we incorrectly referred to every piece of ice an iceberg. "Actually," he said, "the smallest ones are called Growlers, and those over there, the VW-Beetle-sized ones, those are called Bergy Bits." We also learned, or were reminded, rather, about what we'd learned in Jr. High science, that typically, only one-tenth of the volume of an iceberg is above water; hence the saying "the tip of the iceberg."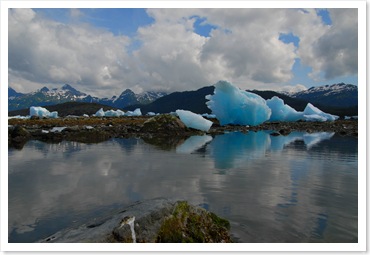 As if it weren't outlandish enough to be kayaking through various-sized glowing blue ice chunks, we were confounded by the quickly rising tide which began to torture our sense of scale and perception of our surroundings. When we began in the morning, the tide was as far out as it gets, so the water was very low, exposing as much of the ice that ever gets exposed. By the time we had finished eating lunch, our boats that we'd drug up onto the rocks were nearly completely floating. The entire experience was out of this world. We laughed, sang, and boat-raced our way through the mysterious landscape, trying to fully absorb the beauty and rarity of it all. I know none of us enjoyed hearing Aaron say "alright guys, it's time to head back now." After the boats had been loaded, Craig, not surprisingly, decided to strip down to shorts and take a leisurely dip in the glacier melt water, while the rest of us didn't dare put so much as our fingers in.  He is part-otter, after all, so none of us were too surprised. What a crazy, wonderful, educational day. When we got back to Pangea, our guides invited us, or rather, demanded that we meet them later that night for an informal dance competition at a popular hangout in town. We acquiesced, and showed up only to dance circles around them; they, of course, had nothing on us. Sorry guys, but you know it's true.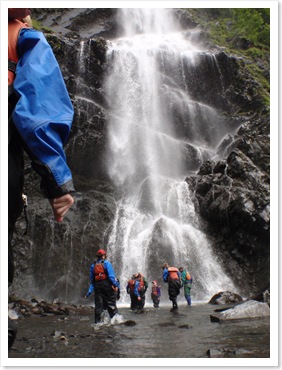 After leaving the B & B the next day, we stopped by Keystone Outfitters, about 20 miles outside of Valdez, for a 4.5 mile run down the Lowe River through Keystone Canyon with our guides Chris and Marshall. Because the river was glacier-fed, we all were required to wear dry suits for protection and a life jacket on top. Translation: we all looked and felt ridiculous in the over-sized, awkward suits, a bit like sumo-wrestlers or astronauts. The run was quick and fun, with many beautiful sights all along the way to enjoy. Our guide Chris pointed out the waterfall from which he got his drinking water, which he said was so pure and delicious that it didn't need to be filtered. At one point, we stopped to let all the crazy people (Celeste, Nels, Steve, and Craig) jump out of the boat and through a high, powerful waterfall only to freeze their bodies and feel "alive," as Marshall claimed in hopes of convincing everyone to do it. Thank you, but I felt very alive just laughing and watching from a few feet back. The rafting adventure was a great ending to a memorable time spent in Valdez.  By the way, the accepted pronunciation now is "Val-deez", although it was named by Spanish explorers, so we all kept pronouncing it Valdez, apparently driving the locals nuts.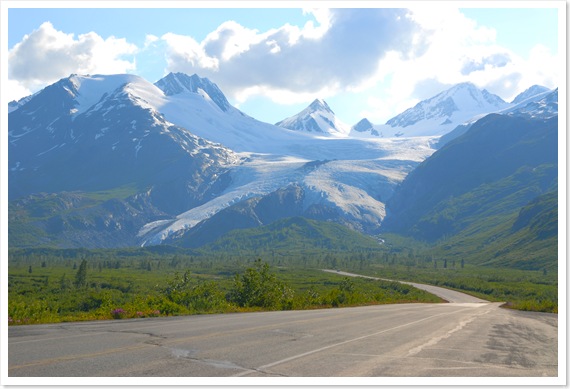 Along the Richardson Highway.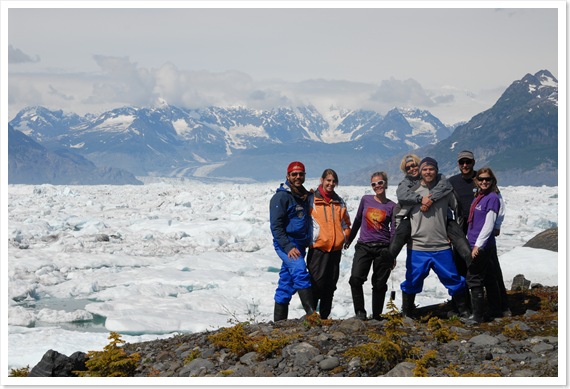 After lunch in front of the glacier's ice field.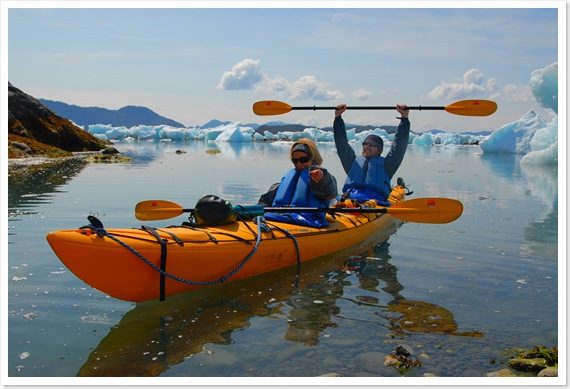 You'd think we'd just accomplished something great.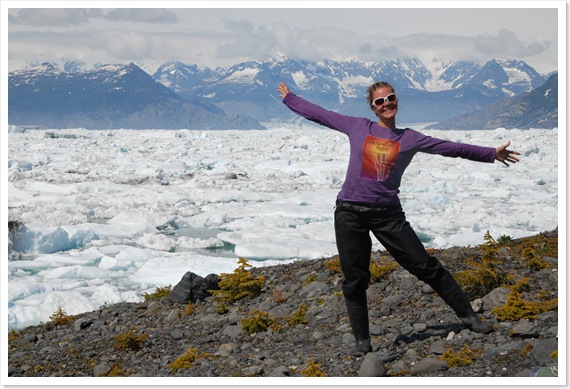 Celeste wants to give a hug.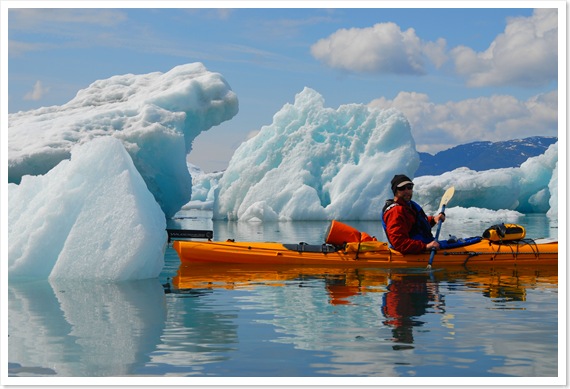 Our wonderful guide, Aaron.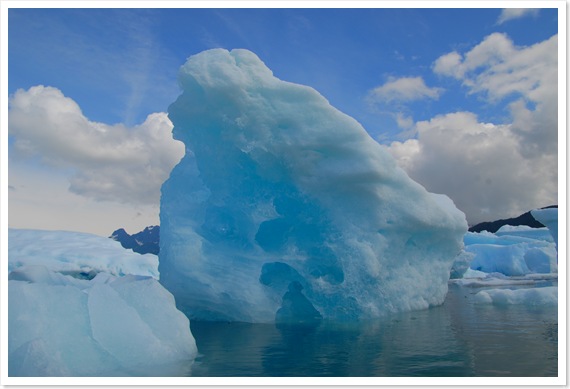 Blue, blue, and more blue.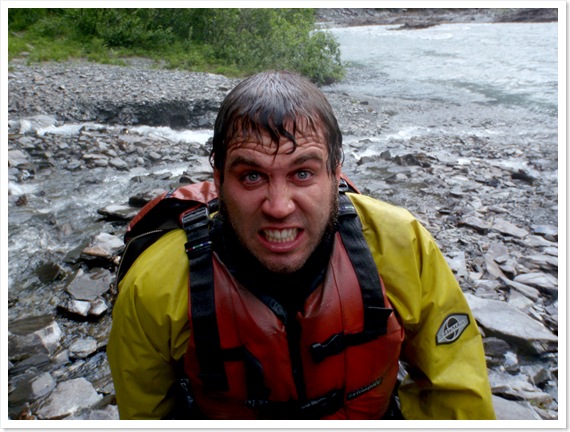 Steve's "I am frozen" face after coming out of the waterfall.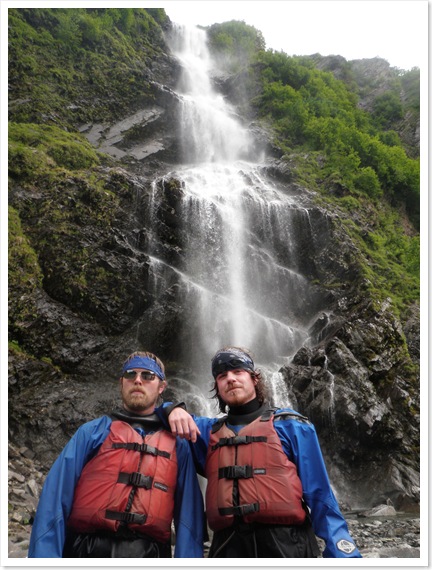 Craig and Nels looking stoic…or trying to anyway.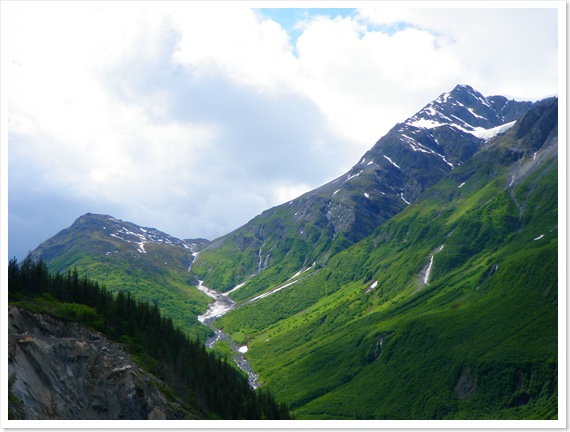 Our view while rafting.  Not too bad, if you like that sort of thing.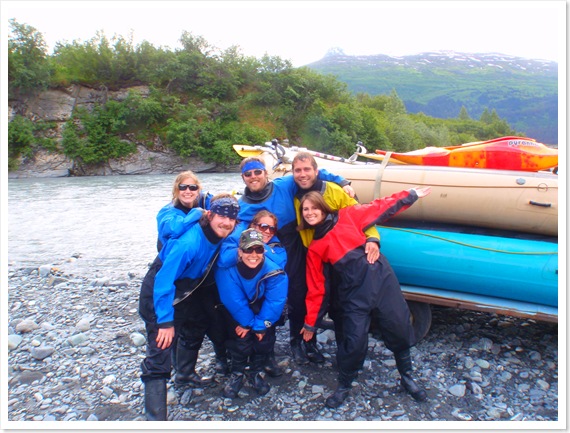 Post rafting smiles for all.