A little part of each of our hearts now lies in Talkeetna, Alaska, a quaint little town about 2 driving-hours north of Anchorage, Alaska's largest city. The word "Talkeetna" is loosely translated as "river of plenty," or, more elaborately, as "place where food is stored near the river".  To most residents today, however, it simply means "where three rivers meet" because the town is located at the confluence of three major rivers–the Susitna, Chulitna and Talkeetna—an area deemed "the Big Susitna drainage". A minute's walk past the end of Main Street will bring you to this area, also called the River Sandbar Walk. Around the time the sun would have been setting in ordinary-land (the lower-48), a local resident brought me down to this calming spot where the surroundings instantly took my breath and concept of time away. Mesmerized by the sky, sunlight, and mountains in the background and the arctic terns gliding over the water in the foreground, a feeling of sincere and complete calmness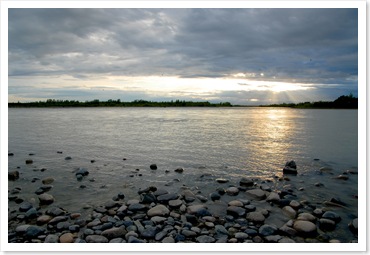 overwhelmed me. After regaining normal consciousness, I instantly understood why so many people claim that Talkeetna contains the perfect view of the monstrous peak (known as both "Denali"–the native term–and "Mount McKinley") and the most picturesque panoramic of the entire Alaska Range. The arctic terns gliding around over the water, we later learned, migrate about 24,000 miles each year—from their northern breeding grounds down to the Antarctic Ocean and then back north each year—the longest regular migration by any known animal. Additionally, they only land once every one to three years to nest—and we thought we were on the go!
Populated originally by native Athabascan Indians, gold prospectors and miners began to move to the Talkeetna area in the 1890s. In 1915, President Wilson named Talkeetna the site for the Engineering Commission Headquarters for the construction of the Alaska Railroad, and four years later, Talkeetna officially became a township. Like many places in Alaska, Talkeetna was only accessible by plane or train for many years. The George Parks Highway, which connects Anchorage to Fairbanks, was completed in 1971 and a spur road off the highway created vehicular access to the town. It didn't take much talking to people in town before we actually met a few locals who had been there long before the road "invaded" their quiet town. Today, Talkeetna is a National Historic Site with many buildings dating to the early 1900s; the two buildings in which we happened to spend the majority of our time were both registered historic sites. Last but not least, for all of you "Northern Exposure" fans out there, Talkeetna is said to be the inspiration behind the series, although it was not actually filmed there.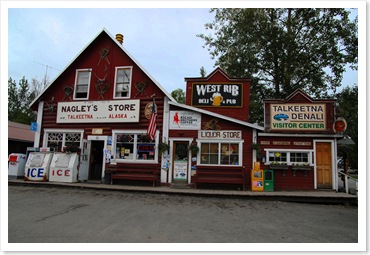 Rustic log buildings, weathered blade signs, indigenous trees, bright wildflowers, hanging flower baskets, and meandering bicyclists seemingly going nowhere create the town's personality. Talkeetna, we quickly found out, is filled with character and characters, as well as many Denali-climbers during the spring and summer months. It was nearly impossible to find anyone not worth listening to. The town graciously opened its arms to us; so much so that by the time it was time to hit the road, we felt a bit of hesitation to do so. On our second night in town, we were invited to take part in the weekly Wednesday night kickball fiasco, where the entire town (or everyone who feels like it) gets together to play kickball. The rules are loose (the only rule: you are required to have a beer in hand the entire time you are playing) and the good times were plenty. The World By Road crew, along with the help of some of the locals, dominated the field, winning five games in a row. What the girls and I didn't know at the time is that we were playing kickball with the town's most eligible bachelors! The next day, we got our paws on Talkeetna's very own "Male Order Catalog", showcasing the town's cream-of-the-crop of single men, most of whom we met during our time in town. The Talkeetna Bachelor Society, who produces one catalog annually, is a non-profit organization whose fundraising activities benefit the Society's Fund for Women and Children in Crisis (administered by the Sunshine Community Health Center), as well as funding a host of other community needs and projects. Bachelors range in age from 21 to 70, come from all walks of life and in every shape and physical form. Ah, Talkeetna!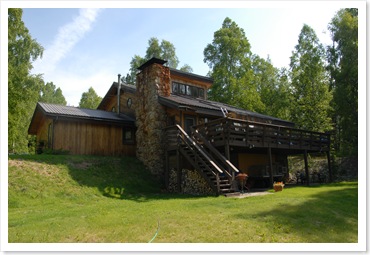 Our sleeping accommodations in Talkeetna were so much more than just that. Little did we know that when we stepped into Alice's home (Talkeetna Bed and Breakfast), which was tucked away down a dirt road on a beautiful lake a few miles outside of town, that we were in for so much more than comfortable beds and a delicious breakfast. We hadn't even brought our bags into our rooms before we found ourselves engaged by Alice's fantastic life stories. One of the chief characteristics of a master story-teller is having life-content worth repeating. After nearly eight decades, Alice certainly had some stories worth repeating, and even recording—she is currently working on writing her memoirs (not to mention a "Talkeetna Bed and Breakfast" cookbook, too). Her memorizing, truth-is-stranger-than-fiction stories were filled with life's entire realm of experience and emotions: from real-life, side-splitting humor to tragic, profound sadness; each one sparked a question that led to the next which resulted in us interviewing her for hours. Between Alice's stories, personality, and hospitality, time comfortably disappeared as we sat around her cozy kitchen absorbing the energy with which she has lived her entire life. She prepared a champion breakfast for us in the morning; an authentic Alaskan special: cheesy halibut enchiladas over white rice—absolutely delicious. The entire experience stirred our brains a little; really made us each sit back and think: "Wow, I can only hope that my mind will be that sharp and my stories that intriguing someday". So, Alice, thank you for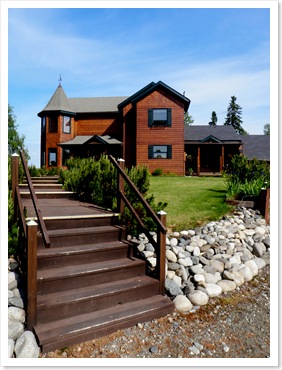 inspiring us to cram just a little more living into life each day—oh, and also to learn to cook someone's socks right off their feet! While Celeste, Meagan, and I stayed with Alice, the guys were just down the road thoroughly enjoying a night's stay at Denali View Lodge, near the same lake.  Their home for the night was a recently built, cozy and luxurious wood cabin, in which they were the very first visitors. The following night, we were lucky enough to all be able to sleep at the Eye of Denali, right on the Susitna River offering a wonderful view of Mount McKinley. Thank you to Karey Larson, the owner of Talkeetna Travel, who helped us arrange this accommodation. What was unique about this place was that it was "un-hosted," meaning that we had the place entirely to ourselves, which is really nice for anyone with a taste for true privacy and seclusion. Our final two nights in Talkeetna we stayed in Trapper John's Cabin, located on a mini-homestead just outside of town. It is run by the Talkeetna Roadhouse, one of the registered historic buildings in town. The cabin was decorated with interesting trapping memorabilia, has a full kitchen, electricity, no running water (who needs running water anyway?), and an extraordinarily comfortable 5-star outhouse.
Our time in Talkeenta was unforgettable. In a city filled with so much to do: flightseeing, rafting, mountain biking, hiking, camping, fishing, hunting, great food, and wonderful live music, we were able to take away some of these experiences but also much more because of the people we were blessed to meet in the wonderful town of Talkeetna, Alaska.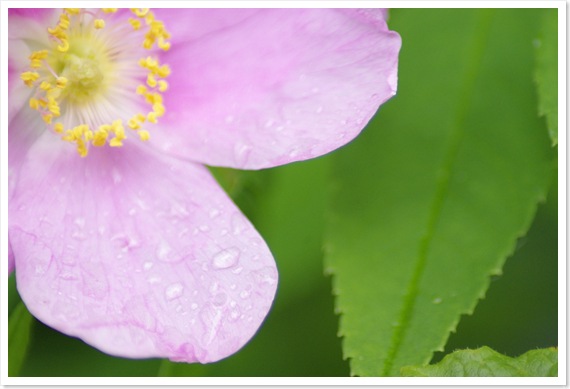 These wild roses' were everywhere in Alaska.  We learned that three hips have as much
Vitamin C as one whole orange, so we were picking and eating them constantly.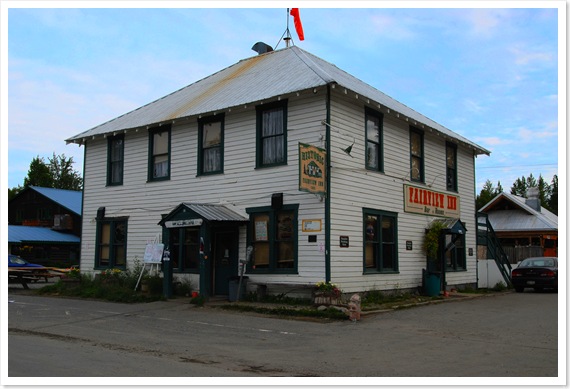 One of the historic buildings in town: Fairview Inn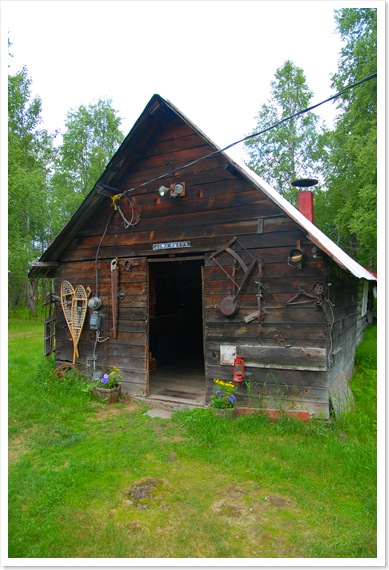 Trapper John's Cabin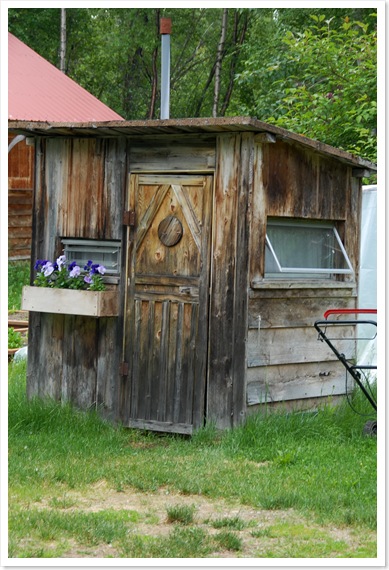 Trapper John's Outhouse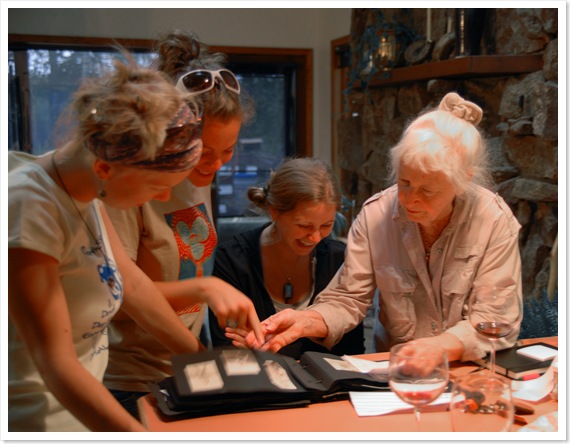 Alice cracking us up with crazy stories of her relatives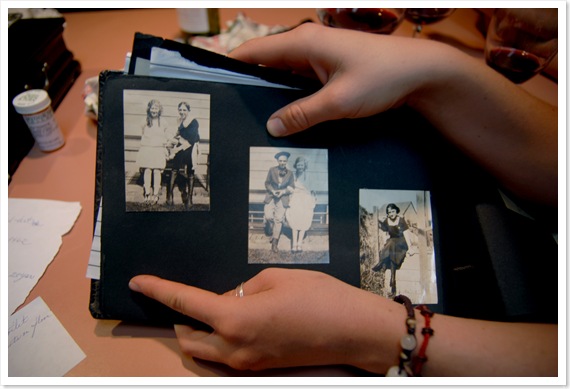 In Alice's words "This one here must've been a flamer!" (About the person on the right
in the picture to the far left)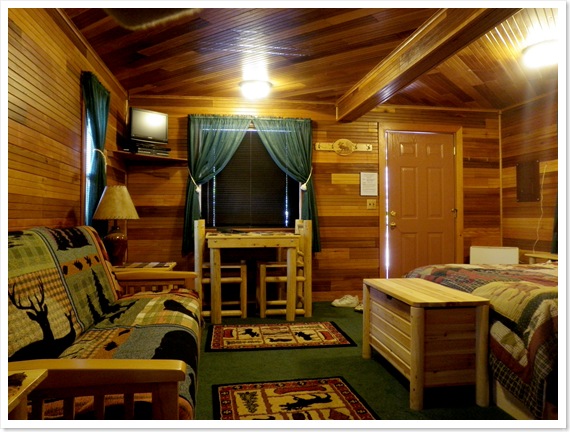 The brand new cabin at Denali View Lodge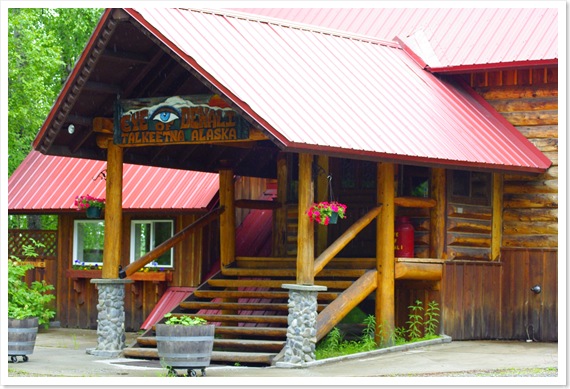 Eye of Denali Inn