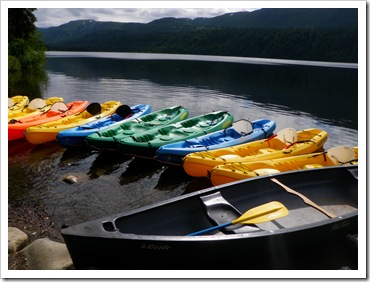 There really is nothing like a day on the water. Boating, fishing, swimming, it's all good to me. So when we got the chance to spend a day kayaking first on a lake, then on a river, and throw in some fly fishing for trout, I was more than excited. Our host for the day was Denali Southside River Guides, owned by Craig & Shelis Jorgensen. We would spend the day on Byers Lake, located inside the Denali State Forest, about an hour's drive north on the Parks Highway from where we were staying in Talkeetna, Alaska. From there we'd head down the river flowing through the lake. Denali Southside River Guides offer guided kayaks, fly fishing, and rafting, as well as kayaks and canoes for rent.
It was another cool morning in June, so our instincts were to layer up in hopes the temperature would increase and the sun would come out. We also suited up in some proper river gear, with those of us wanting to fly fish sporting some always fashionable waders. With all our gear ready to go we headed down to our launch point where Craig and his crew gave us a quick refresher on proper kayak safety. We'd be heading out on sit-on-top kayaks, perfect for a calm lake and quick in and out's on a shallow river. After a quick warm up paddle on the pristine Byers Lake, we made our way towards the river where adventure awaited.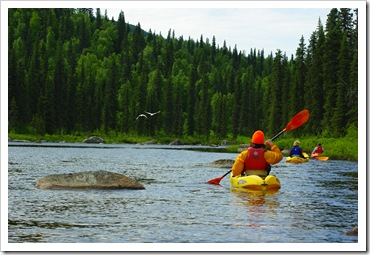 Almost immediately we knew this wasn't going to be some lazy float as we got stuck on some shallow rocks. Paul and Simon, our guides for the day along with Craig, noted that the river was falling by inches a day, and that we were sure to get stuck a few more times. The biggest obstacles of the day proved to be shallow rocks and overhanging branches on the banks of the narrow river. When you're kayaking down a river it's sometimes hard to realize that you really are in the middle of the wilderness. One deep breath of fresh air, and being surrounded by trees for miles on each side should be a quick reminder.
After winding down the river dodging obstacles, or sometimes unskillfully hitting them, we reached a nice little fishing spot. I'm no expert fly fisherman, but I definitely enjoy trying. Meagan, Steve, and I each had a go and there were definitely some rainbow trout around. Eventually, Meagan and I each caught one while Steve had to tip his hat to elusive fish. Craig's company policy is catch and release, so there'd be no trout for dinner on this night, but it also means those little guys will be there to catch again next time. And hopefully they'll be a little wiser too.
We were informed that downstream would provide the toughest part of the day as we'd have to get ourselves through stretches of rapids with many protruding rocks due to the shallow river. Sometimes I'm a little too confident with my comfort zone on the water, but the river soon reminded me who the boss was. As we navigated a particularly narrow part, the current took me right into the overhanging branches where my kayak got stuck half overturned. I had little choice so I bailed out of the kayak only to be hit square on the top of the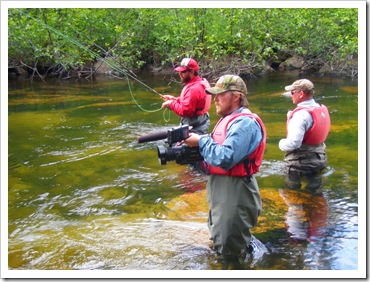 head by an oncoming Kristen's kayak. Lucky for me it didn't hurt too bad other than my pride, and the fact that I now had to spend the rest of the afternoon with a puddle of water on the inside of my waders.
After another hour of river bends, rapids, and nature's beauty we were near the end of our journey. Craig, Simon, and Paul of Denali Southside River Guides were excellent hosts and more importantly cool people to hang out with and here their stories. That seems to be a reoccurring theme during our time here, with a whole lot of interesting and unique people in Alaska. If they could only do something about those pesky mosquitoes!
More photos from the day…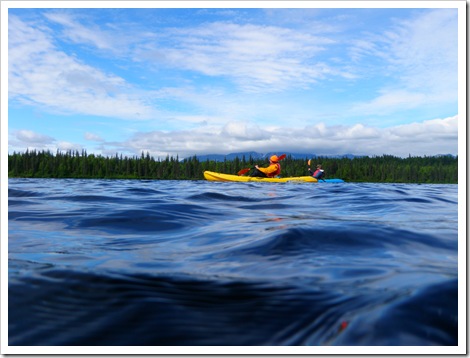 Nels and I loving life.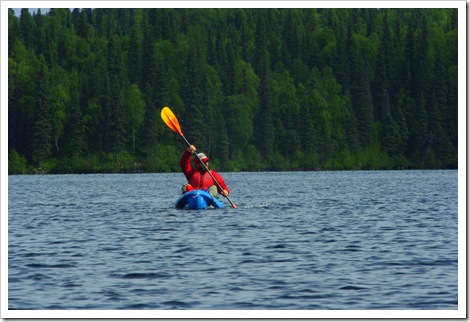 Steve showing off his paddling skills.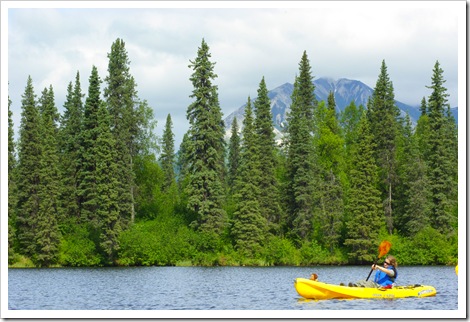 Meagan and Swinger on Byers Lake.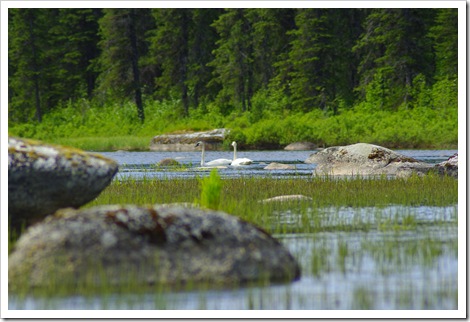 The local residents, a pair of Trumpeter Swans, giving us a weary look.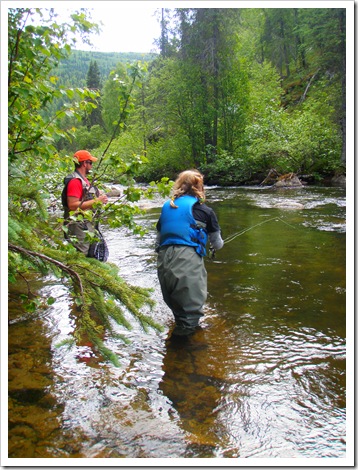 Little Puffin (Meagan) getting after some trout.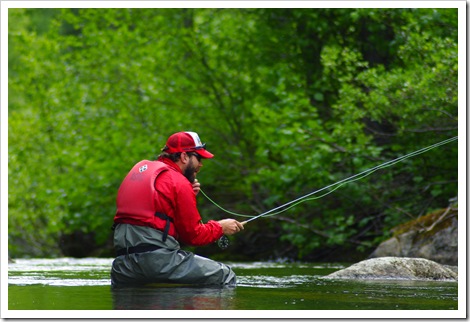 Steven making waders look stylish.