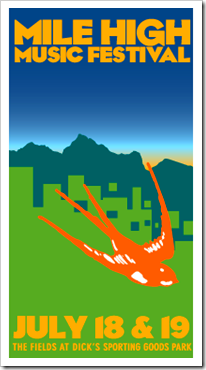 The sun is shining, the grass is green, and the birds are singing.  It must mean summer festival season in Colorado, and the first one that comes to mind is the Mile High Music Festival.  It's the second year of the festival, and it appears that everyone involved is doing everything needed to be done to make this year's festival even better than last year's great couple of days.  The festival, just like last year, is being held at Dick's Sporting Good Park (click here for directions), which is located in Commerce City, Colorado, and is home to the Colorado Rapids professional soccer team.  The 18 practice fields surrounding the stadium turn into the festival area, which make it spacious enough for the 5 stages, vendors, and services.   The doors to the festival open at 11 a.m., with the parking lots opening their gates at 9 a.m, and tickets can be purchased by clicking here.
CBS4 Critic at Large Greg Moody was able to interview music promoter Chuck Morris who said, ""This year we've got some 50 bands playing over two days, starting out with a little band that has had quite an impact in Colorado — Widespread Panic. In fact, they're going to play both days, including a show that starts at 10:45 Saturday night and goes all the way until 1:30 a.m. Sunday morning. Because of this, they won't play their regular Red Rocks and New Year's shows in Denver. If you want to see Widespread Panic, they're only playing the Mile High Music Festival."
Widespread Panic, as everyone knows in Colorado, has an unbelievable local following, and their fans, I'm sure, will flock to Commerce City.  The schedule/line-up of the festival is a great mix of a variety of musicians and has something for everyone.  Other artists to get on the stages Saturday include Tool, Incubus, Ben Harper and his buddy G. Love and Special Sauce, the beautiful voices of Ani DiFranco and India.Arie, Gomez, San Francisco singer Matt Nathanson and the voice of Rob Drabkin.
Sunday's artists include local, phenomenal band The Fray, Gov't Mule, Matisyahu, John Butler, Glactic, Guster, Robert Randolph and the Family Band, Mat Kearney and Joe Pug.
This year's mix should continue the Mile High Music Festival's standard of excellence combining great artists, great food, merchandise and services.  The forecast, according to The Weather Channel, looks more than well.  Both Saturday and Sunday have a projected forecast of partly cloudy, with a high of 83 degrees on Saturday, and 87 on Sunday.
The Mile High Music Festival looks like it will again put Denver on the map as a premier summer festival stop.  One can't beat listening to some stellar tunes, with the sun shining and the Rockies as the backdrop.  It should be a good time.  Hope to see you there.