Countries: Mexico
Miles Driven:Â  1,431 Miles
Song of the Week:  "Wrong About Me"-Brett Dennen
Book of the Week:  "The Forgotten 500"-Gregory A. Freeman
Quote of the Week:  "THIS, is redefining the word LIVING." –Steven Shoppman at 1:30 a.m., Wednesday night, in the beach town, Playa Escondida, observing the beauty of our surroundings.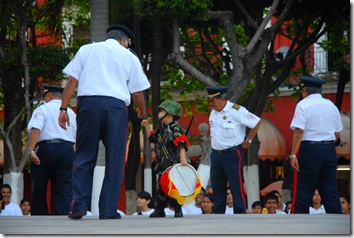 There is no normalcy on the road.  We're always coming and then going, saying "hello" one day, and "goodbye" the next.  It is how it has to be.  On Sunday we awoke early in Merida with a long day of driving ahead of us, and had to say goodbye to the stellar Hungarian, Zsofi, who was with us for a five-week stint.  I can speak for the entire crew in saying, "She will be missed."  Fourteen hours in the trucks got us to Veracruz, and sure enough, just as I was about to park the Tundra I was pulled over.  Yes, we know one of the brake lights is out, but his other claims were false, resulting in Shoppman giving the transit officer a lesson in his own regulations, and getting us out of the ticket.  Monday we were able to explore the largest port city in Mexico and check out the massive ships carrying an unreal amount of containers, which from previous experiences, made Bouey shutter.  A group of us later that night had the opportunity to see an amazing flag presentation that packed the entire town plaza, had two marching bands, government officials on the stage, a little kid looking like GI Joe,  two men singing their city's song, and a school group of girl's that marched the flag from the pole to it's resting place for the night.  It sure was a spectacle.
Tuesday was another long day on the road as we made our way from Veracruz to Acapulco.  Eleven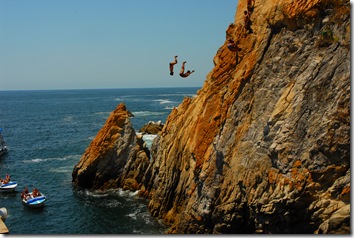 and a half hours later we reached our destination and met up with two more stellar humans, Shoppman's sister, Katie, and her husband, Nate, who will be taking the trip up to Puerto Vallarta with us.  Wednesday was a highlight of the week as we saw the famous cliff divers of La Quebrada jump from death-defying heights up to 140 feet.  Their performance and guts were beyond impressive.  We headed out and happened upon a beach town half-way between Acapulco and Zihuatanejo called Playa  Escondida.  It's not even on the map, which makes it even better.  We had our own beach to swim, had a great dinner of stuffed peppers, pork and steak, made a fire, listened to some chill tunes, and watched the waves crash and the moon shine.
Thursday we awoke on the beach, which tends to start a day off right, especially when you look into the ocean and see a whale jump followed by a number of dolphins.  We also had the pleasure of seeing our own little fish, crew members Craig and Steel, battle the massive waves.  From beach to another beach we made our way to Zihuatanejo where we enjoyed a swim in the Pacific and a sunset off in the cloudy distance.  Yet another beach would be the final destination of the week as we made it to undisturbed and unknown, Mexpan, early Friday afternoon.  A rustic cabana on the ocean would be our new home for the next few nights.  One can't complain.  The ocean calls.  Peace.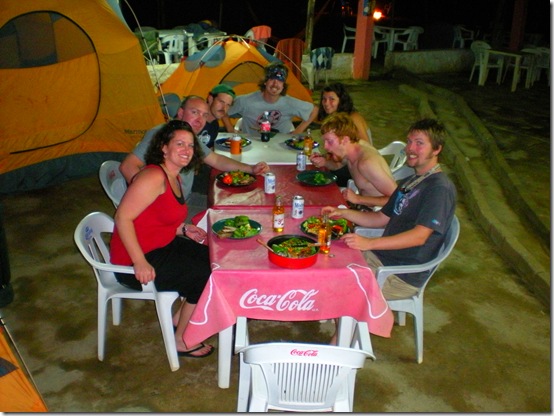 TWBR Family Style Dinner with Katie and Nate