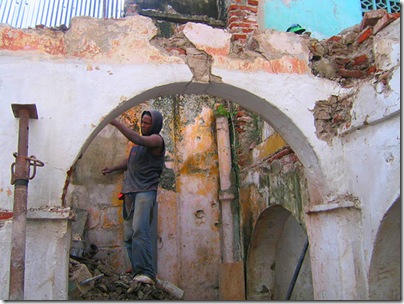 While approaching home and traveling through Central America, we have started to encounter many of our accommodations and activities being owned by expats or foreign owners, many times from the United States. The enthusiasm these people have gained for the local culture or people has somehow inspired them to decide they want to be part of the local community with their very own property. Some might argue that there is something wrong with an outsider starting a business in these communities, saying that they are raising real estate prices for the locals, but this could not be farther from the truth.
Actually, these establishments are exactly what many of these places need to preserve the local architecture, and sometimes even the community itself.  A couple of months ago, we stayed at El Casa Carretero. After our stay I asked the Colombian born owner, Carlos Restrepo give me a background of himself, his property and why he decided to take on the huge task of renovating an old, run-down shell of a building in Cartagena, Colombia and transform it into a first class property simply for others to enjoy. Carlos responded, "My passion is travel and technology. I started Casa El Carretero three years ago with my wife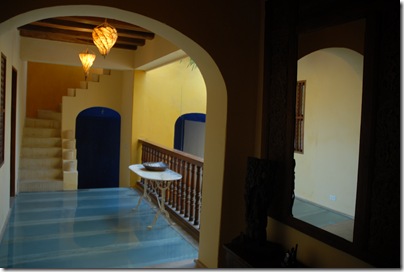 Monica because we wanted our guests to feel like they were in their own house but enjoying all the benefits of a luxury hotel. Our guests enjoy the fact that they can see children playing in the streets and people discussing the news of the day in the neighborhood plaza." Carlos is a sales engineer for Google in the Bay Area who has worked in the technology industry for most of his career and his wife Monica is a mechanical engineer for Loral Space systems.  After finding out that both of them are engineers, it was easy to see that their work trickled into their hotel.  Their property is a true extension of how you can not only restore these old beautiful buildings, you can take them far beyond their original architectural excellence.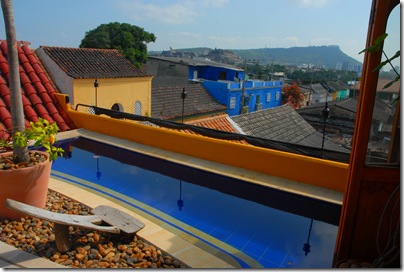 The inside of the casa is finished with fine detail, a small wading pool on the roof with a view of the fortress, and a layout that truly makes one wake up with a smile while staying here.  While the rooms have air conditioning, the bathrooms have open air windows, again with a view of the old city,  complete with a giant fixture on the shower giving a feeling like taking a shower outside in the rain. After waking up and enjoying a little sun on the rooftop in the morning, you find yourself in the kitchen with Alisa and Luis there to serve a delicious breakfast and help to figure out what you might do in Cartagena for the day. The two have both been Cartagena locals for quite some time and are a wealth of information about the town. Their warmth and genuine interest in helping us out certainly made each morning a treat.  After getting fueled up with fresh fruit or traditional Colombian breakfast, your first steps are out to the beautiful neighborhood of El Getsemaní.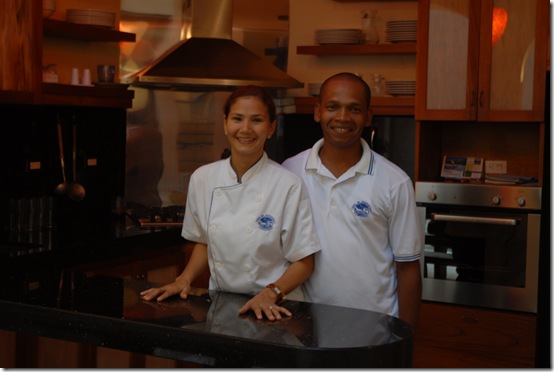 El Getsemaní is one of the first neighborhoods in the city, where the independence process began. A neighborhood of carpenters and handymen, it represents the working class of the colonial times. Much of its authenticity is still preserved in the neighborhood today. And as you can read in Melissa's blog, it is a perfect extension of what makes Cartagena special.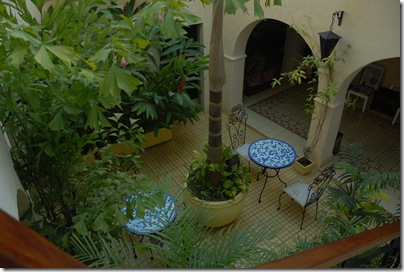 Due to the usual shipping delays, we were stuck in Cartagena for an extra handful of days when Casa Veranera came to our rescue. This property has equal merit as a model of restoration excellence and for those who want to be closer to the center, it is right in the heart of the old town of Cartagena. Owner Diana Chen is a friend of Carlos, who also lives in California and fell in love with Cartagena years ago after traveling in the area, which led her to invest some money in her own property.  Diana told me, "I fell in love with the city, its heat, and the irresistibly charming colonial homes. I visioned to interlace the modern touches with its colonial architectures in a setting that captures the spirit of the fashionable Cartagena people." She also mentioned the important fact that this enchanting city is only a 2.5 hour flight from Miami, which makes its charm easily accessible to anyone in the states even for just a long weekend. I imagine Diana takes regular "business trips" to check in on her beautiful property, as I would do the same.
Do you see the trend here?  These people, just like Travis Knight who has an amazing house in San Juan del Sur, Nicaragua, have a tie to the place.  Their interest in the local culture, scenery or activities gives them the zest to create a place that not only impresses guests, but gives them a certain feeling attached with their stay.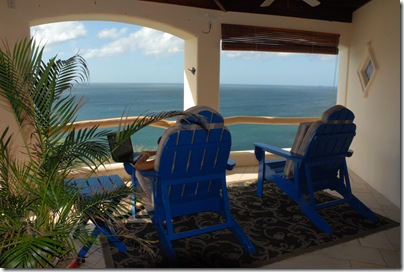 Travis' place is no less of an example of this. With an incredible view of the sea, it sets the stage for an excellent home base while fishing off the coast of Nicaragua.  This house lets you get an incredible view of where you spend your day, and if you are lucky enough to catch a fish here, his staff will cook it to your liking so that you can eat it while watching the sunset over the Pacific.  Inside the house each room has its own view and the whole house is decked out with details like model fishing boats and a kitchen that is stocked with all the equipment you need to have a proper holiday feast.
Of course these places have price tags a bit higher than your local hostel, but you would be surprised to find that the cost of this experience is a far greater value than spending your money on a mid-range hotel in any major tourist destination.  After a stay at any of these places, you would have to be crazy to regret a single dollar spent as the experience is one you will never forget.  I write this article two months after staying in Cartagena and still miss our days there.
With a big group, Travis' house is perfect for a dinner with a view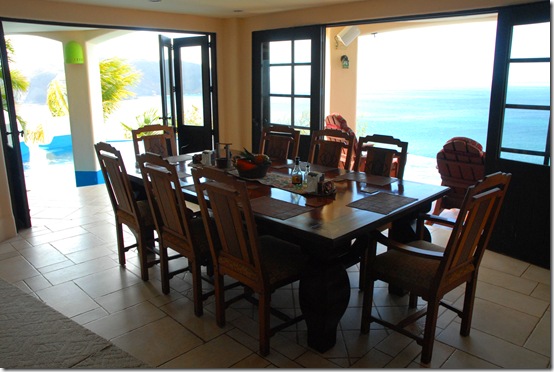 Villa Noche
For more info about these places you can contact them directly: