Countries: Belize
Miles Driven:Â  218 Miles
Song of the Week: "Orange Sky" –Alexi Murdoch
Book of the Week:  "One Hundred Years of Solitude"-Gabriel Garcia Marquez
One Hundred Years of Solitude
Quote of the Week:  "Don't Steal.  The Government Hates Competition."-T-shirt worn by Michael, a groundskeeper at a campground in San Ignacio, Belize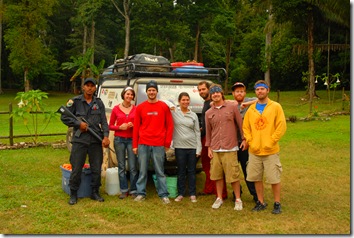 Rain awoke the occupants of the big tent, Craig, Melissa, Steel and I,  Monday morning, after a night of celebrating Melissa Terry's 26th birthday in San Ignacio, Belize.  Our destination Monday was a  campsite 22 miles outside of the Caracol Ruins.  The road made us feel like we were manning a jackhammer for a day.  It took us 2 1/2 hours to drive 30 miles.  We reached the eerie campsite, an old abandoned logging camp, at the Forestry Department in Douglas de Silva Village.  We slept in what appeared to be an old classroom of sorts under a thatched roof.  The place had a "Blair Witch Project" feel to it.  Tuesday morning we headed to a make-shift military base to get escorted to the Caracol Ruins.  This was due to a recent robbery of a tourist group and guide.  A Special Units Police Officer said they were lucky to be alive.  We reached the ruins, and were amazed at its structures.  Caracol is the largest known Maya ruins in Belize, and has a pyramid, Canaa (Sky Place), that stands 143 feet high, making it is the tallest man-made structure in all of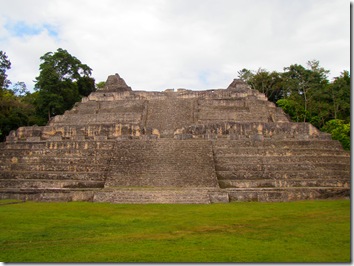 Belize.  The Caracol Ruins are a must see in Belize.  That night we made it to the Cave Branch Adventure Company and Jungle Lodge in Belmopan.
Wednesday was the highlight of the week.  Cave Branch Adventure Company set up Cave Tubing for us, and what we thought would be a stroll on the river turned into river cave expedition.  We tubed and hiked into a cave that holds, according to and shown by our guide, ancient Maya Ceremonial centers, pottery, artifacts, altars, obsidian blood letting blades, jade and the actual footprints of the Shaman and priests dated to 400 A.D.  From these ruins we headed to Hopkins, Belize and stayed at little slice of paradise called Kismet Inn.  It is here that an old hippie from New York calls home, where one can relax, rest and eat the best homemade bread I've ever had.  Rain, wait, a downpour, awoke us again at 3 a.m.  One of  the dogs got startled, started to bark and the owner, Tricia,  yelled, "B.B. King, B.B. King, it's ok, don't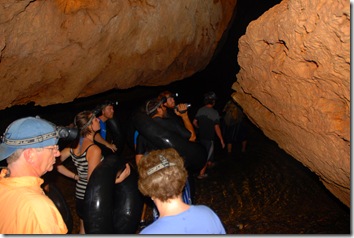 worry, get back to sleep."  That put a smile on our rain soaked faces.  From there we made our way south to Placenia for a three night stay on the Caribbean Ocean for a bit of relaxation.  Caribbean Travel and Tours put us up in three wonderful houses, and their excellent receptionists guided us on the hot spots of Placenia; while Splash Dive Shop accommodated us with elite scuba diving and snorkeling.  It was a great end to a hectic week on the road.
Special Thanks:
Cave Branch Adventure Company and Jungle Lodge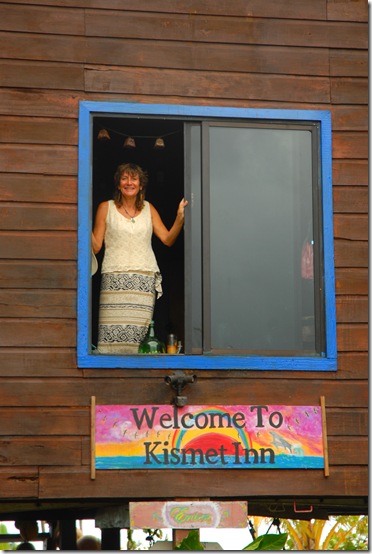 The reception/owner/your friend while in town at the Kismet Inn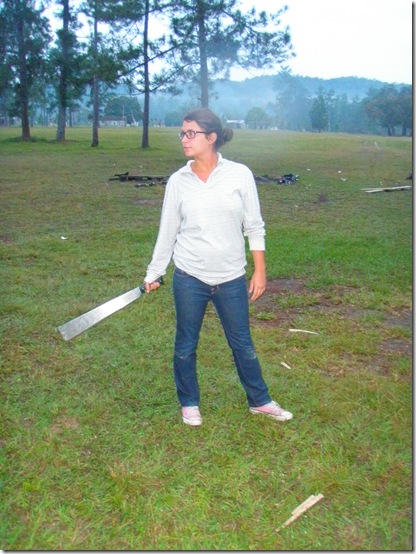 Melissa working on her machete throw at the logging camp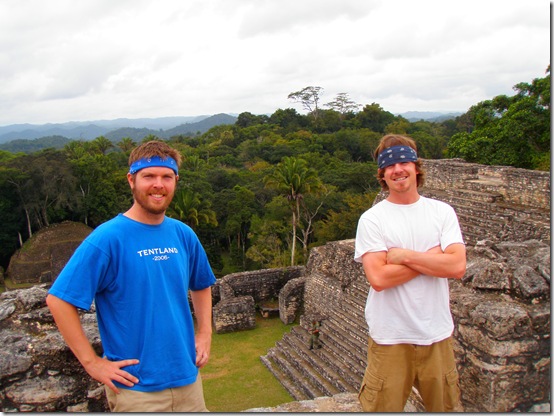 Craig and Nels atop the Canaa Pyramid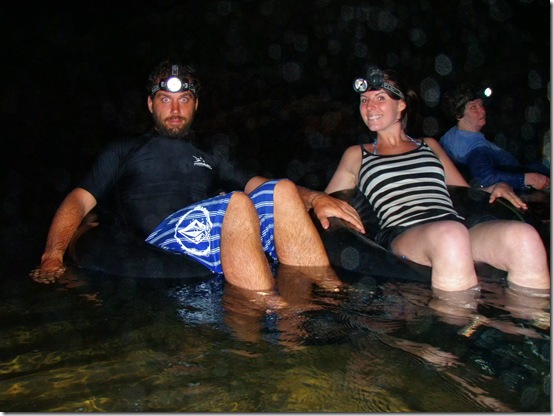 Steven, looking a bit frightened in the cave, is reassured by Zsofi