No more shipping the trucks! When we were in the planing stages of the expedition, we could not have possibly imagined how difficult, complicated, convoluted, annoying and downright painful the overseas shipping process could be. After four international, overseas container shipments during the course of the expedition, one would think that we are now knowledgeable experts when it comes to shipping vehicles abroad. The sad reality of the situation is the only thing we really know about putting a vehicle into a container and sending it to another country is that we never care to do it again. Steve and I have been waiting for this moment ever since we sealed the Toyotas in a container for the first time nearly two years ago.
This last shipment from Cartagena, Colombia to Colon, Panama was, in all actuality, probably the easiest of our four overseas shipments but that does not mean it was not without its own share of complications and headaches. Maybe that is just the nature of the beast. Fortunately for us though, we had a lot of help this time trying to tame the beast that is shipping to the extent possible. Through our contacts at the yacht club in Cartagena, we were put in touch with Manfred Alwardt. Manfred introduced himself as a facilitator who could assist us in getting our trucks from Colombia to Panama and around the Darien Gap. Manfred is an imposing German ex-pat who has been living in Colombia for more than 20 years and has spent most of those years facilitating things. Manfred's outward appearance combined with the fact that he did not remove his dark aviator sunglasses or put down his beer during the entire initial conversation he had with Steve led us to be a little wary of him and the services he offered. Based upon our initial reactions, we decided to try and arrange for the shipment of the Toyotas to Panama on our own. However, after running into the usual roadblocks, incompetent employees, hyperinflated fees and typical shipping industry bullshit, we decided to roll the dice and give old Manfred a shot. What did we have to loose? We have never really trusted anyone else when it came to shipping the trucks and after the last experience, we especially did not trust anyone in the industry, so we went out on a limb and decided to put our faith in one of the least likely of individuals.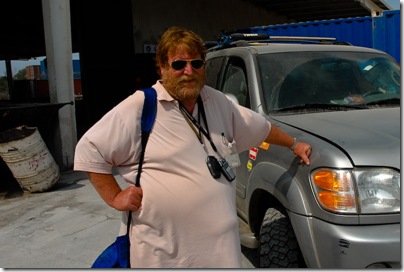 Manfred the facilitator
For once, we caught a break and the gamble worked, and after going through the process with Manfred, we realized that it was not really a gamble after all and that Manfred should have been the obvious choice to assist us from the beginning. Manfred knew the shipping industry in Colombia in and out, knew what paperwork needed to be completed and more importantly, what paperwork did not and like any competent facilitator, Manfred knew the right people in the right places. Confident and armed with decades of experience and German-like precision, Manfred walked around the port like he owned the place. After it was all said an done, Manfred had our trucks loaded in a container ready for the first ship bound for Colon for nearly $1,000 less than the cheapest quotes we were provided from freight forwarding companies in Cartagena. As an added bonus, we were loaded on a container ship with a transit time of two days instead of the six days offered by everyone else. We did have to contend with the Colombian national police and their anti-narco trafficking search of our vehicles and possessions… a process that proved to be quite long, obnoxious and essentially of little effect if we actually were trying to smuggle narcotics out of Colombia, but that was out of Manfred's hands. Manfred's commission for all of the work he put in was more than reasonable and the only condition we had to meet was to have a few beers with him at the yacht club once the container was loaded and taken away. I wish we could have found a Manfred in Buenos Aires, Cape Town, Singapore, Sydney and Los Angeles.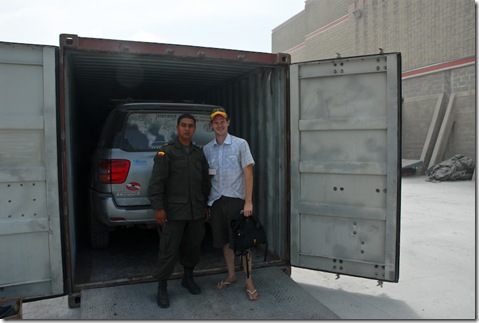 Ensuring the shipment is free of Bolivian Boogie Dust and Colombian Penicillin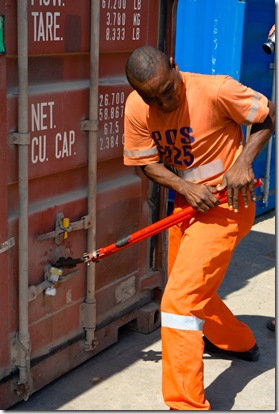 Breaking the container seals in Panama for the last time
There were some to be expected hoops to jump through on the Panamanian side of the shipment and the port workers in Colon backed the Tundra into a concrete wall while driving it out of the container, but after having gone through what we have in the past, it was all extremely bearable. It is still a bit puzzling however, that a country with arguably one of the busiest and most internationally recognizable and important shipping lanes in the world (the Panama Canal) has some pretty primitive procedures in place for processing container shipments but then again, the entire shipping industry in and of itself is pretty puzzling. The bottom line is that the trucks are back on terra firma and there is now nothing, (at least nothing in the form of a body of water serviced solely by greedy shipping companies and aggravating freight forwarding agents), blocking us from our current location and our final destination in the United States. Shipping the trucks internationally was exceptionally tough and the battles in the trenches were long, painful and frustrating, but we can now safely say that that war is finally over. Who actually won that war is debatable. In case you were wondering, here is the casualty report…
Los Angeles, USA to Sydney, Australia Cost – $5,500,  Duration – 41 days
Darwin, Australia to Singapore Cost – $2,100, Duration – 19 days
Cape Town, South Africa to Buenos Aires Argentina Cost – $6,500, Duration – 31 days*
Cartagena, Colombia to Colon, Panama Cost – $2,400, Duration – 2 days
*Plus another five plus weeks dealing with getting the trucks out of customs once they did arrive
If you do happen to be shipping a vehicle, or anything else for that matter, through Cartagena, Manfred the facilitator is definitely your man and he can be reached at: manfred.al@gmx.net
INSERT_MAP