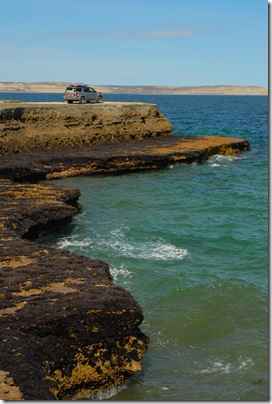 Well, folks, the zig-zagging of the southern cone of South America has officially begun!  Saying that we have covered some serious ground since leaving Bahia Blanca, Argentina would be an understatement.  Over the dizzying 1,300+ miles that we have driven in 10 days, we have toured the East coast of Argentina all the way to the West coast of Chile.  The two coasts of the continent, as well as areas pocketing the international border are where most of our designated targets have been so far. 
The first stop of this most recent segment was UNESCO World Heritage Site, Península Valdés. It has been listed as such mainly due to the various marine mammals that are naturally drawn to it's coastline and coastal waters.  The main draw year-round are the Southern Right Whales out in the protected waters of Golfo Nuevo and Golfo San José, while at various points of the year you can find sea lions, elephant seals and even orca whales that will beach themselves to feast on said sea lions and elephant seals.  We were able to get up close and personal with the whales and seals but unfortunately the orcas sliding onto the beach to hunt only happens between the months of March and May.
In order to capture that perfect and pure wildlife photo of the 'big game' animals you will need a guide.  Our elephant seal sight seeing needs were arranged by the specialized staff at Faro Punta Delgada Hotel de Campo.  We arrived at the hotel just in time for the last beach visit of the day just as we arrived for in time for mating season.  There is not much ritual involved between any given particular male and female but it is the dominance maintained by the alpha male of a colony that is truly impressive.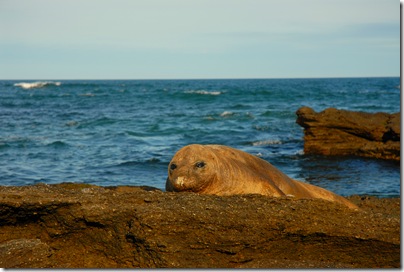 Since the main concern of the alpha male is to protect his harem, a row can occur as often as any other male attempts to compete for a female and, considering their size they certainly know  how to throw their weight around.  If any of the initial warning signs go unheeded by the alpha male, the end result is all 3,500kgs standing 5 meters upright to pummel the subordinate.  So, although you may be welcome to get as close as you like, it's best to watch them from a safe 10 meters back.
When it comes to observing the southern right whale, however, it really seems as though it's the whales that are observing you.  This particular breed have been dubbed the 'right' whale as they were known as the 'right' whale to hunt being that they will come 'right' up to your boat.  They have a tendency to be especially curious of the whale watching crews off of the peninsula nowadays since there hasn't been any threat of poaching in over forty years.  We were offered the chance to go out with Whales Argentina, and a tour can last up to 3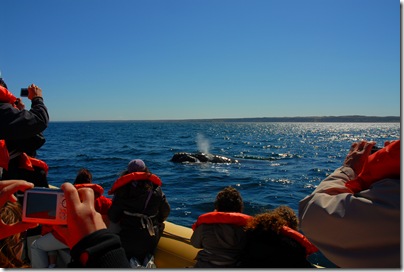 hours and you'll pretty much be guaranteed to witness one of the worlds largest mammals just a few feet away…so close that it's not uncommon to feel their breath spray your face every so often.  **On a completely semi-unrelated side note, TWBR feels compelled to make mention of the fact that we got to spend those 3 hours with starlet Isabella Rossellini.  I don't think I could piece together a more gloriously random Monday afternoon if I tried.
Anywhere you look on the peninsula, be it within the arid inland or along the not-to-be missed coastlines, will afford you with picturesque wildlife as far as the eye can see.
The Peninsula at Sunset in Punta Delgada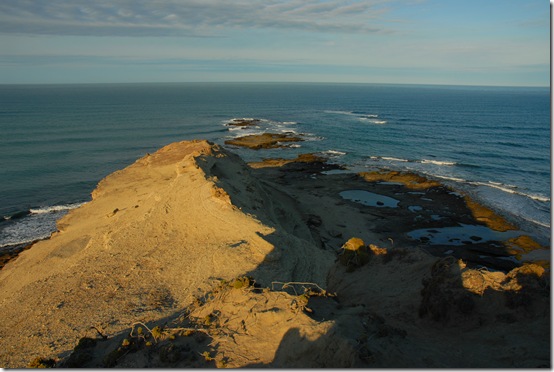 Getting close to the Elephant Seals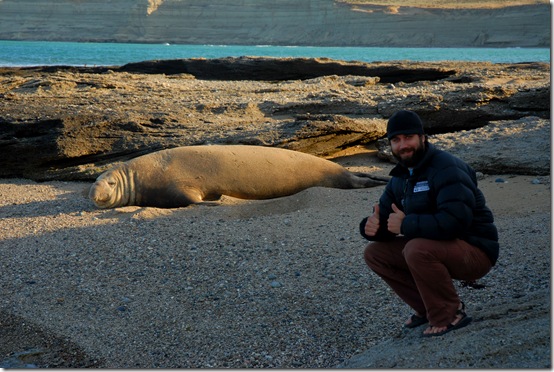 Hanging out at the Sand Dunes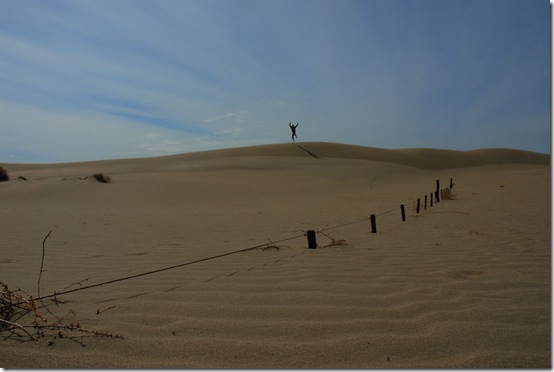 The friendly Right Whales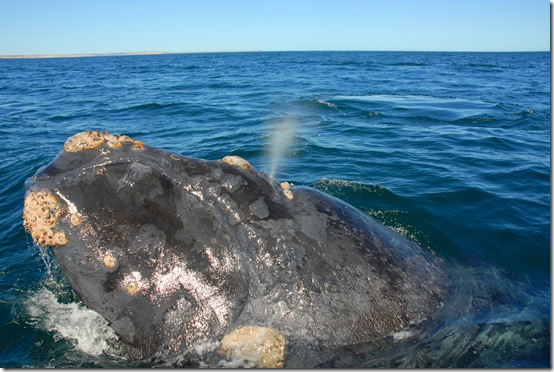 Additional Links:
The Paradise Hosteria – This hotel and hostel generously offered us free beds for a few nights in Puerto Pyramides.  Very clean and friendly place to stay.
Hi Patagonia Hostel – We ended up in Puerto Madryn for a night and last minute, this excellent hostel hosted us for a night.  If you are in town this is THE place to stay.
INSERT_MAP