With the many people that inspire us and help to make the expedition a success we have decided to start a little segment called "The Person of the Week".  It is exactly what it sounds like…each week we will present you with an individual that has impacted TWBR. This week we would like to call attention a whole family of very kind and generous individuals…so without further ado: the Dagna Family of Bahia Blanca, Argentina.
In a previous blog entry we mentioned that our first stop out of Buenos Aires would be at the home of Alfredo Dagna, one of Bouey's dad's colleagues in the bio-solids composting industry.  Ever since our troubles with the customs officials began over a month ago, it became clear that Alfredo is a well-connected man, always offering up the names and numbers of lawyers and various government employees that could potentially assist in our fight.  He patiently waited for our arrival as long as we'd waited to leave Buenos Aires and finally, late Tuesday night, after a 7-hour drive we made it to Bahia Blanca to meet up with Alfredo and his three kids.  Luckily the trucks were not held up any longer than they were because as we found out on the drive down, Alfredo and his wife as well as their eldest son Nicolas were all to be leaving the country on Wednesday morning.  Nicolas works for Alfredo's industrial composting company, Daasons, and is now in Iowa for a farming internship while Alfredo and his wife vacation in Italy and Greece.   Even though most of the family ended up going away we have had an unbelievable stay thanks to his other two children Sofia (19) and Andreas (21).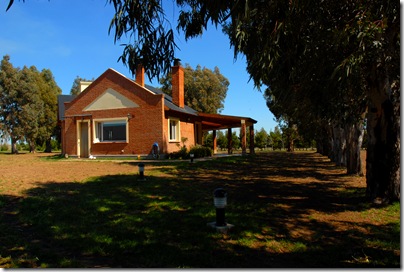 We thoroughly enjoyed the use of their weekend home about 30 minutes outside of Bahia Blanca on their 150 hectare farm.  It was such a welcome change from the ridiculously loud and toxic downtown corner of Maipu and Juan D. Peron where most of our time in Buenos Aires was spent.  There really is nothing like some good ol' fashioned clichéd peace and quiet!  It also didn't hurt that they had a hammock to help take in the impeccable spring weather.
It pretty much goes without saying that when hosted in Argentina the presentation of an asado is a guarantee.  This was not the first asado prepared in our honor and I'm sure it is far from the last, but I can assure you it was by far our favorite.  Before Alfredo left we overheard him hounding Andreas, "Make sure you do the asado correctly." Meanwhile Andreas just rolled his eyes in annoyance. With that being said Andreas is the best asador we have had.  You can tell this whole family knows what they're doing when it comes to asado.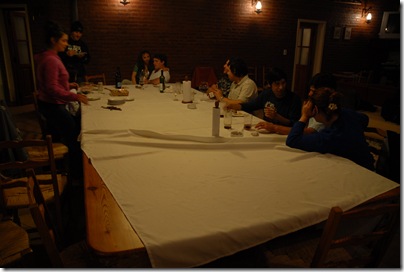 Their Parilla is right inside their Food Network style kitchen instead of out in the garden like most homes and they also have a 20 person dining table as the next major focal point of the house.  Both Nicolas and Sofia invited over some friends, so including TWBR crew we totaled around 15…see if you can imagine all the beer and wine you can drink + all the different cuts of meat you can imagine and multiply that by 15…and that was just the first night.
The second night we were introduced to what might just be the greatest production in BBQ-ing history: un cordero asado.  Although it translates as "lamb BBQ" we equated it as "lamb crucifixion".  For those unfamiliar, please try to familiarize yourself with one at least once in your lifetime because it was absolutely stunning!  More people gathered for this asado due to the heavy amount of work required for the 5-hour prep time.  Things start to kick off roughly when the carcass is dragged in and heaved onto a cutting board on the kitchen counter.  Pablo, the family's gaucho groundskeeper (and in our collective top 10's of world's greatest human beings) took charge of crucifixion portion of the evening.  Basically, the little lamb is purchased headless, then the neck must be chopped while on its back, then sliced down the middle in order to rip the rib cage open –thus allowing the four legs to be pinned down in opposite directions.  Are you following? Either way you should refer to our photos.  After seasoned properly with generous amounts of salt and homemade chimichurri it's ready to cook over the regularly tended fire pit.  It cooks for just under three hours and there are no words to describe the deliciousness that ensues!  Of course large quantities of local beer and wine are required consumption while the conversation lasts until the wee hours of the morning.
There you have it:Â  For too many reasons to count, we are left with no choice but to feature the Dagna family and our amazing experience in Bahia Blanca, Argentina.
The Prep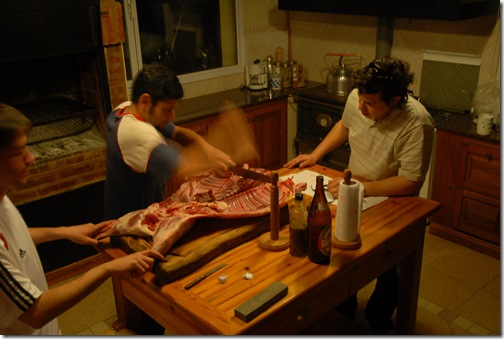 Cooking the Sheep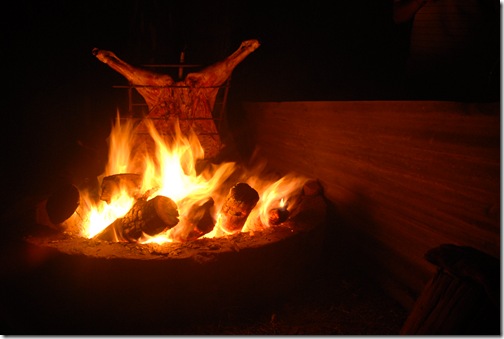 The Kitchen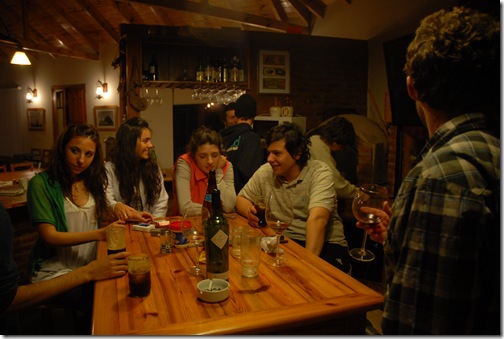 The Parilla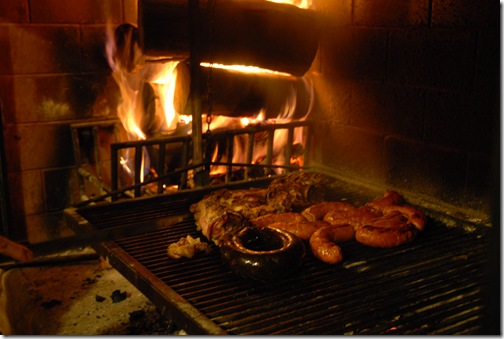 The Family (Or at least some of it)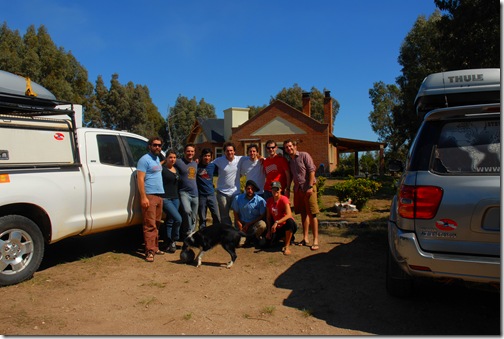 INSERT_MAP