Since entering Europe we received quite the welcome from the local media outlets. In Bergen, Norway we were featured on the front page of the main newspaper in town. In London I was interviewed by the Guardian, and as we were told by a friend in London, it is one of the most respected newspapers in the UK. We were also featured by one of the top 4×4 magazines in the France. Marc, the writer for the magazine also helped us with the recent repairs on the Tundra and is planning a 11 page spread in the magazine in the next couple of months. Marc Mellet was introduced to us by our friend Chenzorig in Mongolia. Chenzorig helped us install the new shocks on the trucks back when we were in Mongolia. He told us about Marc and his trip to Kamchatka peninsula in Siberia during the heart of winter. Chinzo helped Marc to install many of the new heaters and components that allowed him to drive his car there in such temperatures.
As we approached Paris, Steve Bouey started contacting Marc to see if we could get some help with the damage to our trucks. We figured that Marc would just be a nice guy and hook us up with a shop, but things turned out quite differently when we arrived. Not only did Marc help us with the trucks, we are being featured in the magazine and quite good friends with Marc after our time in Paris. He even let the crew sleep on the floor at his house. To top things off, when we took photos of the trucks for the magazine, Marc talked with the Police and we parked the trucks on the Arc de Triumph for photos (this is one of the craziest intersections on the planet, for those of you that have not seen it in person).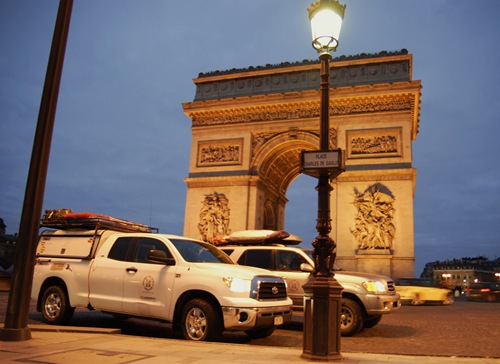 For whatever reason, we continue to find the right people. People like Marc and Chinzorig, others like Thomas or Carlos who run hostels in Barcelona and Munich, and the countless other people around the world that go out of their way to help us out are what keep our operation from getting stopped in its tracks, literally. As we drive down tollways crossing numerous borders in a week, we tend to accumulate a myriad of different currencies. Often we get to a toll booth and do not have enough of the local currency, but over and over the toll booth operators call their supervisors to either use our credit cards, take the other currency, or in some cases take multiple different currencies to come up with enough money to get us on our way. Hostels and hotels continue to give us discounts and in some cases, like at the Easy Palace hostel in Munich, we were even given free beer for one whole night along with beer tasting lessons. Often it is hard for me to understand why so many people take it upon themselves to make sure that The World by Road succeeds. Over and over when it seems that we have hit a barrier, a smiling face, a phone call or an email come through to prove that there is always a way to a solution.
Since we started the trip one of our biggest hurdles has been video. Although we film every day, with all of the trials of the road and technical difficulties we have obviously been far behind on our original plan to have more regular video up. Much like all of the other problems encountered since our exit from the comforts of home, this problem has also worked itself out. Brook Silva Braga is the latest addition to the crew here and his background is just what we have needed to take the load off my back managing the expedition and editing video. Since he has been here we have already managed to put together two different video shorts. So how did we find Brook? It is a long story, but when I was planning for the expedition the trailer for his documentary, A Map for Saturday, was referred to me by a friend. I thought it looked great and wrote a blog about it. A day later Brook contacted me…"Good luck on your trip, hopefully I'll be back on the road sometime soon, maybe our paths will cross." Our paths did cross again as he interviewed us in the Czech Republic for his site, The InterviewPoint. As a bit of a joke I poked Brook saying that he should join the expedition in Africa. I never really thought he would join, but only a month or so after the interview, Brook is now here in person.
It really is amazing how all of this works out. Each day brings us new challenges and difficulties, but each day also brings us miracles, for lack of a better word. In Tim Cahill's book "Road Fever"
he states, "This would not be possible without the help of all of the great people along the way." I read that book very early on in this adventure and every day that statement rings true more and more everyday.
Below I have listed some links to the the articles and media I have mentioned above:
Brook sent me a copy of his movie when we first met, it is worth a watch. You can purchase a copy of it on Brook's site – http://www.amapforsaturday.com/contact.html. It also is airing on MTV and some other stations worldwide, check out his site to see the latest times.
The InterviewPoint Interview
http://www.theinterviewpoint.com/ITP/Interviews/1E468135-B7D5-4CB0-87B2-47B8E74C8E6C.html
The Guardian Article – http://www.guardianweekly.co.uk/?page=editorial&id=505&catID=8
Interview in Bergen, Norway – Click here
Tim Cahills Book