Countries: Mexico
Miles Driven:Â  755 Miles
Song of the Week:  "Wish You Well"-Bernard Fanning
Book of the Week:  "Dove"-Robin L. Graham
Dove
Quote of the Week:  "We are seriously limping into the United States."-Stephen Bouey, read below…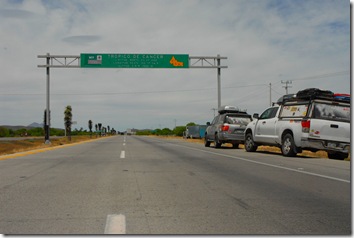 We are in the last few days abroad before we cross the border into the United States.  Bouey's quote of the week, puts our situation into a certain perspective.  The trucks are very functional, but have seen better days.  The absence of shocks in both vehicles makes the roads that much more interesting.  The dashboard of the Tundra looks like Las Vegas.  I'm sure every light possible is flashing.  The Sequoia is without traction control, the engine is making a louder ticking noise each day, the cd player is out of order, the sunroof does not function, and the emergency brake cable drags on the pavement, obviously making it unable to brake in the case of an emergency.  The-week-on-the-road-warrior Nate rigged the Sequoia bushings with pieces of an old tire to help with the steering, because it helps to make turns while driving across the globe.  Both windshields, meanwhile, have matching cracks at the perfect height, eye level.  The small Sony camera's LCD screen is broke, one of the devices to record HD footage is out, a microphone jack is broke, along with Shoppman's webcam, Bouey's computer, and Steel's new digital camera that he was able to take 15 pictures with.
Our bodies also have taken a toll.  The defense mechanism of the mighty agave plant (plant that makes tequila), on which we tried to pick up on our Jose Cuervo tour, did an incredible job of destroying some of our arms.  Craig's arm looks terrible, my arm is fairly terrible, and lucky Shoppman just got a little dose of the crazy skin reaction that attacked our arms.  He, however, got the unfortunate luck of eating a taco with an extra ingredient, a rock, and has the chipped tooth to prove it.  This, however, is nothing to the damage done to Bouey's big toe, which was smashed when a propane tank took a 5 foot dive out of the back of the truck onto his foot.  We've dealt with occasional bouts of sickness, stomach irritation and even issues with insomnia.
The road, as you can tell, is a grind, and it's how it has to be.  There's ups and downs, strikes and gutters, but after its all said and done it's all a part of the adventure, and that's why we're here.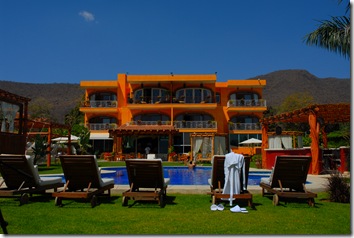 This week in review can be summed up by the three incredible cities and the amazing places that accommodated us.  The first was the El Chante Spa Hotel in Jocotopec, Mexico.  The place was first class in everything they had to offer.  The rooms, service, food, staff, massages Bouey and Craig got, and the temazcal sweat lodge were incredible.  The cultural, spiritual, temazcal sweat lodge experience we participated in was one of the most intense things I've ever done.  The heat brought most of us to the breaking point of getting out, but we all made it.  We were definitely pushed to the limit, but all finished the 2 hour ceremony.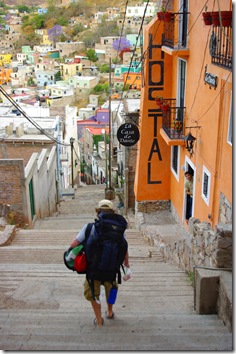 We then made our way to Guanajuato, where we met up with Dante and his family at La Casa de Dante.  This picturesque city sits at an elevation of 6,583 feet, has streets lined with stairs and houses painted in bright colors.  La Case de Dante finds its place right on the mountainside, is 100 stairs below a main road, and were more than accommodating.  Dante and his family, first off, were kind, nice and caring people, and really helped us out.  Dante set us up with breakfast, gave great directions to wherever we needed to go, contacted a local paper for an interview, and also had one of his friends, who has a radio show, discuss our project on the air.  Their hospitality, rooms, services and food make their place the hostel to stay at when visiting Guanajuato.
From Guanajuato we headed north to Monterrey for our final stop before we cross the US border.  Those on the crew from Colorado agree that Monterrey could be Denver's sister city.  Mauricio, the owner of Monterroco Hostel, took us in for three nights, and we couldn't have asked for a better place to rest our heads.  His colonial hostel is relaxing, is welcoming to tourists and well as students, has a warm atmosphere, and has a nice little pool that cooled us off in the dry heat of  Monterrey.  Mauricio was a great host, I really enjoyed my conversations with him, and he gave us a lot of good information on the city of Monterrey.  The city with spectacular views of the surrounding mountains, great little markets, and 40 mile-per-hour go-carts.
We had a great last, full week in Mexico, but are anxiously awaiting the border crossing back into the United States.  3 hours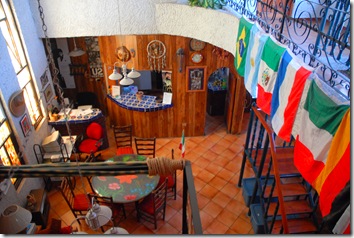 separate us from US soil.  We're almost there.
Special Thanks:
Inside view of the Monterroco Hostel