Some of the most interesting things we've done recently have come completely out of nowhere.  Such was the case when we entered Belmopan, Belize.  Nothing at all was set up.  We had some food in the back of the trucks, but it was getting late, and we had no place to sleep.  Camping was an option, but there wasn't any campsites in any of our guidebooks.  Then we saw the sign, "Ian Anderson's Cave Branch Adventure Company and Jungle Lodge."  We turned in to ask about camping and ended up being graciously accommodated with their bunkhouse and given a complimentary tubing tour the following day.  Things were looking up.
We walked up and saw a lot  of new construction to add to the already beautiful structures.  A building near the entrance will someday be a great welcome, and the pool and hot tub bar combo that is in the works looks like it'll be a great place to relax.
The true beauty of the place, however, is how it is one with nature.  One feels as though they are truly a part of the jungle.  The estate sits on privately owned 58,000 acres of land, beneath a 100 foot rainforest canopy, alongside the Caves Branch river, and finds its place within the jungle and amongst the wildlife.
The variety of lodging also adds in the experience.  The roofs are thatched, just like in Maya tradition, and you're out of luck if you're looking for a light switch or an outlet.  The lodging has no electricity or lights, for they're all lit by kerosene lamps.  Lodging options include: Jungle Tree House, Jungle Suite, Jungle Bungalow, Jungle Cabana, the Bunkhouse, and camping.
The adventure part of the company, however, is what separates it from the rest.  Again, what we thought would be a day on a lazy river turned into a river cave adventure.  Our lazy river lasted about 200 yards before we entered the cave, from there we had to turn our head lamps on, watch our step, hike, climb, and float.  We would get out our tubes, hike and then climb to ancient Maya Ceremonial centers.  When we all turned our lights off it was total darkness, and just like the Maya's heard, the river's noise seemed to be voices.  We then saw their ancient pottery, artifacts, altars, tools used for blood letting, and were pointed in the direction where actual footprints still remain of the ancient people.  The experience was intense, and to top it off we ended the river cave adventure with some cliff jumping.  This, however is not all they have to offer.  Besides cave expeditions you can choose from jungle expeditions, jungle mountains biking, Mayan Ruins Tours, and "Ian's Bad Ass Expeditions."
The unexpected, yet again, brought us another great adventure.  Uncertainty has really been working out for us.  The adventure continues.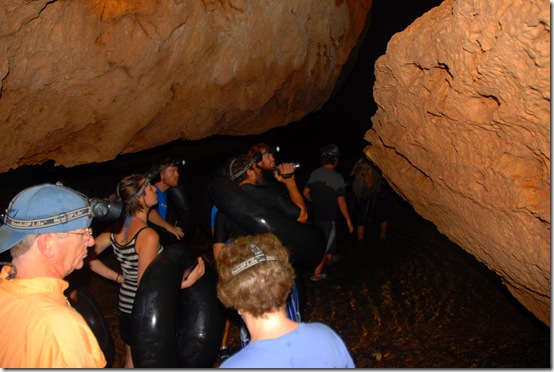 The start of the hike in our River Cave Adventure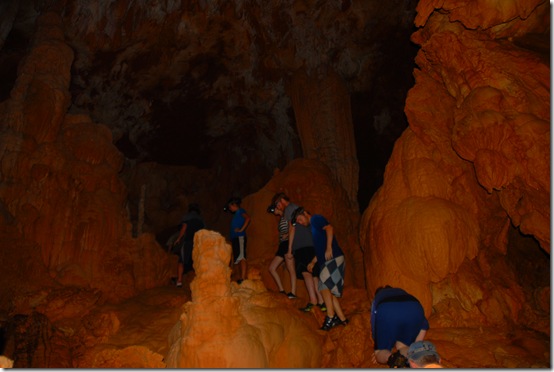 First climb into ancient Maya Ceremonial Chambers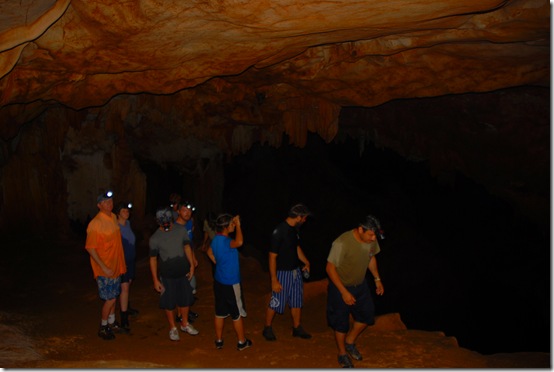 Crew looking over a 100-foot rock face in the Chamber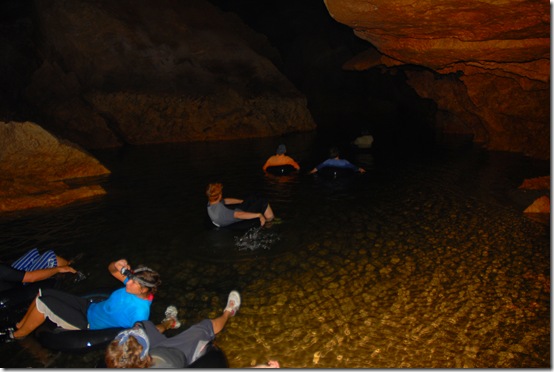 The start to our float/hike out of the caves
Cameraman Bouey, with all the equipment in the dry bag
CLIFF JUMPING FOOTAGE
Nels Thoreson Jump
Steven Shoppman Jump
Craig Johnson Jump
Steel Jones Flip