Point of Departure: Cartagena Yacht Club
Point of Arrival: Panama City, Panama via San Blas Islands
Mode of Transport: 30ft Single Mast Sail Boat
Approximate hours at sea: 41
Captain: A gregarious loose cannon named Hernando
Crew: 6 travelers entirely un-experienced in sailing and just trying to get to Panama
Now as you try to wrap your head around the basic logistics that finally put us on the North American continent, might I suggest you go ahead and think of it as a veritable "shit-show at sea"?   That being said though, we would not have had it any other way–before, during or after the whole affair!  We found ourselves in this precarious situation after receiving many outrageous quotes from the monopolizing companies in the shipping industry and decided to parlay the knowledge of the locals who use the the city's yacht club as their own personal office.  There we found Manfred, a German ex-pat who would become an incredible assistance in shipping the trucks. There we also came across a man none of us will soon forget, a man who is 58 and is the epitome of weathered sea captain—complete with gray beard, captivating stories, a bum leg, and a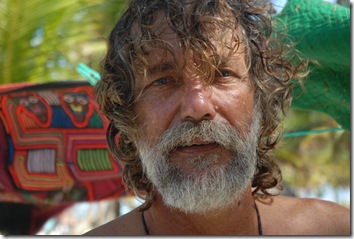 raging alcohol problem.  He makes the trip between the two countries on his personal boat/ home-sweet-home at least twice a month, almost always for the sake of taking overland travelers around the Darien.  Some choose to fly, but for others taking four or five days to make the journey the old fashioned way is what seems to be the undeniably better option.  After both of the trucks were packed safely in the containers, and with all transactions complete, we finally left Colombia around 4pm.  Hernando, cerveza in hand, showed us around our new digs in a little less than 30 seconds.  He also explained that we would be alternating steering shifts for the 40+ hour open-ocean sail.  Since there were 6 passengers total, each would have their turn at the helm every 12 hours for 2 straight hours–that is if no one fell ill with sea-sickness, which they did (we all did) and thus making certain shifts longer and more frequent.  In fact, as we motoring out of the sheltered bay, we were approached by the Colombian Coast Guard who upon learning of our destination, needed to double check the conditions as they believed it might be too dangerous of a time to depart.  It took several minutes for them to radio the proper authorities, and in the mean time, since it really looked as if they were sharing a bottle of rum, Hernando thought it would be it would be a good idea to offer the guards a beer each for their service. They declined and asked for Cokes instead…probably to mix with their rum.  Either way, they gave us  the green light.  We were all still pretty stoked for the voyage until we soon realized that 41 hours was going to be among the longest 41 hours of our collective lives due to the sheer size of of the boat (or lack thereof, rather) where the only option below deck is to lay down for fear of throwing up the lunch you didn't have an appetite for in the first place.  Our only real direction for steering the boat-as per Hernando-was to stay as close to the bearing of 260° as possible.  Sounds easy enough, right?  Sure, I guess, but when a mere 10° more than that places the sails directly into a terrifying cross wind, things get a little tricky.  When this happens, the rudder becomes increasingly hard to rectify and if one of the jarring 18′ swells hits the deck just right, everyone and everything is now soaked for the rest of the voyage.  Oh well, such is the life at sea.  When working the helm right, it can be fun and perhaps a little inspiring as you drift into a bygone age staring at the teetering horizon.  Overnight shifts were a little different.  It is when everyone else (including El Capitan) are asleep, and your only companion is the red, floating orb-of-a-compass that is dissecting your past, present and future that you know your faculties have truly begun to falter.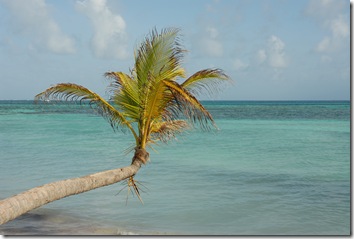 However each of us felt about those 41 hours, I can certainly speak for everyone when I say that we were all very grateful it was over and we had been dropped off in a Corona commercial.  365 islands make up the archipelago and compared to a lot of other tropical island destinations world wide, San Blas  is almost entirely unspoiled and where the Kuna natives still live in the same vein as  their ancestors of yesteryear.  It was on the second of the two islands that we arranged to meet our two newest crew members…Ladies and Gentlemen, I present you with Mr. Steel Hennessey Jones and a Mr. Nels Richard Thoresen.  Let it be known that they were selected not on merit, but on their given names. 
The best part of the journey came on the last day when Hernando bought not only fresh red snapper for breakfast ceviche, but 3 enormous crabs and 2 whole lobsters from Kuna fisherman.  The whole meal came to less than $16  but would easily have cost several hundred at a restaurant at home.  There truly was nothing like it, sharing crab legs the size of the morning snapper on the bow of a sail boat in one of the most picturesque places of the Caribbean.  From there we parted ways with our fellow greenhorns and Hernando, and took Nels and Steel back to Panama City to await the arrival of the trucks…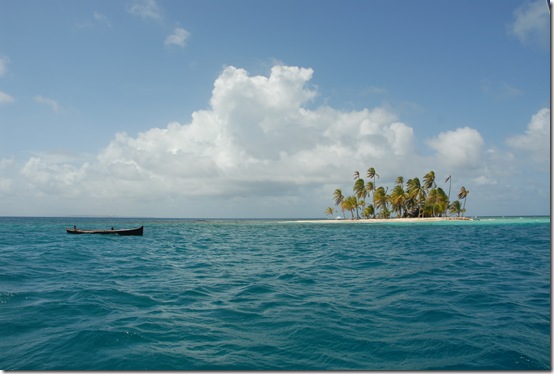 Just one of many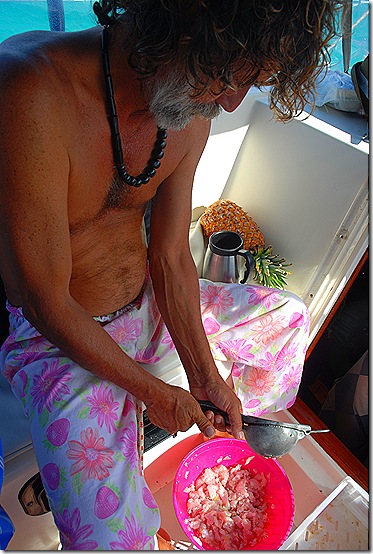 The Captain making the Ceviche.  Please note the "pants".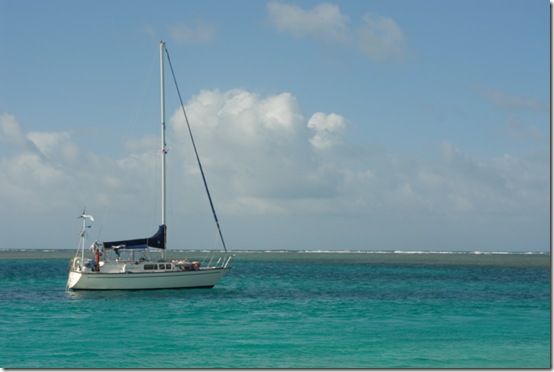 Our boat, the Stella Luna and the calm after the storm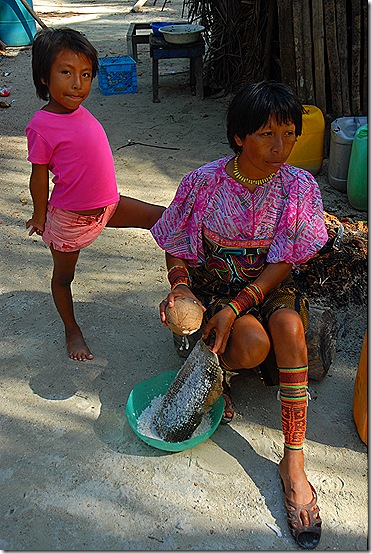 Kuna Islanders