"You have driven to Timbuktu?!" is a statement we regularly hear.  It is a place that is in everyone's head as somewhere far and away.  Timbuktu, like the Great Wall of China, or the Outback in Australia are all places that we put on the list when planning the adventure.  The Gobi desert, check, Siberia, check, the jungles of the Congo, check.  We have been crossing many of these iconic places off our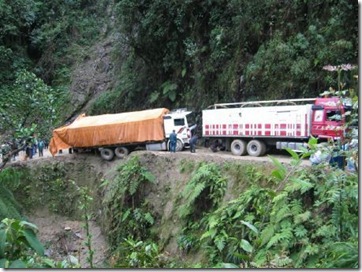 list of must drives, but last week, at least in our opinion, we crossed off the biggest one of all.  We drove the death road north of La Paz, Bolivia.
Like many of the places we have already been fortunate enough to drive, the death road was something that we found via an email forward.  This forward contained photos of a crazy one lane wide road that lines the jungle cliffs of northern Bolivia with sheer drops as high as 2,000 ft.  As we read through the email, the road, when it was the main road, would claim on average 200-300 lives each year. And it is official, this is the world's most deadly road, deemed so by the Inter-America Development Bank in 1995. The pictures showed us big trucks with half of a wheel off the side of these cliffs and we thought, "What a perfect place to drive a Tundra truck."
Two years later, we arrived at the death road.  Luckily enough for us, a new road has been built, so truckers no longer need to drive this road to move their goods.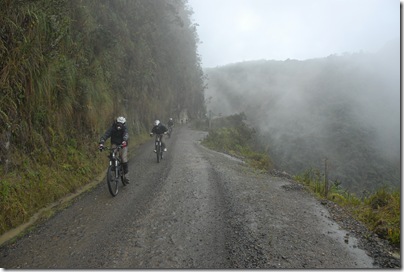 This is a good thing, because as we were informed by Pablo Paz, the generous owner of Vertigo Biking who took us downhill mountain biking on the road, in deciding which truck would back up to a wider spot in the road, the truckers would fight and whoever lost would have to back up. Since driving the trucks on a skinny, slippery road on a 2,000 ft cliff is already a bit intimidating for a guy like me, I was really not to interested in adding brawls with Bolivian truckers to the list as awesomely macho as it sounds.
So for three days last week, and three days which I would deem as some of the best of the expedition, we went down the road twice and even stayed at the bottom in the jungle.  Once was on downhill mountain bikes and the other was in the trucks, both times had all of our adrenaline skyrocketing.  To add to the excitement both days had fog on and off so thick that you could not see more than 30 ft in front of you, but when the skies would clear the canyon was breathtaking.  With a starting altitude of over 15,000 ft the road takes you on a decent of over 10,000 ft in just over 55km.  The start of the road has a sign letting you know how many lives it has claimed this year.  This year it has still killed 43 people, even with the new road.
I like to joke with Melissa, my co-pilot on the road, saying, "Death road, shmeth road, I could hardly stay awake."  That could not be farther from the truth, I think my heart needs a few days of rest from pumping so fast on those cliffs.
With the bikes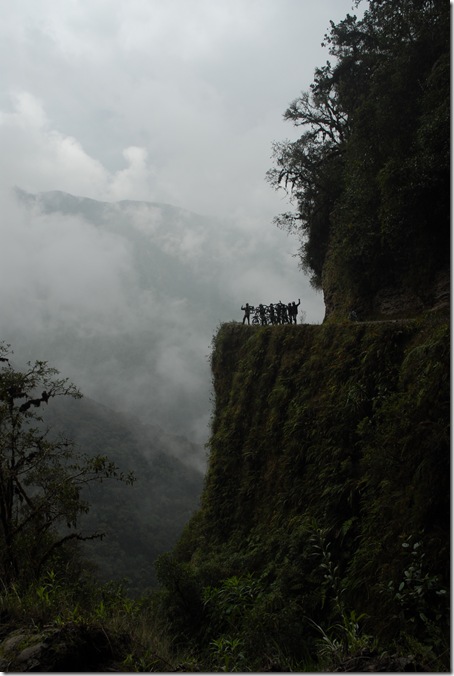 One of the many memorials on the road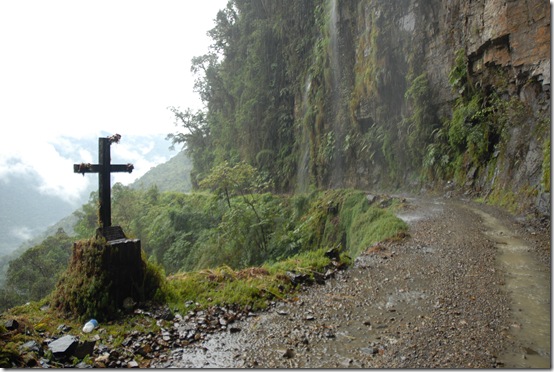 The crew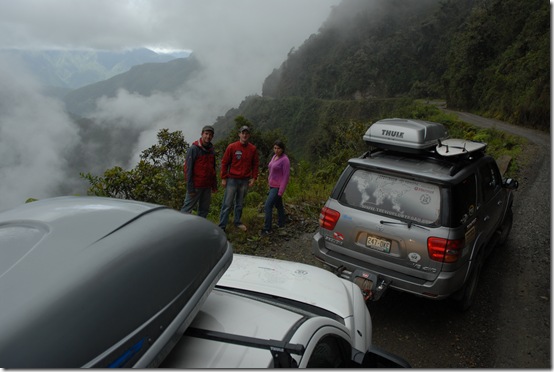 Waterfalls keep the road nice and wet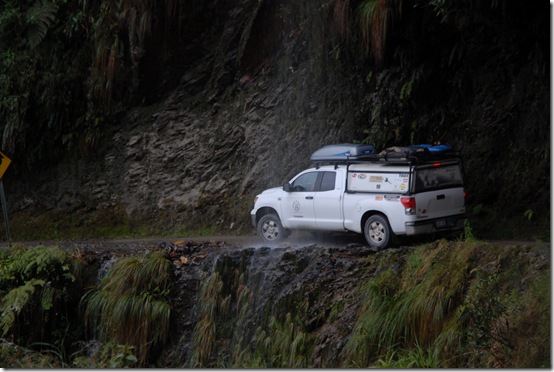 Our favorite road, El Camino de Muerte