When it comes to shipping our trucks overseas, it definitely ranks high among the least desirable activities associated with our expedition. I would even go as far as to say that it is the worst part of driving around the world. You would think that after doing it three times on three different continents, the entire process would get easier, however, nothing could be further from reality. Currently, the trucks are somewhere in the middle of the South Atlantic Ocean on their way to Buenos Aires, having left the port of Cape Town a week ago… we think. The fact of the matter is, the shipping industry is so far from being streamlined and staffed by people who do not know the answers to your questions that the trucks could be on their way to Iceland for all I know. If you ask someone in the shipping industry a basic basic question such as: "Did the container I paid $5,000 for make it on the ship, and did the ship leave," you usually get a response that goes something like: "I am not sure about that, I will check on it and get back to you." Well, it has been over a week and we still have not heard back to see if the container actually made it onto the ship as planned. One would hope that this would be information you would not have to ask for.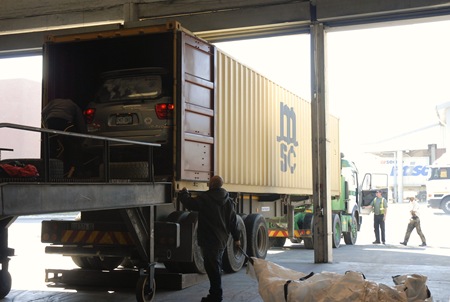 Both the Thundra and Little Pepe fit in a 40′ standard container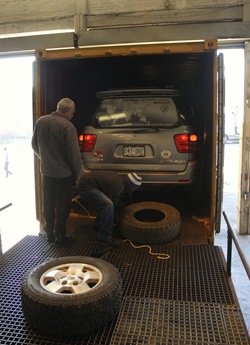 As you can see, we have had some tire problems recently
You would think that for the money we are paying, shipping companies would let you know the status of the goods you have so willingly and trustingly placed in their care, and it does take a lot of trust. I do not even have a physical receipt or any other proof in my hands showing that I stuffed a container full of $100,000 worth of Toyotas and expedition gear. The only evidence that I have of shipping our trucks are the photos I took after I spent 4 hours loading them in their container. To make matters even more frustrating, I do not even have the vehicle Carnets in my possession either. You may recall that Carnets are very important and extremely valuable documents, but due to a misunderstanding between the shipping company and the South African Customs officials, the customs officials decided to hold the Carnets for ransom until someone paid for "services rendered…" having a customs official come down to see that the container was sealed properly. Again, for the money you pay, you would think that things like this would be taken care of, but instead, I am the one having to listen to the customs officer complain about not getting his $20, even though I just coughed up several thousand for the shipment. I even offered to pay him the 200 Rand on the spot myself, but because the evil face of corruption pops its head up quite frequently in South African government sectors like customs, they will only take an electronic payment from the company that is supposed to have arranged for everything in advance. Now, instead of bringing the Carnets with me, I have to "trust" that they will be couriered to me without any problems.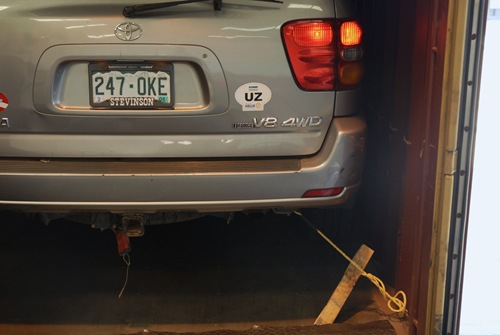 Hope rope holds…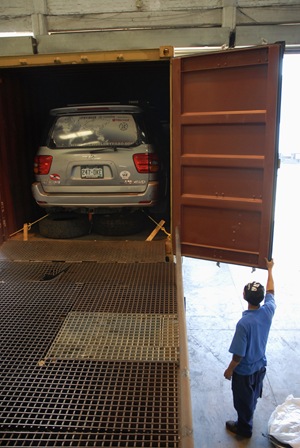 Four hours later and the container is ready to go
Bye, Bye Toyotas, I hope we see you again
Oh well, I guess it is the nature of the beast. We get a lot of e-mails from people asking us questions about the expedition and a lot of them revolve around the logistics of shipping vehicles overseas. We have a lot of experience in overseas shipping, but the only advice we are really in any position to offer is, good luck and be prepared to be disappointed. I can not recommend any shipping companies either, because we have tried three different ones and have had problems and setbacks with each and every one. I guess I have to look on the bright side, our trucks have arrived at their destinations in one piece… more or less. Some Dutch friends of ours somehow had their vehicle totaled somewhere in-between dropping it off at the dock in Rotterdam and picking it up in Cape Town. I do not know where you would even begin to sort something like that out, but the sad reality is that something like that is not that far out of the ordinary for an industry like overseas shipping.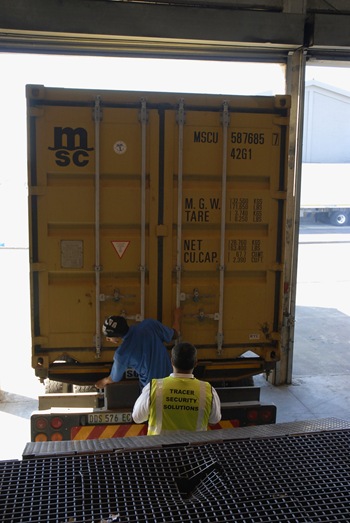 Make sure that thing is sealed properly!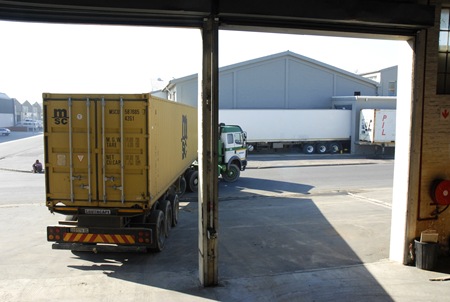 Off to the container stacks for vessel loading
INSERT_MAP