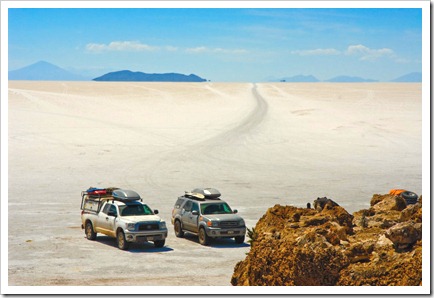 When Steve and I were planning this trip, we spent a lot of time simply trying to find useful information about overlanding and planning an expedition. Overlanding is obviously a big commitment and takes a good deal of time, energy, funding, and other resources, all of which can serve as decently formidable barriers for embarking on an overland adventure. The lack of clear and accurate information presents even more obstacles to getting something like this off the ground, but is part of the adventure.
There are a few good resources out there where you can gather information specific to overland vehicle travel. Two of the better ones include Africa Overland – a collection of websites from people who have completed or are in the process of completing overland trips in Africa and beyond, and Horizons Unlimited– a resource board and forum aimed at overland motorcycle adventures but also contains valuable information for overland vehicle travel in general. There are also countless individual websites from people who have done everything from country specific trips to large-scale, long-term travel.
Realizing how much time we spent trying to get our own research done and seeing the demand for some sort of resource with more information, we are in the process of redeveloping and reorganizing our own website to serve as a valuable  resource for people planning their own expeditions. We receive many e-mails asking questions ranging from logistical issues, to what type of trucks to use, to recommendations on the best places to go. While we try to get back to everyone who sends us an e-mail, at times it can be difficult, so we are working on a Frequently Asked Questions page which will continue to grow and evolve as more and more questions come in.
We also have well over 500 blog entries that we compiled and posted on the road in our journal. These blog entries cover a wide range of topics and can be translated into 40 different languages. To make it easier to search through the content available on the blog posts, you can use the search options on the right hand side of the screen in the journal to search by key word or list the blogs that are related to certain categories in the drop down menu.
As we continue to remodel, organize and develop this website into this overland travel resource, we are certainly open to suggestions for how to best accomplish that. If there is information you are looking for but can't find, let us know. Chances are, you are not the first person to ask us that question. If the content on the website is not intuitive, let us know, maybe other people are having problems finding things. Ultimately, the planning aspect of an overland expedition is still going to be a lot of work and require a decent amount of your time, but hopefully this website will help to take some of the bite out of that task so you can actually start to focus on the fun part of the expedition – getting on the road!
Don't forget to sign up for email updates be submitting your email in the form in the sidebar on the right.  We will email you each time we have new info up.