Countries: USA, Canada
Miles Driven:Â  1,900 Miles
Song of the Week: "Bluebird" –Ryan Bingham
Book of the Week:  "Lonesome Traveler" –Jack Kerouac
Lonesome Traveler (Kerouac, Jack)
Quote of the Week:  "HEY!  You two get back here, right this SECOND!  There's people in there, get away!"- Father of two boys that were about to open the tent Craig and I share.  We got to the camp site very late and had to pitch the tent near of the entrance of where you walk to the hot springs, right beside the garbage can, so it wasn't there fault at all to be exploring.  It's a good thing they didn't get in, however, because after a few days of straight camping Craig and I, hands down, look scarier than any wildlife the kids may have encountered.
Miles, upon miles, upon miles.  Miles in the rearview mirror.  That, for sure, was the theme of this week, as we traveled from Valdez, Alaska to Edmonton, Alberta.  That is a haul, spanning close to 2,000 miles.
We spent the weekend at the wonderful Brookside Inn Bed and Breakfast, and were graciously accommodated by hos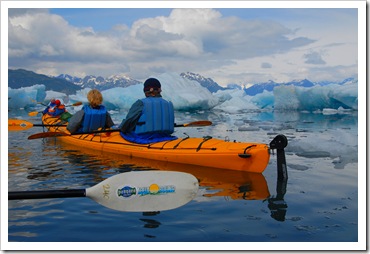 ts Jerry and Susie.  We had some great meals and conversations with them, and were beyond lucky that they had an abundance of halibut.  Home cooked meals are never taken for granted by anyone on the crew.  We were also fortunate enough to participate in two stellar activities in Valdez.  The first was done by the other crew members as they ventured out within the Columbia Glacier sea kayaking with Pangaea Adventures.  The pictures seem surreal, they had a great time, and said that some of the sights were more than magical.  We then were able to battle the river with Keystone Outfitters for a great day of rafting.  This was really special for me because a few years back my grandmother, who was 80 at the time, was paddling on the same route.  She had always told me of the "toilet bowl" rapid that got her completely soaked, and a smile stretched from ear to ear as we hit the very same rapid and I got completely soaked.  One has to admire the spirit of a 80 year-old woman manning a paddle in the front of raft, but she's an incredible woman, and she never ceases to amaze me.  One is never too old to run some rapids.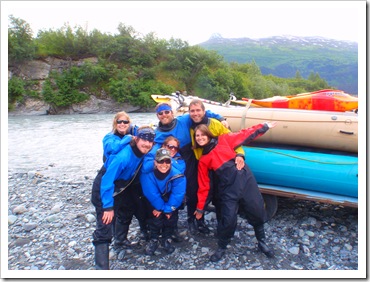 In Valdez we came to the conclusion that a proper finale of this expedition would be from where it all began, Denver, Colorado, and it would only be fitting that we made it to our homeland for the Fourth of July.  This, obviously, is no small task as it's mileage is well over 2,000 miles, but anything can be accomplished when you've gone this far, got to the farthest point north in North America, got  sponsored by Red Bull and are anxious for the return home.  The decision was then made that the Mile High Music Festival, instead of New York City, would be the finale, so off we went.  We headed out and picked the Top Of The World Road for our exit out of Alaska.  After a day of scenic driving atop of the world, we pulled out in some makeshift turnout, pitched some tents, and didn't see another car the entire night.  We all agreed it was one of the most silent places we'd ever been.
Another long day of putting miles behind us, as well as Alaska, and found us driving up another trail of sorts.  We picked a fairly level spot, hid our tents from the view of the road, made a fire, and watched Craig instruct everyone on the proper way to make a smore.  I was impressed.  His many hours at summer camp paid off.
On the road we were again, with a destination in sight, as Laird Hot Springs was the circled location on the map.  Naturally heated water is always good on a body that hasn't seen a shower in a few days, and that has been in a vehicle on average of no less than 10 hours a day.  We arrived at the hot springs in the brink of time, as they were just closing the gate, and informed us we could hit up the springs.  A few us made the 10 minute walk to the springs, but were told that the upper pool was closed due to its area being used by a black bear, but the lower pool worked out just fine.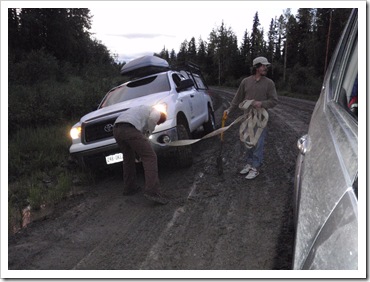 Yet another long day of driving resulted in a crazy end of the day.  Tired and weary we turned off the highway to find a place to camp.  It was a gas company road, but also had a sign for camping.  It did, however, have another sign that said that trucks during the muddy or snowy season should have chains.  The adventure began.  I was in the passenger seat of the follow car, with Miss Magnuson driving the Tundra in front of us.  The road was less than stable. "OH, NO!," gasped Miss Hodge from the backseat of the Sequoia as the Tundra slowly made it's way into the ditch.  At an angle, almost ready to tip over, was the tough Tundra.  Out of the truck popped a crazy-haired Shoppman, with a huge grin on his face as he stated, "Welcome to Africa, my friends, it's been awhile since I've had to do this."  "Game on," I thought, "here we go."  We rigged up a tow rope, got Craig rocking in the Sequoia, and had Shoppman battling with the Tundra.  After a little bit of a struggle we came out victorious, and got both vehicles to somewhat safe ground.  We found the campsite, pondered yet another memorable adventure on the road, and sat around the fire together for dinner at 1 in the morning.
The morning brought a much needed rainless wind that dried out all our gear, and got us prepared for another trek to reach the big city of Edmonton.  Caked in mud and a bit crazed we got in late to the beautiful La Boheme Restaurant, Bed and Breakfast in which one can experience the magic of romantic ambiance in what they call their little piece of Europe.  Resting our heads in beds never felt so good.
Later on today we'll be making a break for the border to return to the USA.  Glacier National Park and Bigfork are circled on our AAA map, and we're looking forward to celebrating the anniversary of the birth of our beloved country.  Have a great Fourth of July.  Be safe and take care.
Photo Exhibition of the Week: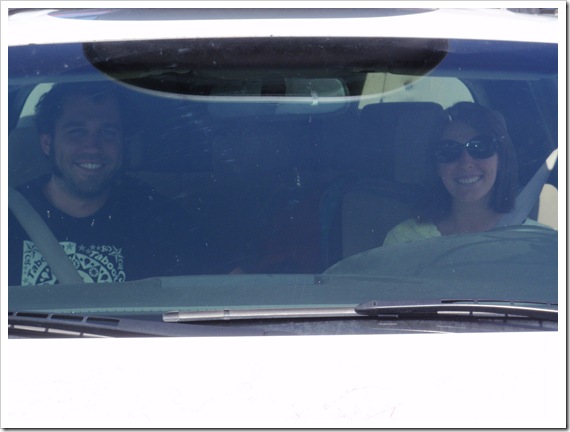 The Hungarian takes the wheel, smiles all around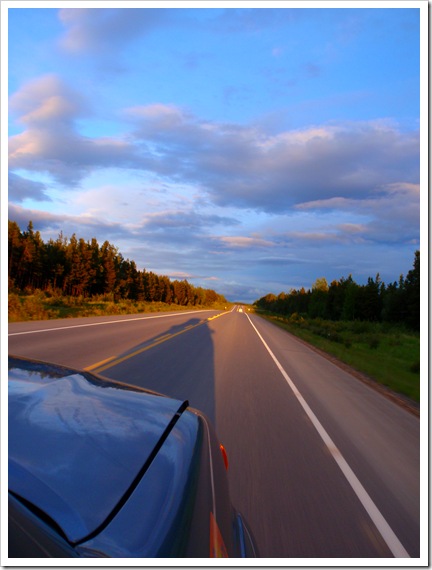 Theme of the week: Putting Miles Behind Us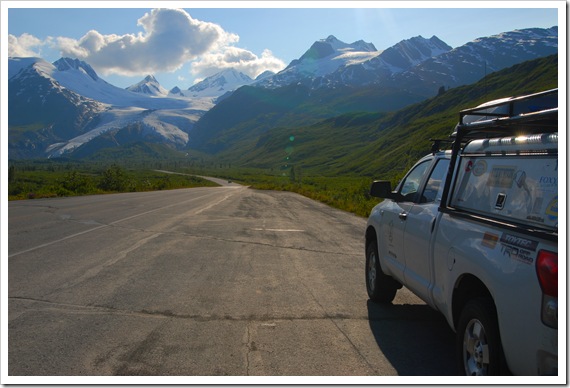 Beautiful view outside of Valdez, Alaska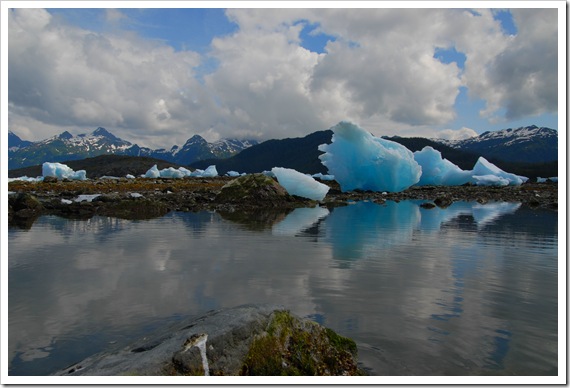 Sights from the sea kayaking with Pangaea Adventures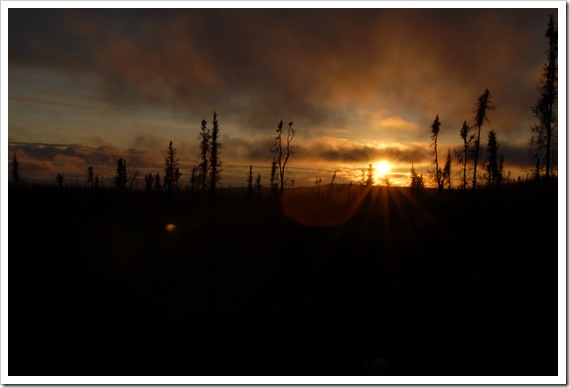 An almost sunset on The Top Of The World Road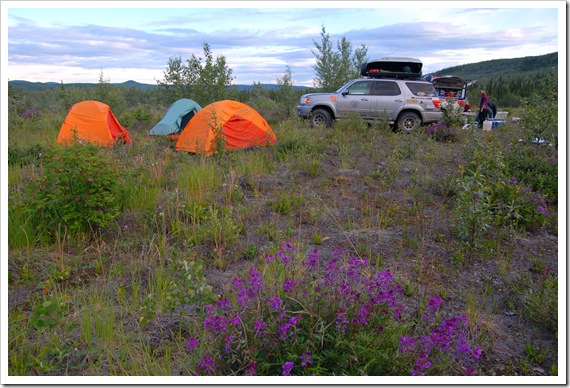 Camping in the Canadian wilderness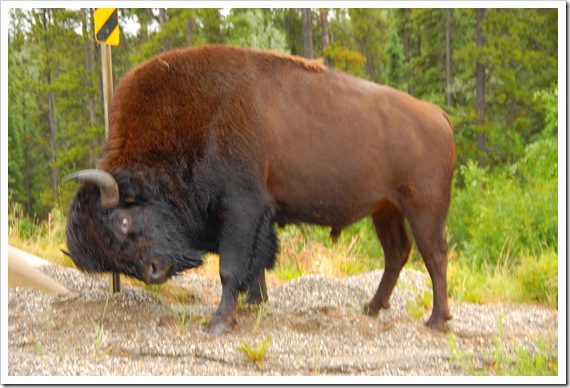 Anyone can get an itch