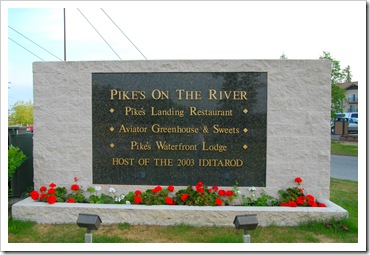 I don't know about you, but driving off road over 1000 miles in 3 days wears me out. Add camping one night in 37 degree Fahrenheit with a biting wind, and the next night being harassed by literal clouds of mosquitoes, and it makes for four pretty tired crew members. Oh, and did I mention that we were north of the Arctic Circle where the sun never sets, making sleep difficult for those of us not used to such a thing. Don't get me wrong, I cherish these unique experiences and it's one of the main reasons that I'm on the expedition. However, after the mad dash to the Arctic Ocean and back I think I speak for all of us on the crew when saying we were happy to have a host for a couple of nights at Pike's Waterfront Lodge upon our return to Fairbanks.
The Lodge has a lot of different options for accommodation, from standard hotel rooms to waterfront cabins. The four of us split between two rooms, with each pair having ample space to spread out and get a good rest to recover from our journey. The first night we had a little relaxation time in the steam room and sauna while on the following evening we watched "Into the Wild" to prepare for our attempt to make it to a famous landmark featured in the film. Pike's remains a small business in comparison to some of the larger chain hotels and resorts, but works like a machine to ensure that all your needs are met. Between the two restaurants and bars, ice cream station, sauna and steam room, gift shop, and exercise area one could easily spend a day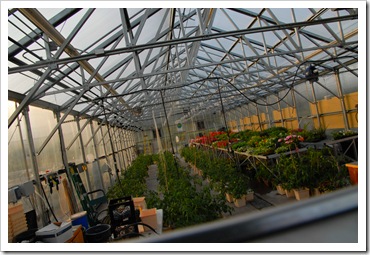 enjoying the amenities.
Upon arrival we had a complimentary ice cream cone, which was a tasty treat after another day spent in the truck. As an added note, Pike's is making an effort to be a little greener than the rest. Our rooms were located in the Copper Lodge, which boasts solar panels on the roof to help reduce Pike's non-renewable energy use. In addition, there is a greenhouse on the property where hydroponic fruits and vegetables are grown during Alaska's long summer days. These include lettuces, tomatoes, and strawberries that are used in the restaurant as well as sold locally.
Speaking of eating, the Lodge has two choices on the property. There is Pike's Landing sitting adjacent to the Lodge and overlooking the Chena River. On our first night there Steve, Nels, and I had a few beverages outside until the chilly air forced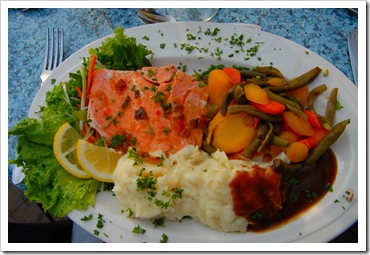 us indoors. On the second night our crew was served a hearty and colorful meal on the outside deck of the Binkley Room, the main restaurant located on the first floor of the main building. Steve had a seafood platter, Celeste had the halibut, Nels the steak and I had a large portion of Alaskan salmon. The deck was curiously free of mosquitoes that night, and the evening sun was still high in the sky. With the variety of foods in front of us we all tried a bit of each other's meals and ate until stuffed. We even made room for some yummy cheesecake to share.
With a lot of camping and adventure ahead, Pike's Waterfront Lodge afforded us the opportunity to get some much needed down time, as well as spend a day running errands around town. We also timed perfectly our departure and the arrival of the latest crew members, Kristen and Meagan. So, with our thirst quenched, our bellies full of good food, and the new girls in tow we left Fairbanks ready for our next adventure. Stay tuned…
Some more photos from Pike's.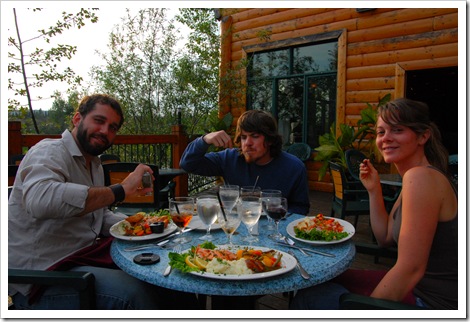 Steve, Nels, and Celeste dig in on the deck of the Binkley Room.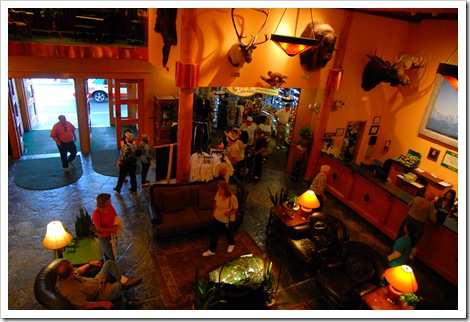 A busy reception.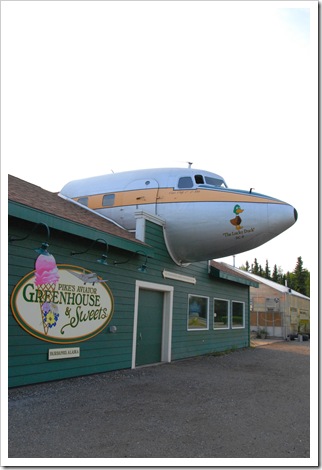 The greenhouse has an aviation theme.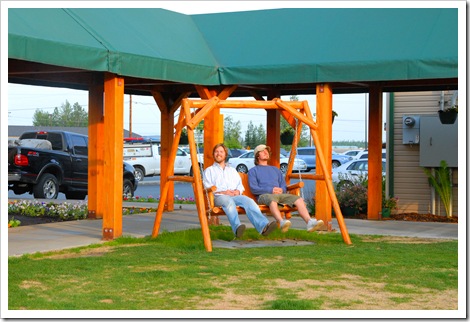 Enjoying a swing in the late evening light.