Country: United States of America
Miles Driven: 1,137 Miles
Song of the Week:  "Your Rocky Spine"-  Great Lake Swimmers
Book of the Week:  "A River Runs Through It"- Norman MacLean
A River Runs Through It and Other Stories, Twenty-fifth Anniversary Edition
Quote of the Week: The following quotes are a direct result from our crew spending 24 hours a day, 7 days a week together, and now more on our own in Denver.
"I've been worried sick, where have you guys been?" Steven Shoppman to Craig Johnson and I after we went to the grocery store  (gone for 30 minutes)
"How you doing?  I miss you, man." –Craig Johnson in a cell phone call to me (6 hours of not seeing each other)
It was another crazy week for us on the road.  The week began in Austin at Hostelling International-Austin, where they graciously set up a dorm room/work room for us in their television room, and ended in one of the greatest cities in the world, Denver, Colorado.  From Austin we made the 551 mile trek to Roswell, New Mexico, where UFO shops, museums and a research center showcase the 1947 Roswell UFO incident.  A nice Days Inn on the main road through the town had both cable and high speed internet, so for the first time in awhile we were able to sit back, relax and got to watch the NCAA national championship game.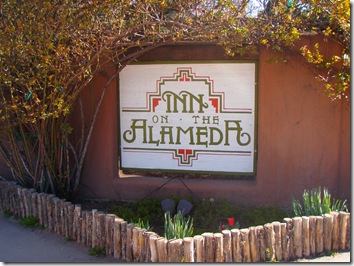 Tuesday brought the Sequoia with Shoppman and Houston-to-Santa Fe crew member, Benjamin Davis, to Albuquerque, and brought the other crew members in the Tundra directly to Santa Fe to check into the great boutique hotel, the Inn on the Alameda.  Shoppman, in a whirlwind of media contact, got contacted by Associated Press journalist who wrote a great article about the expedition, and got us some great national attention.  The rest of us arrived in Santa Fe for a tour of the relaxing and peaceful Inn on the Alameda.  This was exactly what we needed before our final push to Denver.  The Inn had beautiful garden courtyards surrounding by adobe walls, cozy and comfortable rooms, showcased authentic Southwestern flavor and traditional Pueblo-style architecture, and employs two of the kindest people we've talked to in awhile, Judith and Charlie.  Their enthusiasm for our project was incredible, and mine was the same for Charlie's art.  He spends time at the Inn as their bartender, and in his studio producing great pieces of art.  Make it to the Inn On The Alameda and say, "hello" to Judith and Charlie for us.
Wednesday, again, found us in a state of anxiousness.  We were six hours away from where the trip began, none other than Denver, Colorado.  The trucks has been out of the state for 26 months, had travelled over land for nearly 70,000 miles, travelled in containers in cargo ships over many oceans, and had entered nearly 70 countries.  Like the trucks, Shoppman and Bouey's accomplishment is next to none.  They've done something that not too many people have ever done, and this journey is epic.  I, along with the other crew members, are really proud of them.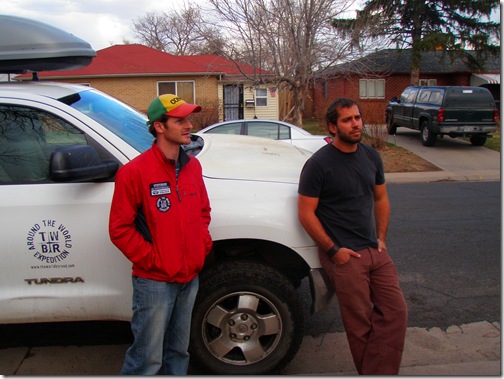 We crossed beside the "Welcome to Colorful Colorado" sign and truly felt like we were home.  The beauty of the snow capped Rocky Mountain Range that stretched to the left of the highway was a great first sight of our homeland.  We pushed northbound on I-25, saw the Mile High City ahead, and finally made it to Shoppman's sister's house where family, friends and Channel 7 news were waiting for us.  It was really great to see some familiar faces, and to see the support.  All of us really appreciate all the support, and know this couldn't be done without all of you.  Our families, friends and sponsors have been instrumental in the success of this expedition, and will be crucial for its completion.  It's a daunting goal to travel the world's roads with two trucks, filled with ups and downs, triumphs, trials and tribulations, but the support keeps us stable our continued dedication to promoting the awareness of diversity of people and cultures of the world keep us moving on.
| | |
| --- | --- |
| | |
Thursday was our day of relaxation, which was desperately needed, and ended with a wonderful concert, AuNaturAlice 5, put on by Alice 105.9.  If you have yet to listen to Brett Dennen or Matt Nathanson, I strongly suggest you do, it's well worth a listen.  Another good listen is Shoppman and Bouey's Friday radio interview with, David Sirota, on AM 760.
Saturday marked the day of our return home festival at Katie and Nate Rollysons'.  It was a great combination of people, food, beverages, old crew members, family, friends, pets, radio broadcasters, and a chance for everyone to sit back, look at some pictures and catch up on lost time.  Nate and Katie are always great hosts, and all the work they've done to help us is very much appreciated.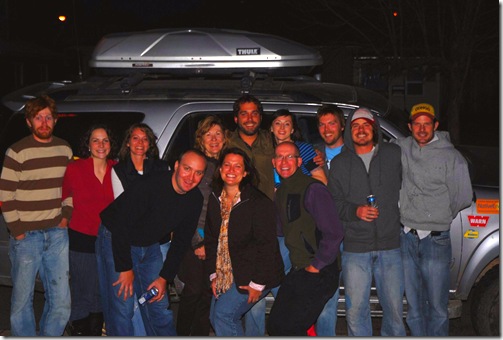 We've put another great week in the books, and are now focused on getting the necessary funding to finish the expedition.  We'll be in Denver for a month to get ready for our push north to Alaska.  If you, or anyone you know would like to sponsor us or donate to the cause, please feel free to contact me at:  nels@theworldbyroad.com.  Take care.  Be well.