Countries: Mexico, United States of America
Miles Driven:Â  1,290 Miles
Song of the Week: "Canyon Joe" –Joe Purdy
Book of the Week:  "Dharma Bums"- Jack Keroauc
The Dharma Bums (Penguin Classics Deluxe Edition)
Quote of the Week:  "Steve, you successfully made it all the way around the world, and it was the Fire Ants in Houston that got you." –Ben Davis, laughing hysterically, watching Steven Shoppman jump around after getting attacked by Fire Ants.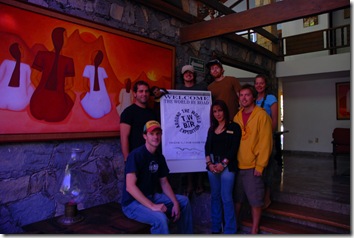 To say this week was jam-packed would be a complete understatement.  We began at a beautiful hotel in Chipinque National Park in Monterrey, Mexico, and ended the week in a hostel in Austin, Texas.  Sunday and Monday night we had the pleasure of staying at Hotel Chipinque overlooking the city of Monterrey.  It was a perfect place to relax, enjoy the views and prepare for our break for the US border.  Our recently remodeled luxurious cabana had two living rooms, a kitchen, a dining room, a master bedroom, another room with two single beds, and an outdoor patio.  The service, staff, food and accommodations were first class.
Tuesday morning we awoke with anxiousness of crossing into the US.  We had a great breakfast at Hotel Chipinque, said goodbye to our wonderful coordinator, Monica, and headed to the border.  The two Toyota trucks had been out of the country for 25 months, have spanned 64,000 miles and 70 countries and were closing in on US soil.  We entered the Mexican border town of Matamoros, which someone in Houston had told me to "Keep our heads down in," and again, we didn't sense anything alarming or unsafe.  People were walking on the streets, people were at work, and school kids were hanging out on the lunch break.  We crossed the Gateway Bridge and made our way to the US border patrol stop.  I was riding shotgun in the Sequoia, with the camera rolling, documenting Shoppman giving our passports to the border agent.  "What are you doing?" the agent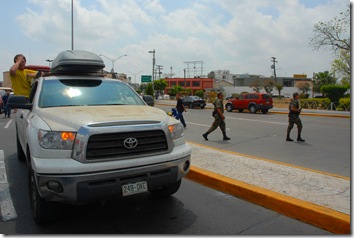 yells at me, "Do you know I can confiscate your camera?" "You (pointing at me like I'm three years old), need to delete all of your border footage immediately," he so kindly informed me.   Well, well, what a great welcome to the United States.  There was not one sign, anywhere, that told us not to film, not one.  Could it be anymore ironic?  This expedition has sought, amongst other things, to highlight the good of places, to showcase the good of the people, and to bring people closer, and then as we enter our home country we're treated like this.  It just doesn't make sense.  So, of course, we were instructed to pull into a checkpoint area, so another agent could witness Shoppman deleting our footage, and as we sat, we watched countless vehicles pass right along into the United States.  It truly amazes me that we have a drug problem at the border.  Let's get beyond mad at me for video footage, and let the next fifteen cars across the border unscathed.  Our video footage of us returning to our homeland is a lot more dangerous, I've come to find out, then the possible kilo of cocaine two vehicles behind us.
After the debacle at the border we head to Mustang Island in Corpus Christi to camp on the ocean for our first night back on US soil.  We got a couple celebratory beers, set up camp, and passed the night away listening to the waves and some good tunes.  The Steve duo made it back to the US, a great accomplishment in itself, an incredible journey, but it's not quite over yet.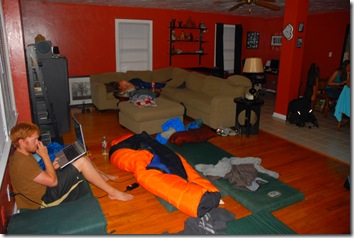 Wednesday found us on our way to Houston, Texas, and to a great little coffee shop/bar called the Coffee Groundz for a meet and greet.  We then were notified, through an email, that the place we were to stay had been given away to some eager WWE fans that were in town for Wrestle Mania.  Celeste then did some last minute couch surfer's heroics and found Jason and Lindsay, who were unbelievably nice people, that let us, all six of us, crash in their living room.
Thursday's agenda had skydiving at Skydive Houston and a welcome back to the US dinner at Cullen's Upscale American Grille and the agenda.  Mother nature threw around a bit of wind and pushed our jump to Friday, so we headed to the Shady Tavern for an interview with Houstonist editor, Jason Bargas.  The Shady Tavern is a hidden gem with free burgers, hot dogs and chips for the patrons, and the Houstonist is a great outlet for local Houston happenings.  Craig, while eating a superb free cheeseburger, got the call all of us were waiting for.  Craig's intense work paid off, as he got in touch with Susan at the Alden Houston, and they were able to accommodate us.  They really showed us the Texas Hospitality we had heard of, and their boutique hotel is a must stay in downtown Houston.  The rooms, restaurant, bar were first class, and the beds were the most comfortable beds we've slept in for many months.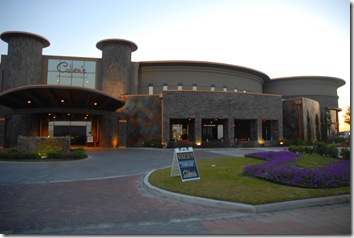 We followed our hotel news by making our way to Cullen's restaurant for an elite dining experience.   The service, staff and food were outstanding, and it's 38,000 square feet of space of dining room, private dining, a club, an outdoor patio with a fireplace, a billiard room, a ballroom and meeting room.  We started off with "the change your life" Frito Pie and ordered an assortment of prime rib, fillets, chicken fried steak and ribs.  We were not disappointed.
Friday brought us to Waller, Texas to skydive with Skydive Houston.  It was a highlight of the week.  The whole experience was incredible.  The owners, staff and jumpers are great people, professional and stellar at what they do.  The atmosphere at Skydive Houston is so relaxed and chill on the ground, but quickly switches to intense when you enter the plane.  A tandem skydiver quickly ascends to 14,000 feet, jumps from the plane and freefalls for 8,000 feet at a speed of over 120 miles per hour before the shoot is pulled and you make your way back to the earth.  Just get down to Waller, say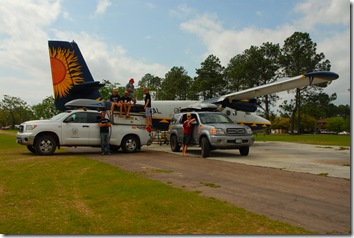 "hi" to the staff or us, jump out of the plane, and like my good buddy once said, "Skydive the world, baby."
Special Thanks: