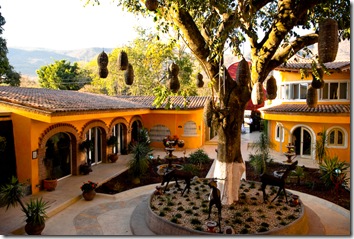 Being on the road for two years can take its toll on you from time to time. Sitting in a truck for several hours a day can wreak havoc on your body. Rebels, roadblocks, customs agents, shipping companies and border guards can all easily elevate stress levels. Bedding down in a different place nearly every single night can throw a wrench in your sleep patterns and being away from friends and family for such a long duration can make you homesick and depressed. All of our positive experiences and encounters throughout the course of the expedition significantly outweigh the not so glamorous ones, however, the bottom line is that the expedition can at times be a roller coaster ride of energy levels and emotions. It is not that often that we are able to completely remove ourselves from all of the sensory input that surrounds us every day and unwind and totally relax.
Fortunately for The World by Road crew, the staff at El Chante Hotel and Spa did an amazing job of helping us to forget some of the stresses of the road and allow us all to relax in style. Situated on the shores of Lago Chapala about an hour outside of Guadalajara and designed and managed with the intention of helping to ease the tension from both your mind and your body, El Chante is the answer to escaping whatever stresses life happens to be throwing your way. It does not matter if you are coming from half way around the world or simply just up the road in Guadalajara, El Chante is definitely well worth the visit.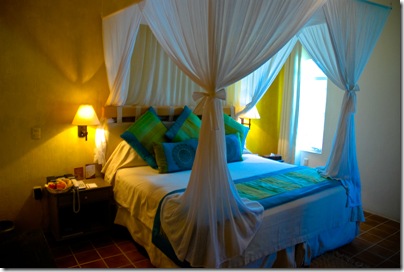 El Chante combines both comfort and style
This boutique hotel has all of the amenities one could possibly imagine and no expense has been spared to ensure that your stay is a unique experience. From the spacious and luxurious rooms to the well manicured gardens to the relaxing thermal pools, the layout of the hotel is designed with comfort and tranquility in mind and the ambiance is hard to match anywhere else. El Chante definitely goes out of the way to look out for your comfort and little touches such as plush bathrobes, fuzzy slippers, fresh fruit baskets and shower mats rolled up with bows around them in the rooms place this hotel in a class above other five star accommodations.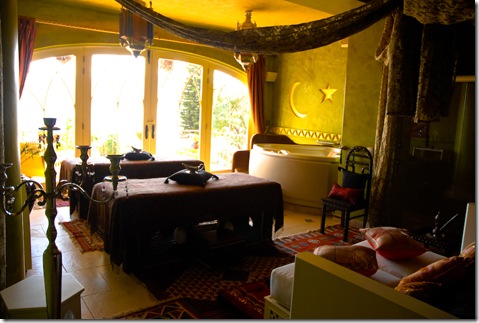 The rooms are so luxurious it can be hard to leave
If the rooms at El Chante are not enough to set your mind at ease, there is a laundry list of top notch spa services and spiritual healing therapies to ensure that you will walk away from your visit a new person. During our stay at the spa, we were fortunate enough to experience the custom built temazcal, a traditional type of sweat lodge. The temazcal experience starts with a ceremony intended to help you clear your mind and leave all of your troubling thoughts and emotions behind. Once you enter the temazcal, you take and physical and mental journey all while sweating out harmful toxins with the aid of traditional herbs and medicines. The temazcal was like no other sweat lodge we have ever been in and after two hours in the heat and steam… that's right, two full hours… all of us emerged from the experience a little different from when we started and believe it or not, it was a positive change.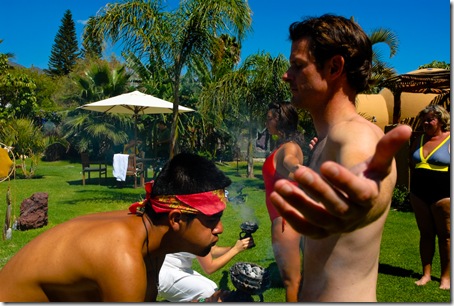 Bouey and Melissa cleanse some evil spirits before entering the temazcal
If the intensity of the temazcal does not seem like your idea of rest and relaxation do not worry. El Chante has a plethora of other traditional and cutting edge spa treatments that can be custom tailored to address any of your ailments. The staff at El Chante are trained in massage techniques from all over the globe and their healing touch combined with a pre massage sauna and a dip in the naturally healing thermal waters filtering through the spa make for and incredibly therapeutic experience. During my hot stone massage with Paola, I was so relaxed that I actually fell asleep halfway through the treatment. Daily yoga classes invigorate your spirit and strengthen your body and the goal of any stay at El Chante is to experience serenity, harmony and ultimately, rebirth.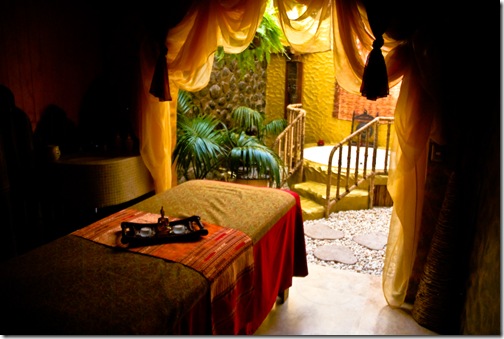 Just looking at one of the massage rooms can be relaxing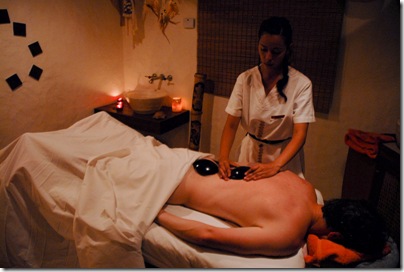 Alleviating two years spent in the driver's seat
El Chante was just what the doctor (holistic or traditional) ordered for the World by Road and it was an oasis on a sometimes tiring road. I can safely say that the entire crew left the hotel feeling rejuvenated and refreshed. The friendliness of the staff and their dedication to your well being… from the therapies and treatments to the excellent food and service, make El Chante not just one of the most exclusive hotel spas in the region but in the entire world.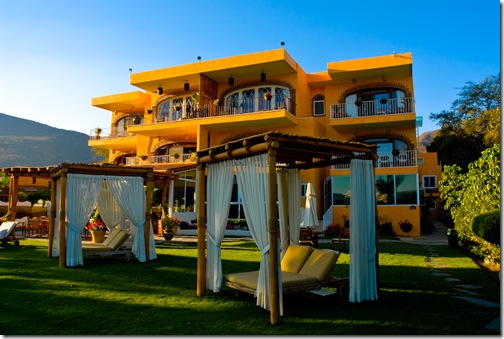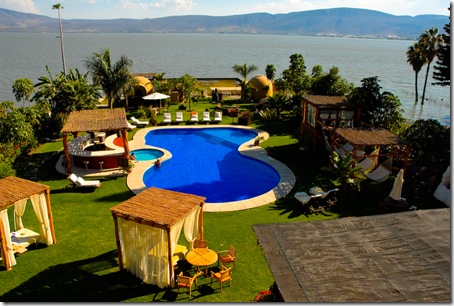 INSERT_MAP