Countries: Mexico
Miles Driven: 515 miles
Song of the Week: "Heartless"-Kanye West
Book of the Week:  "Free-Wheelin' "-Richard Lovett
Free-Wheelin': A Solo Journey Across America
The crew and our week-on-the-road-warriors (Shoppman's sister, Katie and her husband, Nate) awoke Sunday morning in our ocean-side rustic cabana in Nexpa.  Nate did some masterful mechanic tricks on the Sequoia over the weekend, so we were set to head to Barra de Navidad.  Barra de Navidad is a small, country beach town on the Pacific that has many small craft shops, restaurants, bars and a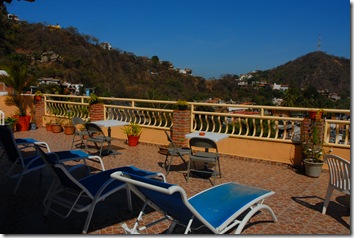 neat little pier.  From here we made the trek on Monday to the spring break hot-spot of Puerto Vallarta.  We were graciously accommodated by the Oasis Hostel, and enjoyed everything they had to offer.  The hostel was spotless, had great rooms with cable tv and a dvd player, a lounge room with computers and television, an awesome roof top area, great receptionists, laundry service, and its location just outside the main downtown area was perfect.  Tuesday was our  chill day in Puerto Vallarta, and Wednesday was departure and arrival day.  The departure flight took Katie and Nate back to Denver.  The week we had with them was a blast, and it was great to have them on the road with us.  It'd be hard to find two nicer of people.  All of us are looking forward to seeing them soon.  The arrival flight brought new crew member, Celeste Tenuta, into town.  Her photography experience and creativity will be a great addition to our cast of characters.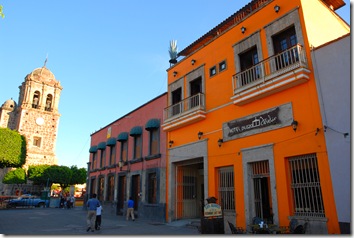 Thursday took us from Puerto Vallarta to the incredible, small town of Tequila.  The Hotel Plaza Jardin was able to accommodate us, and we were thrilled to stay right in the town plaza.  Friday was by far the highlight of the week.  We started the morning off with a VIP tour of the Jose Cuervo factory.  It was nothing less than incredible.  We were lucky enough to see the entire process from the harvest in the fields, to the baking of the agave plant, to the press, fermentation, and then to the distillery.  The finale of our tour brought us down into a cave that holds wooden barrels of tequila that were rated the 2nd best liquor  in the entire world.  We were able to dip a pouring device into one of the wooden barrels and pour a glass.  Then our guide, who was so professional and thorough that we really didn't even have to ask questions, instructed us on how to taste test the elite tequila.  The tour is a must if you are visiting Tequila, Mexico.  After an excellent meal we passed the night observing a town celebration in the   plaza.  A few speeches started things out, followed by a parade of little kids dressed up in animal costumes, and ended with a musical performance on the main stage.  Men, women and children were having more than a great time.  If smiles and laughs were scary, it'd be the only way that this town would make me afraid.  I'd take everyone from my parents, grandmothers, brothers, and friends to this town.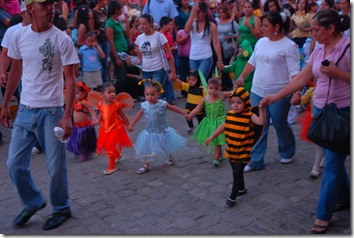 We all must remember to not judge a book by it's cover.  What happens in one town doesn't directly correlate to another.  The happenings we've read about Juarez aren't even close to the cities we've been in Mexico.  The only things we've come upon are amazing sights, excellent food, and the gracious, nice and caring people of Mexico.  Your opinions, I'm certain, of the safety of Mexico would surely change if you would have been able to spend the wonderful day with us in Tequila.
Special Thanks:
Jose Cuervo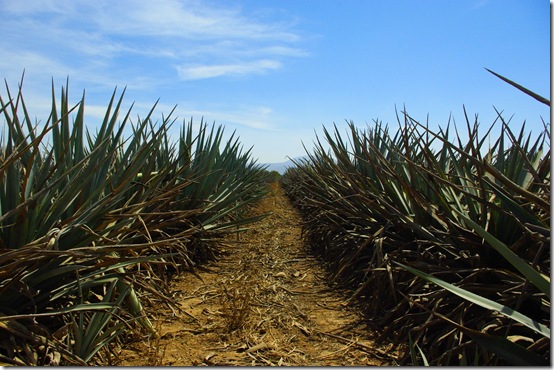 Agave Plant which produces Tequila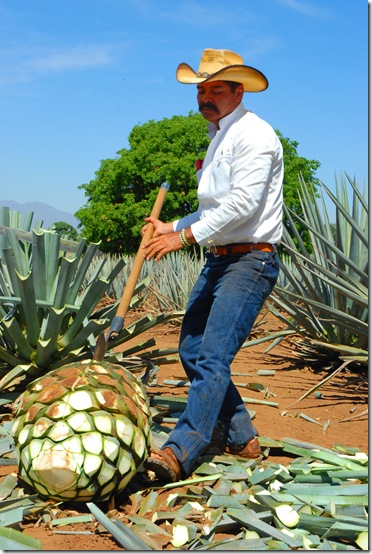 Head Jimador, Ismal, get the agave ready for the factory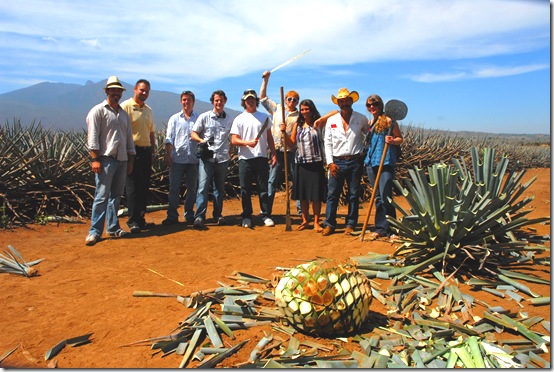 TWBR Crew bearing arms accompanied by guide, Mark, and jimador, Ismal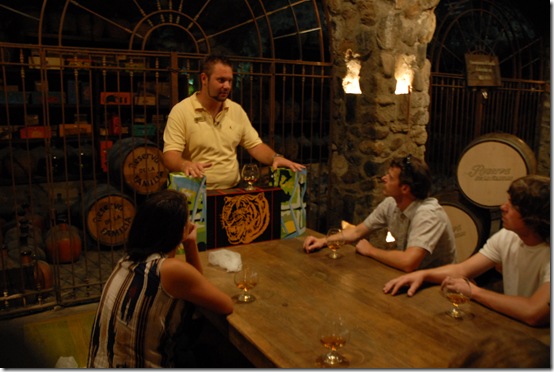 Attentive listening at it's best in the Jose Cuervo Cave