Belize is awesome.  It is an especially awesome English-speaking nation coming from all Spanish-speaking nations for seven months.  We entered through the only border crossing from Guatemala, simply known as "The Western Border"–They like to keep things…well let's just say…succinct in Belize.  The Western Border was more like a crazy space/time continuum threshold, where we had just entered a much more up-to-date version of any varying sort of Caribbean island than anywhere in Central America.  The Kriole accent that had all of a sudden surrounded us was thick and entirely exotic, but if need be can always be put aside for the ever-more boring formality of "British English".  We were all longing to hear the language we call our own, but given the amount of time we've spent with Spanish, we didn't know what to do with it…for the first few hours, maybe even first full day, we literally couldn't believe our eyes or ears and the very fact that we were actually, full-on communicating with the locals was too much to handle at first.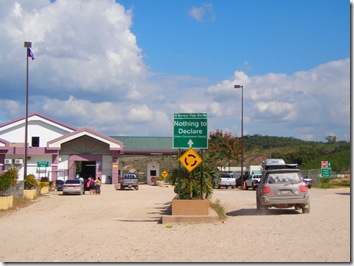 Belizean border.  Hello, English!
The whole country only consists of roughly 320,000 and for it's size, makes it one of the least densely populated countries in the world.  We quickly found our two favorite places among this tiny and quaint little gem: Hopkins and Placencia.  Hopkins is a small fishing village comprised mostly of Garifuna, a group of people, who, like typical Belizeans are of mixed ancestry but also maintain their own language, music and food.  Hopkins is sleepy by day but full of life at night and well worth exploring every aspect.  Placencia, while not too terribly much larger in size or even population, has had more of a tourism boom but low key none-the-less in comparison to other Caribbean destinations.  It's a small town where locals and tourists alike mingle at the many beachfront bars and restaurants.  Veronique at Caribbean Travel and Tours set us up with three amazing places to stay around town to really get a feel for the local vibe.  Nels and I were right in the middle of town staying at The Yellow House; Bouey, Steel and Craig were right on the beach with pool access at Mirasol; and Steve and Zsofi were just at the edge of town in their cosy cabana called The Village Inn. 
Besides being unbelievably hospitable, one of the main draws for tourists to Placencia is the diving.  On our third and final day we were fortunate enough–with many many thanks to Splash Dive Shop–to go diving where divers world-wide only may dream of going–the great Belize Barrier Reef.
Many, many thanks to Splash Dive Shop in Placencia, Belize for taking us out on the two most spectacular dives of our journey!  Placencia is located on the mid-Southern coast of the country making it a perfect jumping off point for experiencing the Belize Barrier Reef, and some of the most sought after diving on the planet.  The reef is a 300 kilometer stretch of the larger Mesoamerican reef system.  This reef system, which is the second longest in the world next to the Great Barrier Reef in Australia, has not even been entirely researched but it is already known to be teeming with over 500 species of fish and invertebrates, 70 species of hard coral and 36 species of soft coral–all of which extremely colorful and vibrant.  With Whale Shark season right around the corner, we had our fingers crossed but unfortunately we were too early.  We did see a lone dolphin swim right by us on our wall dive (just that, a 30 meter upright wall of reef several kilometers long!), and a really graceful and super-cute sea turtle on our second dive that our dive master with his keen eye spotted from 20 meters away.  Then there were the endless colorful corals.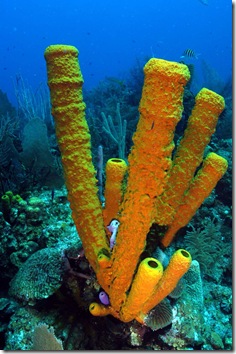 Like all of our dives, this one too required an early start meeting up at 7am –Everything was pretty much set to go, we just needed to meet the boat but unlike the rest of our dives we were taken to the dive sight in style.  Once we reached the dock, a few of us even walked right past the sport-fishing boat completely assuming that would not be our transport.  With that being said, the hour and fifteen minute trip both to and fro the dive sight were unbelievably comfortable.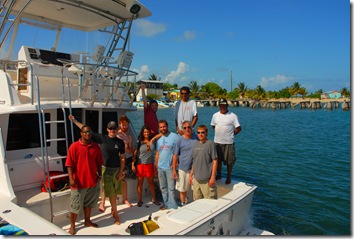 Our crew on our ride.