A few weeks ago marked the two year anniversary of The World by Road. It is hard to believe that two years have gone by since we pulled out of the driveway in Denver. A lot of people did not think we would make it this far, or even close to this far, and at some points, neither did we. It is a good feeling knowing that we have covered so many miles and also a good feeling knowing that in only a handful of weeks, we will be pulling back into that Denver driveway in the same two Toyotas we left with.
Even though the two years have gone by astonishingly quickly, obviously we have packed a lot into those 728 days. The Tundra and the Sequoia are still running strong despite accumulating just a hair under 60,000 hard miles (96,000 km), encountering a wide range of road conditions from some of the best roads in the world to arguably some of the worst, crossing the frontiers of 58 countries (with the crew passing through an additional five), and spending around 11 weeks sealed in cargo containers navigating the waters of the Pacific, Atlantic and Indian Oceans as well as the Caribbean Sea. During the course of these past two years, we have met countless people who have touched our lives and our hearts in many ways and those meetings, combined with other life altering experiences and encounters, have definitely contributed to altering the way we all look at the world.
It is also hard to believe how well we all have grown accustomed to life on the road. Living out of the confined space of two trucks, pulling into dark fields in the middle of the night to camp and finding ways to occupy our time while dealing with the bureaucratic nuances of crossing borders with vehicles have all pretty much become second nature by now. I guess it was only fitting that on the second anniversary of The World by Road, we had to deal with not only crossing one, but two international borders… from Nicaragua to Honduras and again from Honduras to our final destination that day in El Salvador. It was also symbolic to a degree in that while driving through only about a hundred or so kilometers of Honduras on the two year anniversary of the expedition, we were pulled over by the police no less than five times, all in a span of less than two hours. At this stage in the expedition, getting pulled over by the police has become a relatively routine part of driving in foreign countries for our team. However, every time you make eye contact with a police officer at a roadside checkpoint, it can be somewhat of a tense moment.  It is always a bit annoying when that eye contact turns into a whistle blow and a firm show of the palm.  We have pretty much lost track of how many times we have been motioned to the side of the road by local police, but the Honduran police stick out somehow as being extra diligent in making sure that our "dealing with the cops and avoiding having to pay a bribe" skills were still up to par on our second anniversary.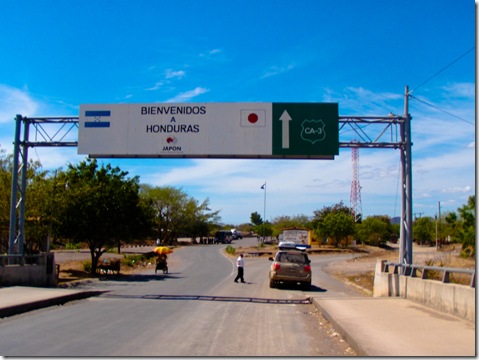 Unfortunately, for our grinning, gold toothed Honduran police amigos, we were the wrong gringos to try and shake down that day. Unbeknown to the Honduran police, the gringos in the "Grande Toyotas" have two years of experience dealing with police from all over the world, clutching a wide variety of now non-intimidating firearms and at some checkpoint or another, potentially under the influence of any substance you can imagine. As a result, all attempts to find whatever fault they could with what we were doing at the time… anything from not having a fire extinguisher (which we did) to not wearing seat belts (which we were) to not having valid paperwork (which we always do even when we do not), amounted to nothing more than a waste of their time.
It is was good run for us through that short span of highway in Honduras and even though it was the highest ratio of cop stops per kilometer in a given country thus far, we made it through without having to pay a single centavo in bribes. Steve even managed to get my drivers license back from a cop walking in the direction of the police station mumbling something about a citation for not having a construction cone handy in the truck. It was a cherished victory on the anniversary of the expedition and we still found time to celebrate a bit that night after following some much more helpful police officers in El Salvador to a beach side campsite they recommended.
INSERT_MAP