From Santiago we crossed the border back into Argentina from Chile for what might have been the 10th time. Over the past two months of zig-zagging between through the smallest of border crossings we have seen gorgeous countryside only available to those with their own transportation. This time, though, even some of you at home might be familiar with this particular pass as it is known for over a dozen switchbacks snaking the mountain side and eventually taking you back into Argentina by Chile's Portillo ski resort and mighty Mount Aconcagua-the highest peak in the world outside of the Himalayas.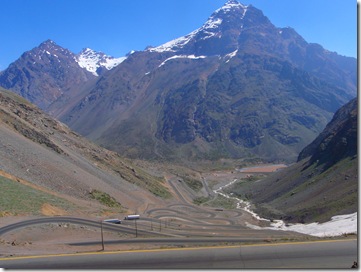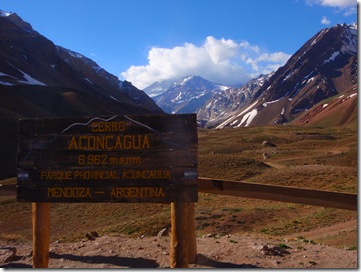 Only 100km from the border is the world famous wine region of Mendoza.  The state is home to over 1,000 of the nations' bodegas (wineries) and the main reason why Argentina is now the worlds fifth largest producer.  Although this area of the country is officially a desert, it nonetheless contains several key factors that allow for fickle grapes such as Malbec and Torrontes to grow to their fullest potential.  The main reason grapes, as well as many other crops, can sustain so well in this arid environment is due to an impressive irrigation system that funnels snow-melt from the Andes into precisely rationed channels that give growers unique control over watering their vines.   This system presently employed was initially developed by pre-conquest indigenous tribes and with the present industriousness of growers, the region has been recently been recognized as a UNESCO Natural Heritage of Mankind.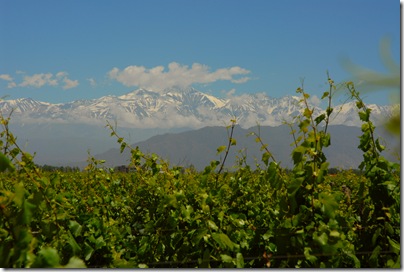 But back to the wine, shall we?  Of the 1,000 vineyards only about 100 are open for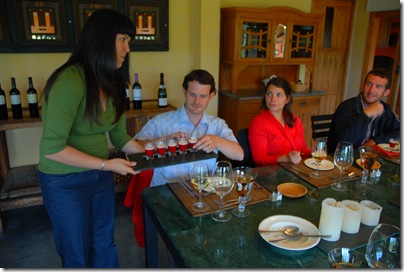 tours and tastings and if you arrange well enough in advance the tastings will actually be wine parings with a multi course lunch.  Thanks to Aventura & Wine , and our guide Ricardo, we  got to attend not one, but two very exquisite lunches at locally owned bodegas Altos and Ruca Malen while learning proper tasting techniques.  All of the food and wine over the whole weekend was delicious but the production of our dining experience at Altos was outstanding.  Altos was the most rustic and personal of the vineyards and keeping with that feel the chef prepared the majority of the 15 (yes, 15!) courses with produce and herbs from a private garden to really make the difference.  The best part was the first 12 courses-an assortment of hand delivered tapas tastings, making us feel like unsuspecting judges on Iron Chef.
When the long days of tastings are over it is recommended (by us, anyway) to sort out a stay at one of the few boutique bodegas in Mendoza to appease what will no doubt become a gradual onslaught of the "self induced food and drink coma."  Our relaxation pleasure was offered by the Espitia family who run the stylishly modern but wonderfully cozy El Aquamiel.  Tell them we sent ya!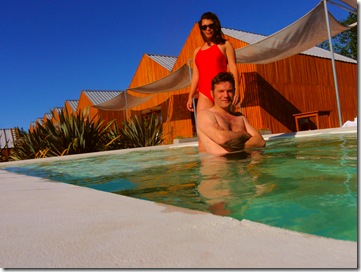 I can assure you that it's not all 15 course meals and boutique hotels for TWBR…stay tuned to see what happens next at 13,000 feet!