On March 6, 2008 the Thundra and Little Pepe rumbled down the streets on our approach to Dakar, Senegal. I guess rumbling into town is a bit of an exaggeration because we literally crawled into town at a snail's pace due to the intense Dakar traffic. It took 25 days to cover the 3,500 miles (5,600 km) from Lisbon to Dakar and although we were the only official participants in the unofficial 2008 Dakar Rally, it still feels good to say that we did it. The sections of the The World by Road Dakar Rally (TWBRDR) though Western Sahara, Mauritania and the Sahara Desert itself were a bit challenging from time to time, both physically and mentally… southern Morocco and Western Sahara officially take the blue ribbon to date for the highest number of police/military checkpoints crossed in a given stretch of road… but it actually was not all that bad.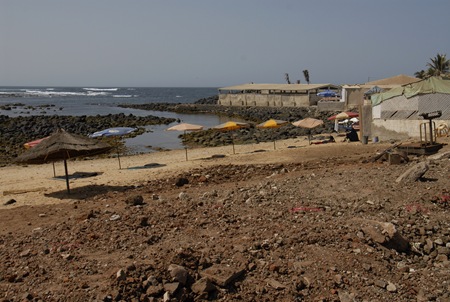 Dakar is the end of the Rally but also represents the western-most point in Africa
We did drive under a few banners as we arrived in Dakar, but unfortunately, they were not for us. Instead, the banners were for the Organization of the Islamic Conference that was getting ready to commence in Dakar. The conference was being held at the Meridian Hotel in N'Gor which was about a 10 minute walk from where we were staying with Antoine, the friendly French fish biologist who rescued us at the Senegalese border and let us crash at his house in Dakar… another story. Dignitaries, heads of state, many of which are OPEC members, and other important people were arriving and being shuttled around this part of town, and as a result, the whole area was subject to somewhat predictable yet still seemingly random road closures and police checkpoints.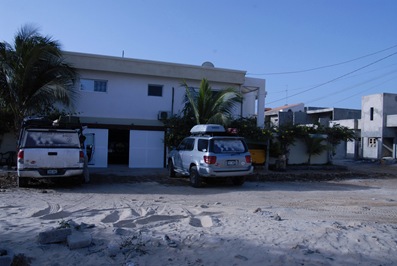 The official, unofficial 2008 Dakar Rally finish line
It was obvious when we arrived that Dakar was franticly trying to put the final touches on a citywide facelift. It was also obvious that Dakar had come nowhere close to meeting its goals for infrastructure improvements slated to be completed in time for the conference. In fact, people were still working on public works improvements even after the first conference panels began discussing what ever it was they were discussing. Apparently, and this is all hearsay mind you, Senegalese officials had been given quite a large sum of money from Gulf States that was to be directed towards citywide improvements. Unfortunately, a lot of that money ended up in people's pockets and any money that did go towards improvements looks like it went to companies that should have no business being in construction.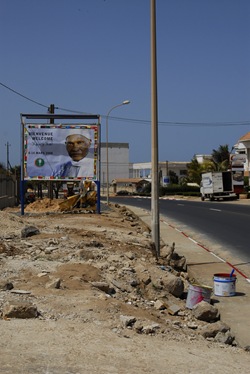 Work continues even though the conference (sign in background) has already started
It will be amazing if the work that was actually completed in time for the conference lasts through the year to the next one. Case in point: they were going to lay concrete sidewalks along the main boulevard leading from the airport to the conference venue. Well, time ran out, so to show their benefactors that they had put the money to good use, workers were pouring concrete into forms that were simply set on top of uncompacted sand. No prep work, just pour it, paint it and move on. The job was done so poorly and hastily, that sections that had been poured only weeks before had already started to crumble from the weight of pedestrians and cars. Personally, I would have rather just spent the money to clean up the sand rather than pour a sidewalk that will consist of rubble in a few months, but hey, as long as it lasts long enough for the delegates to walk on it!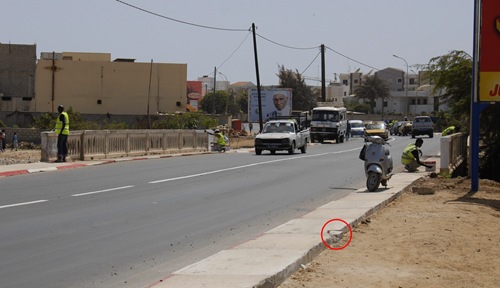 This sidewalk section is still being completed yet is already falling apart!
Anyway, I can sense that I have digressed from the main point of this entry which was to let you know that we won the TWBRDR and in a year when the official Dakar Rally was canceled, we blazed on!