Just when we think we are getting caught up again, we realize that it has been a while since we have updated everyone on what we have been up to. The whirlwind through Europe continues. After an all out race to make the Newcastle ferry from Bergen, Norway (the ferry actually waited for us and literally pulled away from the dock as we were getting out of the trucks) we had a few days to catch our breath as we crossed the North Sea. However, the North Sea ferry crossing proved to be extremely rough and the weather tossed the mammoth Queen of Scandinavia around like a bathtub toy. Crashing glasses and dinnerware coupled with vomiting passengers made for an interesting ride and what should have taken a little more than 24 hours was stretched out to more than 30 as a result of the foul weather.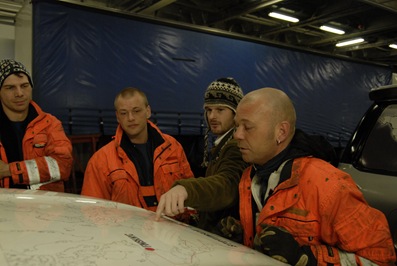 Once the Dutch deckhands found out what we were doing, they did not mind the wait
Upon our arrival in Newcastle, we quickly made our way down to London in order to pick up Shoppman's parents who were going to be joining us for the next 10 days. London was a cool place and we spent a few days taking in the sights while taking down some pints of local ale. After completing an interview with the highly circulated and prestigious Guardian, we were able to meet up with our friend Chris. Chris is a U.K. native but was living in Denver during the preparation phases of the expedition and we got to be pretty good friends, in part because his sister Kate was the Community Relations coordinator for the Denver Center for International Studies. Our time in London was brief and we soon found ourselves making our way south to Portsmouth to catch yet another ferry, this time across the English Channel to France. We did detour via Stonehenge and contrary to what an unnamed guidebook referred to as an anticlimactic experience actually found it to be well worth our time.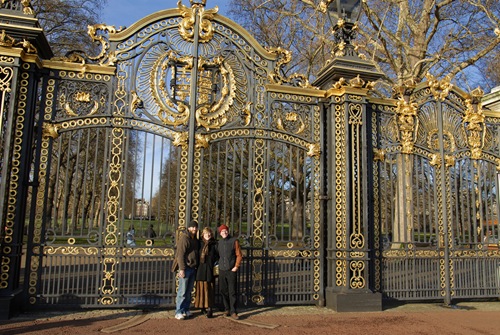 Steve, Judy and Tom outside the gates to Hyde Park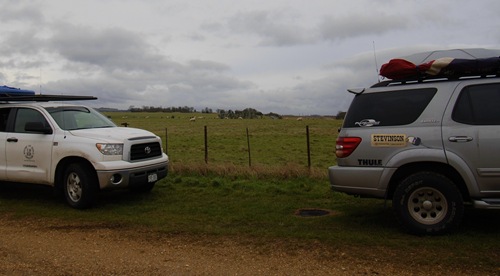 Stonehenge baby, yeah!
France proved to be another whirlwind as Shoppman and I spend the majority of our time "Africanizing" the Tundra. We thought the process of beefing up the Tundra would take only a day yet it ended up taking the better part of four. The entire process would have taken even longer if the new coil over suspension and leaf springs had not been confiscated by TSA "officials" in the States. Thanks to that little problem, we are now trying to find a garage that can help us in Barcelona, setting up another hectic couple of days in a few weeks. Part of the TWBR team which now included Shoppman's mom Judy and stepfather Tom and Craig the Kiwi, took in the Parisian sights while the others occupied their time setting things up down the road and getting dirty with some amazingly helpful and knowledgeable French mechanics in the Paris suburb of …. famous for being the birth and final resting place of Vincent Van Gogh. Between the gouda and grease we did squeeze in a magazine shoot for a French Toyota magazine and met up with another crazy overlander, Marc Mellet, who was introduced to us by our buddy Chinzo back in Mongolia… it is indeed a small world.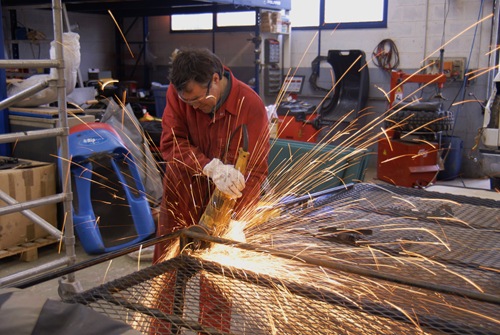 Alan from FOXY getting to work on the Thundra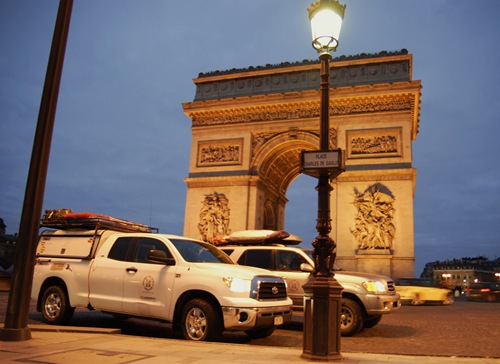 Blocking traffic at the L' Arc de Triumph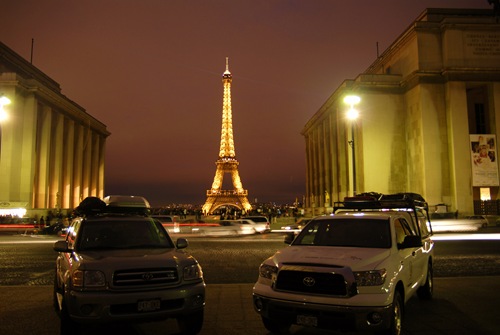 With the Thundra ready to rock, we off-roaded up some steps to get a great shot of the Eiffel tower at sunset just before the cops came
Before we knew it, Judy and Tom had come and gone and we found ourselves back in Germany. Nearly two years ago, I did an Ironmam triathlon in the small Bavarian town of Hilpoltstein and met some amazing people. At the time, TWBR was in its fledgling stages and I told my new German friends that if everything panned out, I would be back in Hilpoltstein on our expedition in a year or so. Well, 30,000 miles later, we crested the Solarberg, the toughest part of the bike leg of the triathlon and Diana and Luggi were there to greet us and show the TWBR crew three days of unprecedented hospitality… Bavarian style. Alas, our time in Hilpoltstein came to an end far too quickly and it was time to say goodbye. While holding back tears, I once again left Diana, Luggi, Felix, Ana and my ever-growing family in Hilpoltstein. At the same time, I was reassured that this small town seven kilometers off the A9 will forever hold a special place in my heart and it was certainly not the last time I would see my friends here in Bavarian Germany.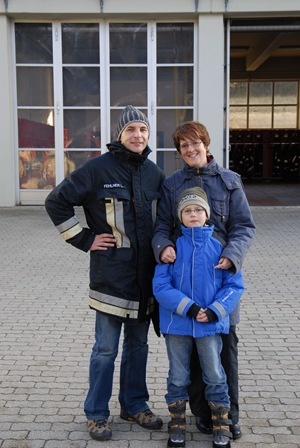 Luggi, Diana and Felix… amazing people, awesome friends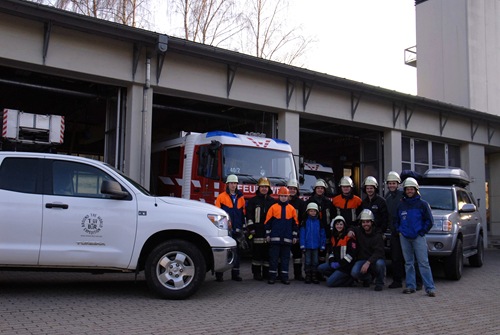 Group photo with the Hilpoltstein Volunteer Fire Department
So in an extremely brief fashion, that basically brings you up to date with us here in Grindelwald, nestled in the heart of the Swiss Alps enjoying some skiing, ice climbing and other activities courtesy of the Swiss Board of Tourism. TWBR will be calling Switzerland home for the next four days or so and then we head southwest through Italy and revisit France before entering Portugal and Spain via Andorra where we hope to finish our final Africa preparations in a timely manner so we can enter Morocco on schedule in few weeks!