As many of you know, I am a pretty serious runner and triathlete. One of the hardest things for me to adjust to on the expedition was leaving my bike behind and not being able to commit to any regular exercise routine. Sure, I was able to get the odd run in here and there, but the expedition was filled with long days and with a ton of other stuff going on it was nearly impossible for me to run or engage in any other sustained endurance exercise on a regular basis.
Once we returned from the expedition, getting back into an exercise routine was one of the first things I did and I jumped in headfirst. In 2010, I trained for and completed the Leadville 100 Trail Run. It was one of the toughest physical tests I have ever put my body through but it was also one of the most rewarding. I learned a lot about myself in the months leading up to the race and during the run itself and the emotional high of running 100 miles in a day is hard to equal. I was also fortunate enough to meet many amazing and inspiring people during training runs and at the event itself; it's not every day that you get passed by a 70 year old man at mile 92 of a 100 mile run. I've made many new friends in what is a strange and unique subculture of athletes and I'm totally addicted to this insane display of willpower and physical endurance. Hopefully, if it is in the cards, my application will be accepted and I'll be toeing the line at the 2012 Hardrock 100 Endurance Run, a challenge that makes Leadville seem like child's play.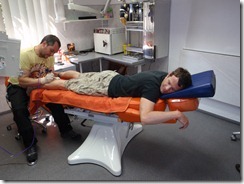 This year, I went back to my triathlon roots, or at least to the spot where I left them. The last triathlon I finished was an iron-distance race, Challenge Roth, in Germany back in 2006, just months before we left on the expedition. You can read about that experience here. Obviously, I had a lot on my mind and since our departure date was rapidly approaching, I wasn't necessarily in the best physical shape I could have been in for a race like that. Without the challenge of planning an around the world expedition to distract me, I trained hard and returned to the Challenge in 2011 and managed to achieve personal best times in the swim leg, the bike leg and on the run, culminating in an overall finish time of 9 hours, 59 minutes and 37 seconds; my 6th and best ever iron-distance finish. I told my friends in Hilpoltstein, the awesome village where I always stay when I visit Germany, that if I broke 10 hours in the race, a significant accomplishment for any triathlete and even more symbolic given the 2011 event was the 10th anniversary of the race, I would commemorate it by getting a tattoo. The Monday after the race, I was face down on a table at the tattoo studio in Hilpoltstein.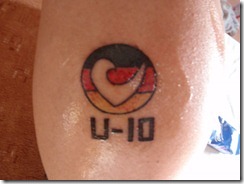 Running and traveling have both played a significant roles in my life for the past several years, so I was extremely excited when I heard about a local organization that incorporates both. One World Running is an organization based in Boulder, Colorado that strives to promote health, fitness and nutrition in underprivileged areas of the United States and abroad. Founded by a group of runners in 1986, the organization also seeks to increase understanding and goodwill between people around the world, no matter what their background, through the simple and shared experience of running. Both aspects of One World Running's mission are ideals that I personally believe in strongly. This coming Saturday, October 29th, One World Running is hosting their fall fundraiser. This is a special event because the fundraiser includes the inaugural Boulder Sports Hall of Fame induction ceremony featuring Boulder athletes who have achieved great success in a variety of disciplines; Frank Shorter, Dave Scott and Davis Phinney. The event will also feature global music and dance as well as a silent auction with proceeds benefiting One World Running projects. For more information on this unique organization or to buy tickets to this Saturday's fundraising event, check out their website. If you are in the Denver/Boulder/Front Range area, I hope to see you there!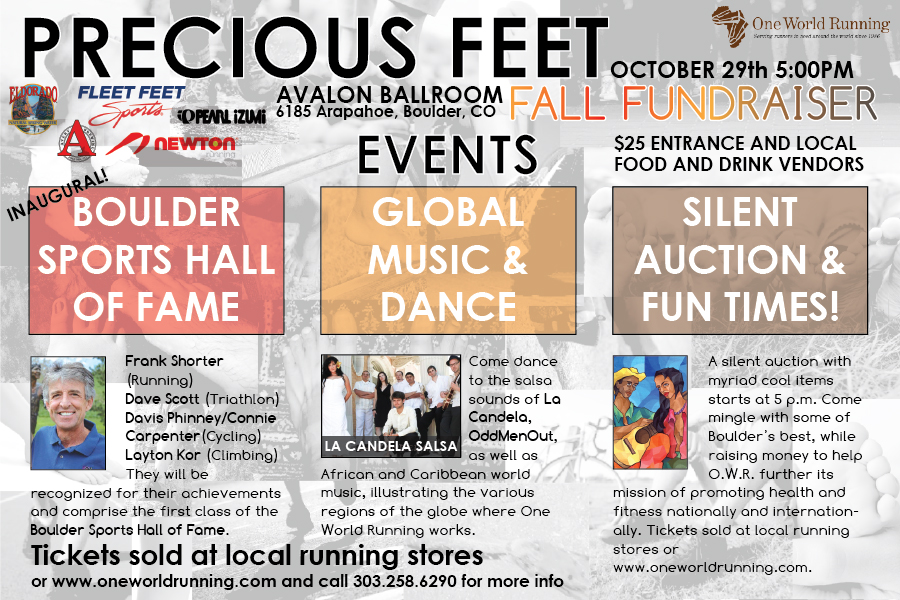 Friends of The World by Road pay $10 at the door so mention TWBR if you stop by.