We all have been beyond fortunate on this expedition by being able to meet incredible people, see unbelievable sights and enjoy adventurous activities graciously accommodated by great companies, so it was really nice to be able to give back a little when we road into Anchorage, Alaska.
The girls had a great idea of volunteering at a homeless shelter and were able to find the Brother Francis Shelter.  This shelter was established in 1982 to provide temporary, emergency shelter for men and women; an evening meal, and use of shower and laundry facilities; case management services, advocacy and referrals for employment, housing, mental health issues, and treatment options for alcohol and substance abuse. It also offers a job readiness program. During 2008, 56,621 nights of stay were provided to 3,025 homeless adults. It was here that our crew was able to take over the kitchen to help serve dinner to those less fortunate.  It really was an eye-opening experience for all of us, and really put things in perspective.  The worries and tribulations of many seem pretty trivial to those faced by these people, as they battle each day to find a roof over their head and some food.  The phrases "Thank You," and "God Bless You," along with many handshakes showed their great appreciation.  We wished them well, told them to take care, and hopefully tomorrow will be a better day for them.  To donate to their cause, click here.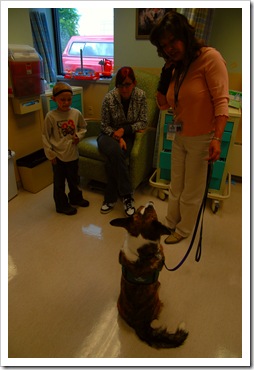 The following morning we had the opportunity to visit the Children's Hospital at Providence to see and chat with some of the kids, show them our stuffed animal, Swinger, and let them know about our website so they can go on a mini-adventure with us.  The children's hospital has been running strong since 1998, has recently opened a newly remodeled pediatric center, subspecialty clinic, NICU, and maternity center to provide state of the art medical treatment for Alaska's newborns, children and their families.
We were led on a tour by Child Life Coordinator, Bonnie Reichwein, who, along with other staff, helps the children in anyway they can during their stay.  Their work is more than admirable.  Bonnie then led us to a commons area where Sharon Young was waiting with one of her dogs, Raven, that she brings in twice a week for dog therapy.  She's been doing this for seven years, and you could tell by the look on the children's faces how much they enjoyed the time with her and the dog.
We then toured the rest of the facility and finished up in the oncology section of the children's hospital.  It was here that we met some of the strongest people thus far on the trip.  Two little boys, Bryant Ante and Aiden Reeves, were in the oncology section battling, like courageous warriors, a disease with all they got.  It breaks your heart seeing such young children having to endure and deal with such a situation, but we quickly saw their great support systems.  Their mother's, Christy Ante and Heather Reeves, along with other family, were there with them, are their rocks, and are just as courageous.  Your heart goes out to them as  well, for it has to be really hard to see their precious little ones going through such a hard time.  There strength, like their sons, is amazing.  When you combine those factors with the how nice, caring and professional the doctors, nurses and coordinators were in that section a person knows the little guys are in the best place possible to aide in their recovery.  To donate to the children's hospital, click here.
We left that day remembering the smiles on the faces of Bryant and Aiden, and were beyond inspired by their strength and determination, so it hit me beyond words when I recently got an email from Child Life Coordinator Bonnie from the children's hospital saying that Bryant had passed away.  Life is so fragile, and sometimes way too short.  A life taken way too soon.  Our hearts go out to him and his family.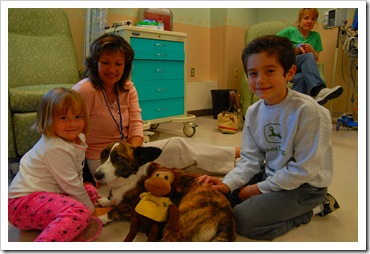 It seemed like just yesterday that we entered the oncology room of the children's hospital to meet Bryant and to see him, his mother, sister and grandmother.  Sharon had brought one of dog's with her to their section, and him and his sister played with the dog on the floor.  They were all smiles, and were having a great time playing with the dog together.  I had the chance to talk to Bryant's mom, Christy, and it was really nice to get to talk with her.  She said that Bryant had lymphoma, a type of cancer that originates in the lymphocytes of the immune system, was doing well and spoke of how positive and great his attitude was.  Just a trooper, a battler.  She then brought me over to a presentation Bryant had made for his first grade class entitled, "How To Be a Cancer Survivor." One could tell just by the presentation and his smile how bright of a kid he was.
She then told me the story of when he went on his Make a Wish trip.  She has no idea how he got into it, but Bryant loved everything John Deere, everything, so when it was his time to pick where he wanted to go he picked the John Deere factory in Illinois.  His family then got on a plane out of Alaska to Illinois for a grand tour of the factory, were he got to meet workers, watch his name get painted on the side of a tractor, and was able to eat lunch, served on a silver platter, with the CEO.  He was beyond happy and grateful for his opportunity but stated to his parents, "Every kid should have a wish come true, and not have be sick to do it."
We then hung out with the kids, watched them play with the dog, said our goodbyes, shook their hands and told them to take care.  We left the faces of two smiling kids, full of life and so happy.  A few weeks after that day, however, Bryant's health deteriorated and he passed away peacefully in the arms of his parents at the Seattle Children's Hospital on July 10, 2009.
There are no words to describe the feeling of loss for the Ante family, and I'm sure words won't ease the pain, but Bryant was an inspiration to all of us and for others he touched in his life.  His strength, determination and smile will never be forgotten.  His mom said Bryant always saw the glass as half full, and that's how it has to be.
Appreciate life.  Love.  Laugh.  Bryant did.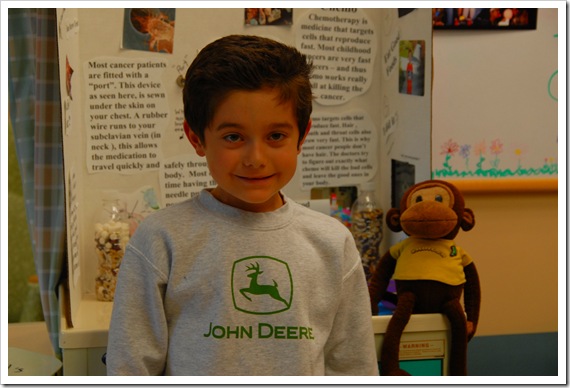 A special kid, Bryant Allen Ante.  An inspiration to us all.