Throughout Mexico, Guatemala and Belize there are several dozen ruins that are available for tourists to visit, among them the two most recognizably famous–Tikal in Guatemala and Chichen Itza in the Yucutan of Mexico.  But instead of sifting through the crowds to see what we have all seen in pictures, TWBR decided to bypass those while opting for the ruin less traveled…and besides, we did get to see a pretty sweet termite mound in Mexico which easily rivaled  the architectural gravity of Chichen Itza, so there's always that.  Termite mound aside, we all felt we made the right choice in checking out the lesser known structural remains of the Mayan hey-day so we could experience them all to ourselves without other gringos crowding the backgrounds of our photos.  So instead of visiting the grandeur of Tikal, the main tourist attraction in all of Guatemala, we picked a site nearby known as Yaxha.  With our only real company being the spirits of sacrificed Mayans and Howler monkeys, we got to truly revel in in all of Yaxha's glory.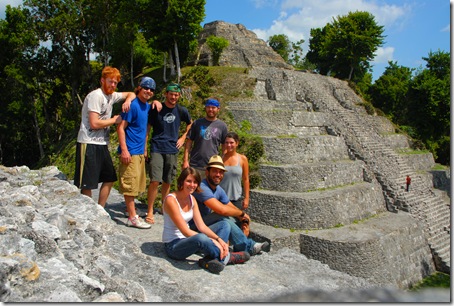 Yaxha, nearly all to ourselves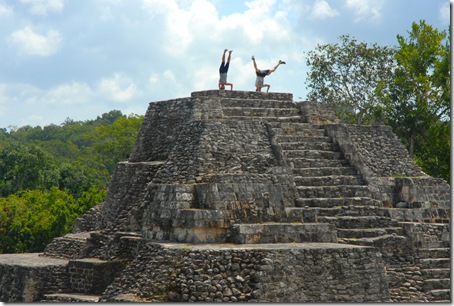 Would Melissa and Steel have been allowed to do this atop of Tikal? No.
Caracol, in Belize was our favorite, though.  We decided on Caracol as the former residents are known to have defeated Tikal sometime between 550AD and 700AD due to their military might.  It is permitted to bring your own transportation to Caracol, but only with armed military escorts that leave from a certain checkpoint promptly at 9am each day, the reason being is that Guatemalan bandits have been known to cross the border simply to rob the tourists by hiding along the rough route to the ruins.  Recent years have also seen few problems with looters as well since the overgrown city which once housed 150,000 people is still very much an excavation in progress.  Caracol is already a spectacular sight and is definitely destined to once again defeat Tikal, but this time in tourism, once the hardworking Archeology students and professors from the world over uncover what has been lost in its entirety–we're thinking they should be well on their way to the finish line in about 60 or 70 years.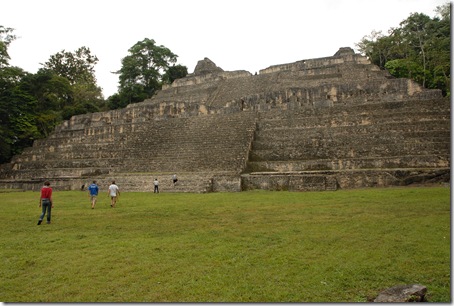 Making the ascent at the primary ceremonial structure of Caracol.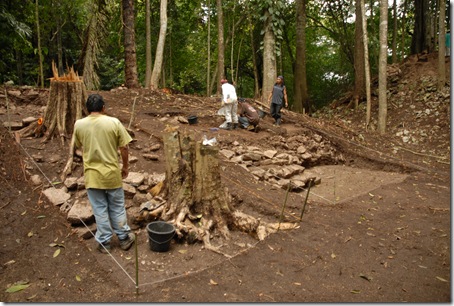 Belizeans apprenticing for students from University of Central Florida. 
At this rate, the entire structure may be fully uncovered within 5-7 years.