Our last destination in Panama was a sleepy town called Santa Catalina.  Surfers first came sometime in the early 80s and not much has been developed since, aside from a few restaurants, hostels and cabins.  This would be a good place to come "to get away from it all" as there is zero cell phone service or internet access.  For better or for worse, it's a seemingly odd little vortex of a tropical town and no one in it, tourist or otherwise, has any clue what is going on.  After about 45 minutes trying to look for our hostel on one of only 3 dead-end dirt roads, our friends Tom and Steve mentioned that they met someone in the Panama City airport who told them that the town is "really confusing". This could not be more true…so much so that it actually warrants a warning to fellow travelers.  You know then that the town is going to mess with your head.  Beyond trying to communicate in any manner with anyone who's been there longer than a few weeks, the place (and surf) is awesome and goes highly recommended!  Oh, by the way we did find our hostel, Casa Dos Palmas and it had an amazing view of the ocean, sunset and the surf below.
However we did have the great pleasure of getting to partake in two amazing dives with Santa Catalina's own Scuba Coiba, spending a whole afternoon under the waves of Panama's Pacific coast.  Divers world wide are aware of what this particular strecth of subacuatic terrain has to offer, whether or not they have ventured to experience it themselves.  Coiba island is just one part of a national park that also contains 9 other islands, over 215,000 hectares of sea and  also home to the largest coral reef in the eastern Pacific.
Our dives with Scuba Coiba were quite the change from our last group dive off the coast of central Chile where the water temperature was barely 9 degrees Celsius, the visibility rarely over 5 meters (usually around 1-2 meters) and where the currents were strong enough to send grown men (we'll go with Steve S on this one) flailing in between giant boulders like worthless pieces of kelp.  The overall poor conditions of that dive forced us back to the surface about 15 minutes early.  But that was last time, not this time.  This time the water temperature was a cozy 26 degrees Celsius and the visibility up to 20+ meters at certain locations.  Dive sites throughout the Chiriqui gulf have been hailed at having some of the most promising dive experiences, in that you are most likely guaranteed to see not only more fish that previous tropical dives, but bigger and more colorful.  We were not let down.  The only slight disappointment is that a massive whale shark has repeatedly been spotted in the neighborhood, but unfortunately didn't come around for either of our days' dives.
Check out some of the pictures that we were able to take and stay tuned for the video from the dives.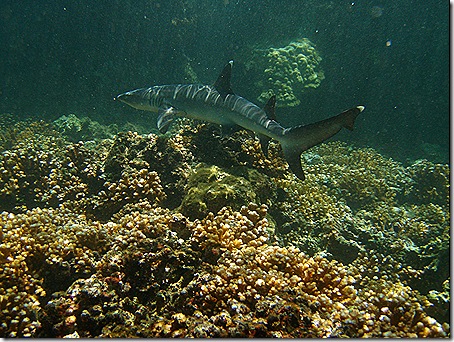 We saw plenty of Reef Sharks.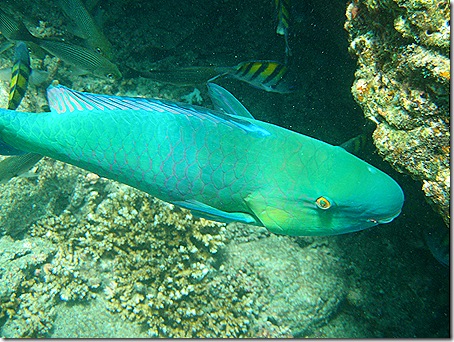 A big, colorful fish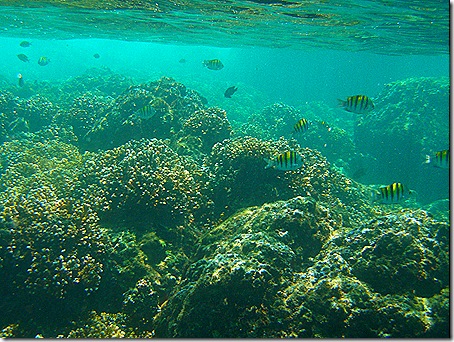 The reef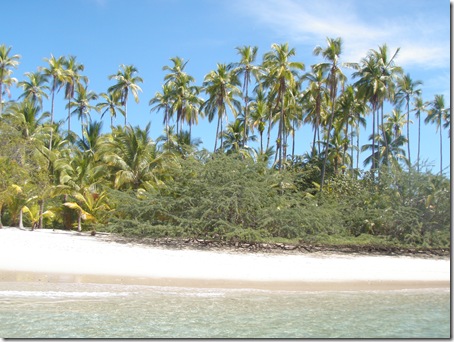 Shores of Coiba island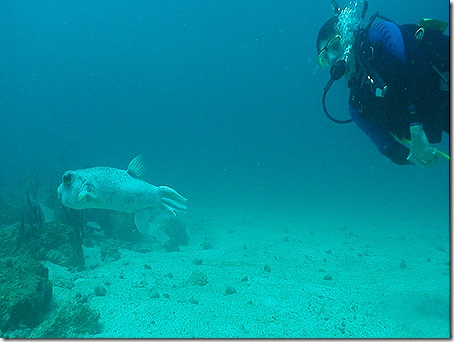 Bouey?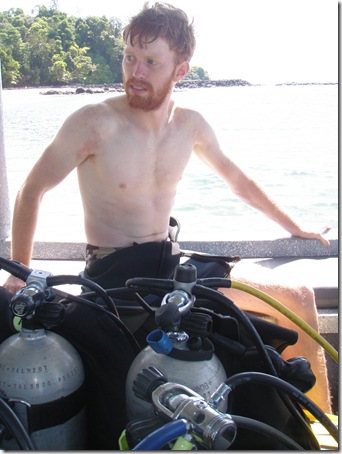 And last but definitely not least: Steel Zissou, mentally prepping himself