Salar de Uyuni is a name that many people might not immediately recognize, but photos of this massive salt pan are known throughout the world. Unfortunately, photos of this natural wonder do not really do the salar any justice as its immense scale is simply too large to really document let alone comprehend unless you visit Uyuni firsthand in person. I have to admit, when I first saw photos of Salar de Uyuni, I knew it was a place that I wanted to visit at some point in my life, and as such, it was a place that I eagerly anticipated visiting once we left on this expedition. What was at one point a huge body of water is now the largest salt lake of its kind in the world and there is really no other place on earth quite like Uyuni. Driving onto and across the salar will definitely be a highlight of this expedition for me personally and most likely for everyone else who was there.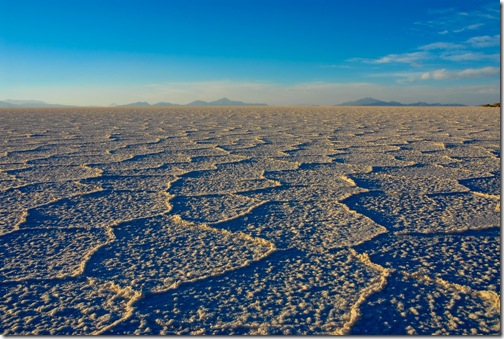 Salar de Uyuni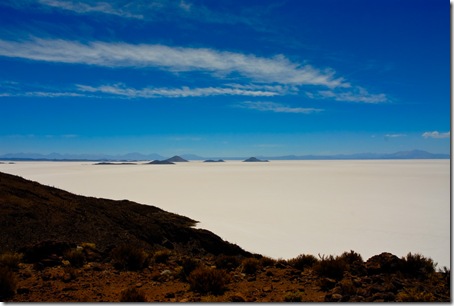 Islands of Uyuni
The salar is arguably the largest tourist attraction in Bolivia, with people from all over the world packing into 4x4s and heading out to take the customary depth of field photos that are prominently posted in travel agencies in the town of Uyuni itself and all over the internet in public and private travel photo collections. However, once again, we were able to enjoy a world renowned tourist attraction completely by ourselves thanks to the Tundra and the Sequoia. Most of the salar tours head out to the salt hotel and to the Isla de Incahausi, where you can eat in the cafe, drink a beer from the bar and pay 15 Bolivianos to climb to the highest point on the island for a panoramic view of the salar. Most of the tours though do not actually spend the night out on the salar and after a few hours, they head south towards the colored lakes as part of their multi-day tour of southwest Bolivia. As a result, if you are fortunate enough to have your own transportation, you can stay longer at Isla de Incahausi or better yet, head about 15 kilometers past Isla de Incahausi to Isla de Pescado and enjoy the salar in complete isolation and solitude.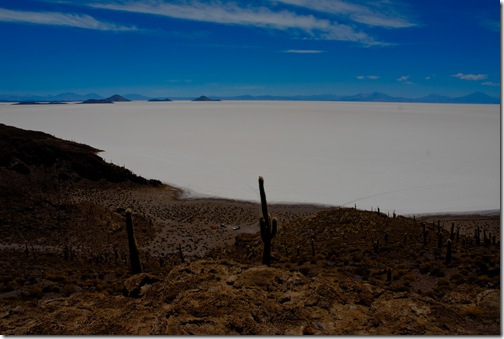 View from the top of Pescado overlooking our campsite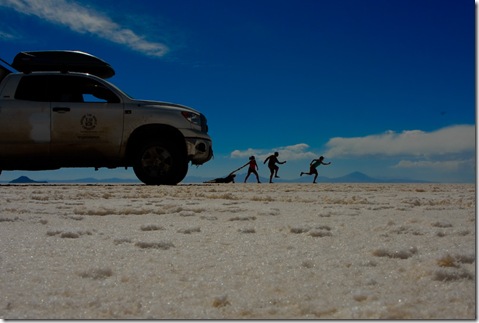 Monster Tundra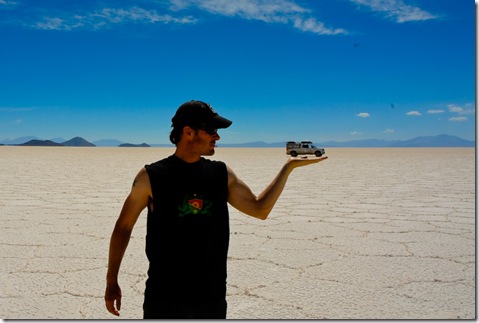 Mini Tundra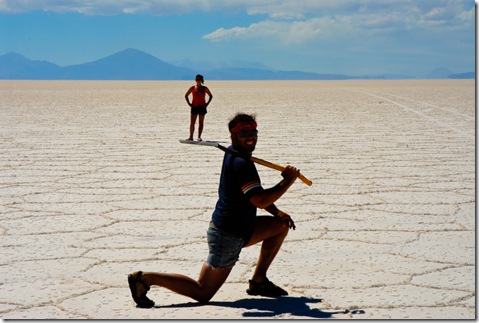 Mini Melissa
From our beach front campsite on Isla de Pescado, we were able to explore the salar, take our time posing for funny photos, hike to an even higher and more spectacular vantage point of the salar (for free), and enjoy some remarkable sunsets on our own time and on our own terms. We spent three days out on the salar, but time seemed to evaporate just like the waters that once covered the area. Before we knew it, our water supplies and food provisions were dwindling and the rest of Bolivia was calling even though most of us wanted to ignore that call. The expedition in general and Bolivia specifically has already offered up some amazing campsites but camping on the beach on Isla de Pescado in the middle of Salar de Uyuni ranks up there as one of the best.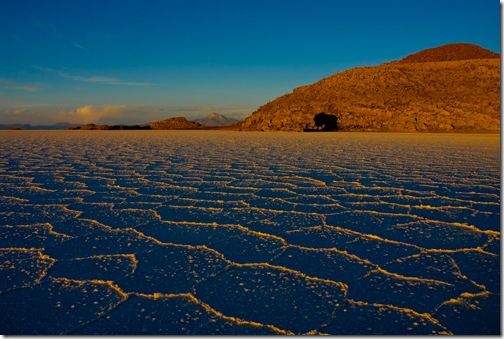 Uyuni Sunset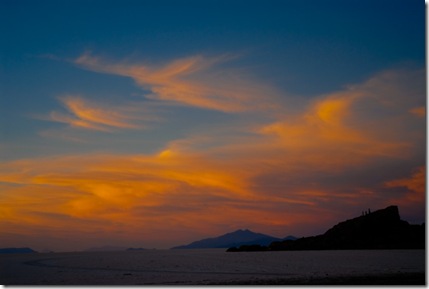 Uyuni Sunset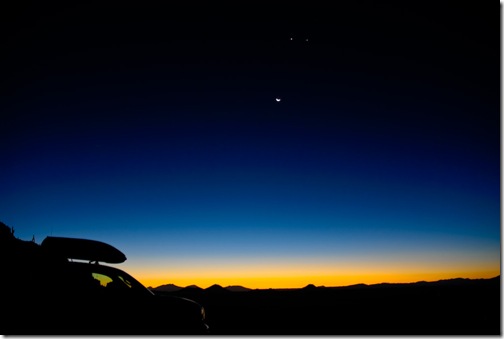 Tundra, sunset, moon and first stars