Disheveled, wary, and not having the opportunity to shower in three days we graced the gate outside the five-st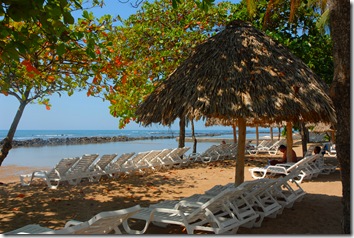 ar, Royal Decameron All-Inclusive Resort, in Salinitas, El Salvador.  A few hours previous, we were camping on a beach and having to go to the bathroom in the woods, and at that point I wasn't  surprised that the gate guards had reservations on letting us enter.  Bouey got all of it straightened out, we parked the trucks, also covered in mud, and entered the lobby.  The looks on the people's faces were priceless and had us cracking up.  The kind receptionist told us we "looked tired and should take a nap", which most likely translated to, "get some food, maybe a shower, a little shave, and some rest."  We did just that.
Decameron All-Inclusive Resort was exactly the little break we were looking for.  The weather was perfect, the beaches white sand, the ocean called us to swim, all-inclusive fortunately means the food and drinks are free, and the service an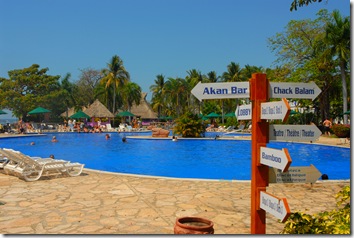 d people were wonderful.
The variety of activities for the guests is by far a highlight of the resort.  Swimming options include the Pacific Ocean, four large fresh water pools, or the unique salt water pool that sits just outside the shore of the ocean that is filled with the tide each day.  Guests are also able to take a break from the sun by having fun with the professional activities staff, get a lift or run in at the gym, or enjoy the variety of spa treatments at the Spa Temazcalli facilities (including beach-side massage and Mayan sweat lodge).  Other fun activities range from windsurfing, to ancient ruins, to beach volleyball.  The certified scuba divers of our crew took advantage of a scuba trip, and explored a volcanic crater in Lake Llopango.
The nightlife also has a lot to offer.  Restaurants that specialize in Thai, Mediterranean, Steak and Italian food scatter the property, and are well complimented with four distinct bars.  We were lucky enough to listen t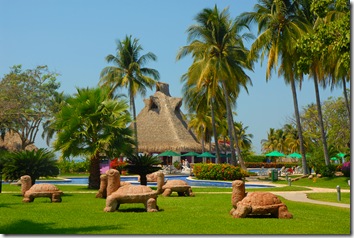 o a local cover band at one of them the first night.  I was the youngest in the bar, by far, at the age of 25, but had a hard time keeping up with the mostly middle-aged to late-aged folks tearing up the dance floor.  Happiness was showcased by the huge  smiles on all our faces.
Decameron All-Inclusive Resort was a great diversion from the daily grind of life on the road.  It's blend of activities, relaxation, beauty, culture and service were perfect, and just what all of us, and I'm sure the other guests, needed.