To date, one of our most recommended stays in Latin America is without a doubt, Rancho Margot.  The ranch maintains nearly 400 acres tucked snuggly on the banks of the Rio Cano Negro as it flows into picture-perfect Lago Arenal.  There is something for everyone at this family run ranch, be it adventure, relaxation, education or all three.
We first heard of the ranch through friends who found the ranch as listed on the WWOOF (World Wide Opportunities on Organic Farms) database.  After their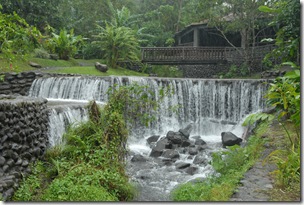 month long work-stay, they were so amazed by their experience that they practically begged us to swing by.  Although the famous rain of the Costa Rican rainforest hardly let up during our 3 night stay, we were amazed too.  We were immediately welcomed by a friendly staff who served us  our welcome drinks as we sat down to lunch.  The cuisine is sophisticated and fresh.  An important part of the self-sustainability of the ranch are their gardens which provide the majority of produce utilized in the kitchen.  Aside from vegetable, herb and fruit gardens, they also tend to dairy cows, pigs and free range chickens as they aim to to produce everything to be consumed both customers and employees.  Soon to come is the ability for guests to purchase any cheeses, butter and meats made in house.  For the time being, any overnight guest is more than welcome to gain first hand insight by participating in any of these processes.  In fact, guests are encouraged to inquire and satisfy any curiosity about all aspects this self-sustainable, organic ranch-and there is a lot to be learned.  A large part of this self-sustainability is the energy produced on site.  Hydro electricity produced from a micro turbine powers the ranch while the newest project is a biodigester that will draw natural methane gas from organic waste which can then be used as generator fuel or used as a substitute for propane as a heating agent.
Again, there is a lot can be learned about organic farming and self-sustainability at Rancho Margot.  While their staff is well informed on all matters concerning the ranch, a stay is not complete without a chat with the mastermind behind it all, Juan Sostheim.  He has dabbled and succeeded greatly in many ventures  worldwide and decided upon this particular investment as an eager development in wildlife conservation and reforestation.  With that one of the first of many projects was born, the Rancho Margot Ranger Station for the Children's Eternal Forest.  Also under the umbrella of their conservation program is a wildlife rescue center.  If you couldn't already tell that Mr. Sostheim is a great philanthropist going above and beyond, he also admitted that "sure, it's costs more time and money to make all the furniture here on the ranch, but I like creating jobs."
By educating tourists and locals alike, Rancho Margot is actively pursuing its pledge to "be recognized as the best conservation, educational, adventure working ranch in Latin America…in order to create a better world for the future generations."
Besides enjoying the great company of the Sostheim family and the inspiration they have created, TWBR also spent some time climbing, rappelling, horseback riding and daily yoga all in one of the most peaceful places in the region.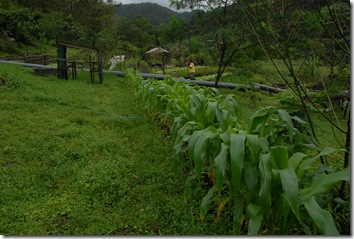 The vast expanse of gardens.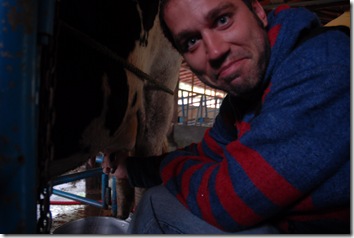 Steve doing his part, and loving it.
The Biodigester.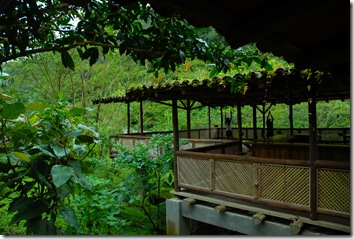 Evening yoga.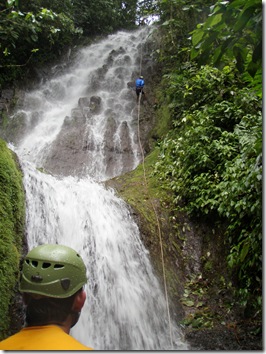 Melissa rappelling down the 40m waterfall.