So we're safe and sound in Panama AND we finally have re-claimed the vehicles. What do we do next, why not try some kiteboarding. Luckily, our new friend Itzick Lalo, of Machete Kiteboarding was up for giving us a lesson or two. Kiteboarding is a water sport that uses the power of the wind to pull the rider through the water on a small surfboard, more similar to a wakeboard. A kiteboarder uses a board with or without foot-straps or bindings, combined with the power of a large controllable kite to propel himself and the board across the water.
Machete Kiteboarding School is located on Punta Chame, a somewhat isolated peninsula about 1.5 hours away from Panama City. Apart from being a great place for kiteboarding during the season, which runs from November to April with the peak months being December to February, Punta Chame is just a great place to chill out for a while.
There's plenty of hammocks to relax in during the heat of the day. At night you can build a bonfire on the beach with the abundant driftwood,  which we proceeded to do to excess. With no city lights around, you can watch for shooting stars and enjoy the peace and quiet. There's a few places to eat and grab some drinks in a small village nearby.  For camping purposes I'd recommend bringing your own food and water along which you can pick up before turning off the main highway. If one were so inclined, there's also a semi-upscale hotel located next door to Machete for those wanting a little more creature comforts.
Kiteboarding, like surfing, takes time, patience, and the cooperation of nature; which in this case is the wind. Itzick likes to instruct his students one on one, with the initial lesson lasting up to 6 hours. The wind picked up just enough in the early morning for Steve S. and I to give it a try. While the first lesson is on the beach without a board, you're still harnessed into the kite in order to get a handle on how to safely and efficiently use the wind. Steve and I learned about the proper angles of the kite to the direction of the wind, turning, and the very important method for starting. Apparently, the wind had been steady and strong for a month. Unfortunately for us, it decided to take a few days off.
Sports that rely on nature can be very difficult and time consuming to learn. With the road always calling on us to move a little further towards home, we just didn't have enough time. Thanks to Itzick for giving us a shot and hosting us at his awesome property. Good Winds!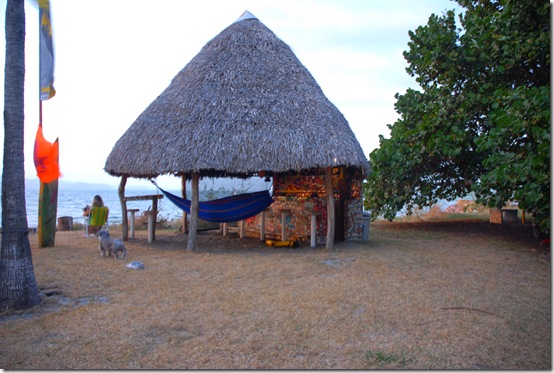 One of many hammocks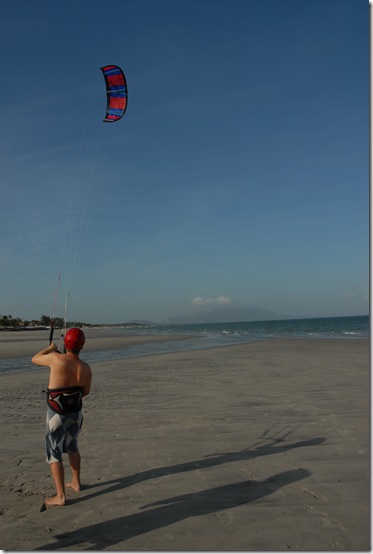 Practicing on the beach
Steve has to crawl before he can run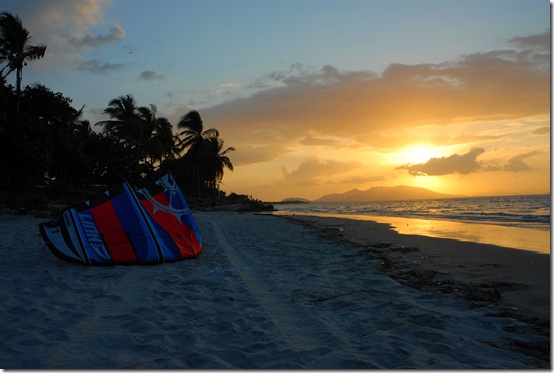 Sunset at Punta Chame