It is that time of year.  My mom regularly asks me for more info on what Christmas is like down here.  How do they celebrate?  What are you going to do for Christmas?  This is now the second Christmas that we have been on the road.  Last Christmas was in Europe so the similarities made it feel a lot like home.
Here in Peru and Bolivia where we have spent the weeks leading up to Christmas I thought things would be much the same.  Christmas decorations of different varieties, Christmas music, Christmas sales promotions seemed to be safe bets in a predominately Catholic culture.  They believe in Jesus here, so likely would be celebrating in a similar fashion.  Here and there I have seen decorations, there is one promotion for a certain type of sweets gear towards kids that seems to be everywhere, but if I was not looking at the calendar or did not have mom pleading for more Christmas info, it would be safe to say I might not even notice it is the holidays.
Without doing further research, the likely answer for this is that the spending power of people in these countries is not enough to warrant big sales and promotions, and consequently does not allow for purchase of more extravagant decorations.  Even in the richer areas of town there have not been to many signs either.  Not many people are dressed as Santa, but big white beards and heavy suits are not so comfortable in the tropics during summer time. Here the holiday is clearly more about the actual religion behind it than the fun stories and presents.  One thing I am sure of is that the Cathedrals will be full the next couple of days.  Much like last year I wish that we could have more hands on local experience for Christmas to share with all of you, but over the holidays we just don't seem to get the same invitations from the locals as we do the rest of the year.  I think it is safe to say, around the world Christmas is a more personal holiday where families are not all too interested in having a crew of stinky expedition members crashing their traditions.
As for us, we will not be visiting the Cathedrals, but we will be in good hands at the Loki hostel in the beach town, Mancora, in the North of Peru. The hostel is putting on a big holiday dinner tonight with ham, turkey and all the normal Christmas fixings.  This particular chain of hostels here in Peru was started by some backpackers, so they know that while we are all here to take in the local culture, during the holidays away from home and family, it is nice to have the opportunity to have a little taste of home.  We cannot complain because the nice guys here at the Loki were kind enough to give us the room with the best view of the beach as a present for Christmas!
So Mom, I hope this answers your questions. Next year I promise we will spend Christmas together:)Â  To the rest of you, this year it is Feliz Navidad instead of Merry Christmas.
The view from our room in the brand new Loki hostel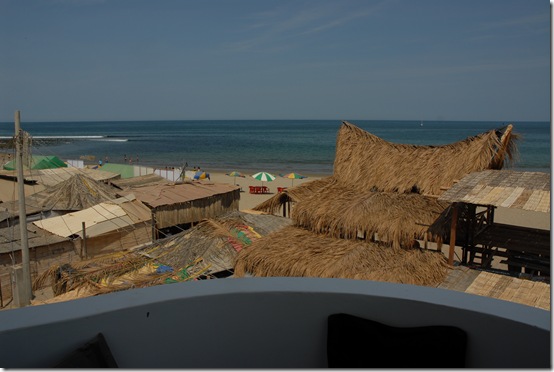 The pool