The World by Road is pleased to announce that all crew members are now officially certified in the world's most elaborate hobby: scuba diving!
On Friday last, Fernando Bischof, Melissa Terry, Darrell Stephenson and Laura Sutton passed the PADI open water scuba written test with flying colors after already having completed the actual open water dives.  Aside from the written exam taken in Santiago, all other courses were coordinated and conducted at San Alfonso del Mar in Algarrobo, Chile.  Not only that, but the three English-speaking members have also had the unforeseeable pleasure of adding a barrage of SCUBA-centered words to their flourishing Spanish vocabularies.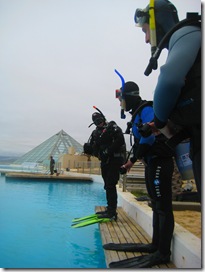 Suiting up for the occasion is probably the most difficult part.  7mm wetsuits are ideal for the 12C water temperature common for 18m/60ft deep off the central Chilean coast.  Once down there, it is a stunningly surreal experience.  The relative visibility on the first dive was minimal at best with only 2m in any direction.  The second dive the next day was much better.  We went down 18m/60ft and made our way through massive boulders covered with massive starfish.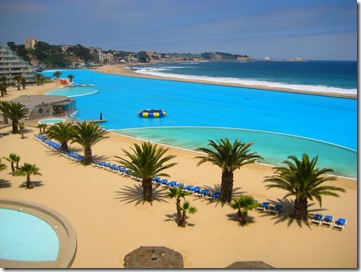 This is the view of the worlds largest swimming pool (certified by Guinness Book of World Records) from our condo.  If you can believe it, this is only half of of the length of the pool.  You can rent kayaks, paddle boats and even sail boats to navigate between the floating trampolines.