The two towns of El Calafate and El Chaltén are easily considered the jumping off points for quenching all of your basic Patagonia needs.  While El Calafate is more of a destination in and of itself these days catering to any and all,  El Chaltén is geared more towards climbing and trekking enthusiasts as it's tucked at the foot of world famous Mount Fitz Roy.  Although annually Fitz Roy sees thousands of tourists, we were lucky enough to arrive just before the start of the official season.  Coincidentally, the "season" is also marked by the towns anniversary.  In our case, we arrived from EcoCamp for the weekend celebrating El Chaltén's 23rd birthday.  The number may seem insignificant, but the organized events were not.  We caught the tail end of Saturday's festivities, which culminated in the performance of regionally renowned Bolivian band Arbolito playing in the local gymnasium…ok, so it's a really small town.  All ages were welcome, meaning local teenagers were running the show.  It never ceases to put a smile on my face getting to partake in "the biggest night of the year" alongside teenagers that most likely ended up puking up free cake and stolen beer on their front steps later in the night.  Some things are simply universal.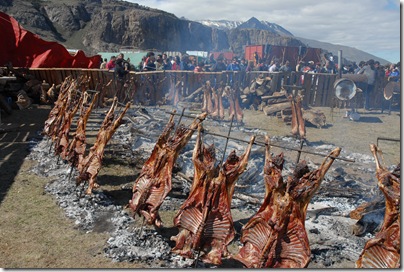 We, on the other hand, went to bed with the cake still in our stomachs at a campground and woke to a wonderful view of Fitz Roy.   It was a gorgeous spring day that brought tourists and locals alike all with one thing in mind: the Asado.   We have mentioned our affinity for Argentine asado, and surely an asado of this caliber is unlikely to be seen outside the Argentine political borders.  The asado area, marked by makeshift fence, contained roughly 20 chorizo grills and no less than 30 lambs on the aforementioned crucifix with one large steer hoisted up in the same manner.  The sight and smells alone were more than enough for a 500 hundred person mob to gather within minutes…actually, to be fair, several hundred were crowding the fences to the pit about an hour before the first dish was handed out.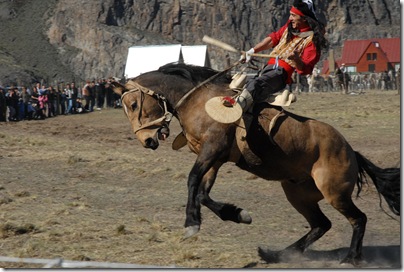 Clearly more than a few people knew what they were doing since they were smart enough to bring their own dishes, carving knives and even cutting boards.  Had we known the dire straights of the serving procedure, suckers like Bouey and myself would not have been among the last to eat the remaining pieces of unspecified cuts of meat with our bare hands.   We admitted defeat and turned to the gaucho rodeo to lift our spirits.   And let me tell you, just one look at a true Patagonian gaucho decked out in his fancy gaucho best will have you forgetting getting ripped off at the asado for at least several minutes.  Guachos of all ages were displaying their ranching abilities- namely breaking wild broncos and mustangs- in the face of a well sated and roaring crowd for the rest of the afternoon.
Monday we headed out as early as a group of 6 can manage for a day in Los Glaciers national park.  There are countless trails and climbs that could take months to fully explore, but the most popular ends with a 500 meter climb straight to one of Fitz Roys base camps.  The climb is tough and takes around an hour but the perspective from the top is extremely rewarding and also works to take your mind off of what it took to get there.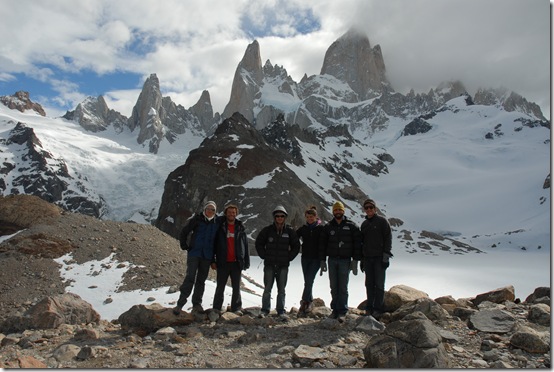 INSERT_MAP