For all of us, visiting the far reaches of the Patagonian region of Argentina has been a dream come true.  It's generally in the destination top ten list of any traveler and is now one of those places that will one day require a return trip.  Driving on the famed Austral is an extra bonus that few will ever know.  Keep in mind though that it is a long way down and some stretches can be pretty difficult.  Most roads roads aren't paved and the barren land outside the window is exhausting.  Depending on the route, stretches between the towns (and more importantly petrol stations) can be up to 6 hours in between.  As such we made the choice to simply barrel through one of the nights while completing the last 2 hours of a 18 hour drive from Chile back into Argentina with a late showing of early 90s cult classic, Airheads…just to ease the pain.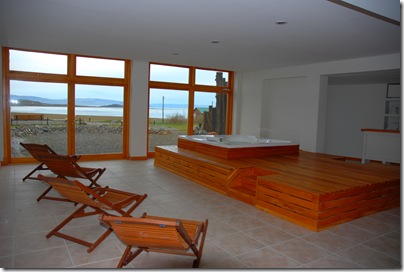 After finally stopping for the night at 3am and camping in a dried-up lake bed, which can more appropriately be described as the planet Mars, we woke and drove the last 300km to El Calafate.  Nowadays with an increasing influx of tourists, the town of El Calafate is more similar to ski resort town Park City, Utah than any other southern Argentine town.  We were immediately welcomed at Hosteria Los Hielos for two nights.  After having just come off of a 6 day camping/driving stint, this was just the place to get some work done, and more importantly, to take showers and do laundry.  Once all of that was taken care of no shame was had when it came to fully utilizing the indoor spa complete with floor-to-ceiling  views of the landscape.
Really, though, this small town merely serves as the crossroads to experiencing the true Patagonian outdoors.  There are many approaches to any visit to Patagonia, but after our stay in EcoCamp about 50 kilometers from town, I believe we have figured how to incorporate the best of all possible combinations.  The boys behind EcoCamp, Billy and Eduardo, have managed to secure some of the best property in Argentina to house their cozy camp.  Not only does their camp sit on the edge of a private estancia, it has a direct view of Perito Moreno glacier-one of the world's most prized natural wonders.  Generally trips to EcoCamp are well tailored but since they agreed to accommodate us about two weeks before their first official clients, they gave us full run of their 5 square kilometers of prime real estate.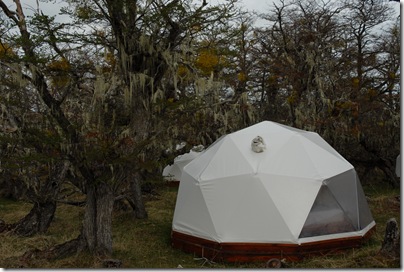 There is absolutely no way anyone would ever be able to happen upon this camp without them to guide you through 10 not-so-well-marked kilometers or the 8 separate gates.  By the 5th gate or so, you realize that you are truly in for something special.  By the last gate, you're able to get your first glimpse of the glacier and by the time you park about 30 minutes later, you can see their geodesic sleeping domes tucked down below among fairy tale like trees not uncommon to the filming locales of Lord of the Rings.  By day we each took our time wandering alone and secluding ourselves in the Patagonian wilderness, and by night, we gathered around the fire while Eduardo prepared meals of local traditional favorites.
Even though we've all seen Perito Merino on every book, postcard and various nature photographers' catalogues stamped 'PATAGONIA', there are few words to fully describe the majesty of all its mass.  Actually, I take that back because I have been considering throwing out a rarely used word from my vocabulary: breathtaking…there, I said it.  It is one of the few advancing glaciers in the world and due to its constant movement, several minutes won't go by with out hearing it come to life with either thunderous roars or eerie creaking.  While we were able to get a good view from the distance of EcoCamp, it is essential that you forfeit the 40 peso entrance fee to the national park in order to scope the 5 kilometer wide, 60 meter high ice beast from every angle possible.   A 2-hour visit should be ample time to allow you to witness, at least once, several tons of its face colliding with the lake water below.  It has been dubbed an natural icon for a reason, and to be quite honest, it's pretty easy to walk away with a slight feeling of insignificance….while also a little thwarted…I mean, it just gets to sit there and display itself in all of its glory while some of us have to return home to look for "gainful" "employment" come springtime.  I digress; it's worth it, no matter how you plan to get there.
THE VIEW FROM ECOCAMP
UP CLOSE AND PERSONAL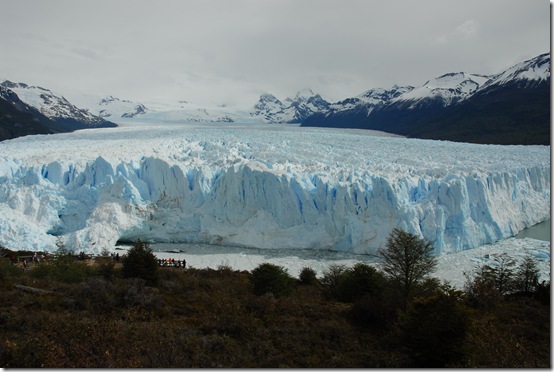 INSERT_MAP