If you've got a story to tell, and you want the southern states of Argentina to be the first to know, then Esquel, Argentina should be your first stop!  Speaking from experience, you're going to want to head down to city hall (or wherever any major press conference is taking place) introduce yourself to at least one person with either a microphone, pen and paper, fancy hair do, etc.  That is pretty much all it takes to get the attention of every other journalist in the vicinity.  Don't worry, they can resume their conference later.  *However, it might help to have arranged a meeting ahead of time with one of the bigger outlets like Diario El Chubut, go to their headquarters for the interview, find out where the reporter is and then track him down while he is busy with another press conference.  But, trust us, it works!  Within an hour our story was in the hands of not only Diario El Chubut, regionally broadcast channel 4 and two radio news programs (one of which included a live interview via the journalists' cell phone).  Also, if you're not from Argentina and are having trouble with the language barrier lacking the wherewithal to juggle the line up of interviews, try finding yourself your own personal Fernando Bischof.  Any sassy Argentinean that loves to talk and looks strikingly like Ewan Macgregor will work, but we have grown particular to ours regardless of his new found addiction to microphones and spotlights.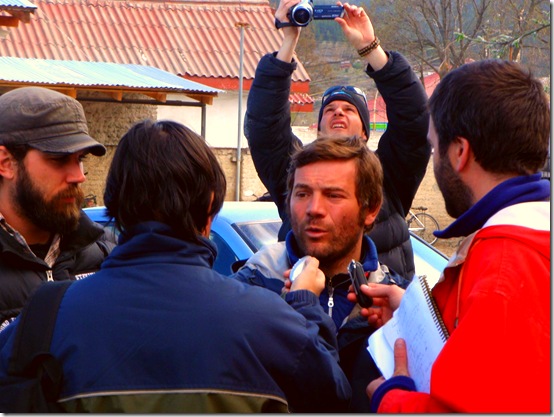 If possible, try to arrange your press junket around mid-morning break as you, too, will most likely be showered with tea and cookies by the lovely ladies in whichever local municipal building you choose.  And, if you're lucky they'll pack up their own snacks for you to take with you on the road…free of charge of course, well some pleasant conversation should do the trick.  By the time all is said and done you can experience your very own TWBR level of celebrity–what can we say, we like cookies!
Again, trust us, it works because Argentines follow their local media.  It has been over a week since our Chubut debut, but we have gotten feedback and comments from locals as far south as El Calafate, Argentina…one gentleman who was filling gas for us even mentioned that he first remembers hearing about TWBR from our coverage in La Nacion over a month ago, but had also seen us on Chubut TV. He took the liberty to again apologize for what customs did to us…so be prepared for instant celebrity once your own story hits the shelves and airwaves. With that, 'good night, and good luck'!
INSERT_MAP