This is probably a question that a lot of foreigners ask themselves when they think about traveling to South Africa. There is no shortage of media covering the recent xenophobia attacks, the high murder rates and the countless muggings that take places across South Africa every day. But is this any different that any other developed nation? Is it any different than any large metropolitan area in the United States?
I like to think that I have learned a lot during the 17 months I have been on the road. I have seen a lot, I have experienced a lot, I have read a lot, I have had many discussions with local people, and ultimately, I have come to the conclusion that the negative hype about a place by and large is just that, hype. In the case of South Africa, I had heard a lot about the crime problems here before I arrived and I tried my best not to let it develop into a negative stereotype about the country and for the most part, it has not. I kept on telling myself that the crime in South Africa can not possibly be as bad here as people make it out to be. Sure, there are plenty of places in Johannesburg and Cape Town that I would not want to walk in by myself or venture to after dark, but the same can be said for New York, Los Angeles or any other big city in the world for that matter.
In talking about crime and the concern people have for it in South Africa, I think I am experiencing the issue from a unique perspective: that of a traveler and a foreigner. Compared to a lot of other places I have been, I think people here in South Africa tend to talk about crime a lot more than people in other countries or cities with even higher crime rates. I have never been warned so many times about where I choose to go, who I chose to go with and what I chose to bring when I go out. At times, it almost seems like the people I go out with at night are expecting to get mugged. Maybe it is partly because the eyes of the world are looking on South Africa as they prepare for the 2010 World Cup. The last thing locals want is to see something happen to a foreign tourist, an incident that could bring into question beyond their actual structural preparedness, the ability of South Africa to host a successful international event.
Personally, I have felt pretty safe the entire time I have been here in South Africa regardless of how many private residences I pass with electric fences, or how long I have had to park the trucks in secured, underground parking because they are "prime targets" for criminals on the prowl. Maybe I have been pretty lucky and maybe it is just a matter of time before the law of averages catches up to me, but I like to think the people here are just being overly cautious when it comes to crime. But what is the line between overly cautious and paranoid? Believe it or not, they sell anti carjacking devices for your vehicles here in South Africa that actually shoot flames out at would be assailants and there are plenty of advertisements in the daily papers for how to electrify the perimeter of your property. That all sounds pretty bad ass, but it also sounds a little over the top.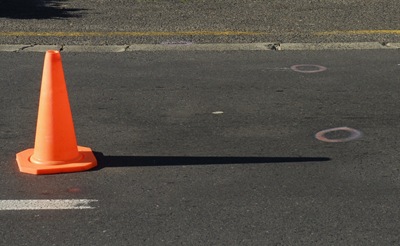 Markings at the crime scene of a fatal shooting near my hostel
I guess some people might say that I am being a little careless with regard to the crime problems in South Africa. The bottom line is that there is crime here and it can happen right in front of you. A few days ago, South African Police Services officer Lukas Nell was gunned down literally 50 meters from the hostel where I am staying in Cape Town. It was close enough for us to hear the exchange of gunfire. Officer Nell was searching a suspicious individual who later pulled out a gun and fatally wounded him before fleeing on foot. It was a bit of a shock to everyone in the area because Tamboerskloof is known to be a pretty safe part of Cape Town. It was a bit of a shock to me as well because I have walked past that spot at night several times coming back from dinner, the internet cafe, or the bars just up the road. It is always a tragedy when someone who is serving the public and fighting crime dies in the line of duty and obviously it has been a main subject of conversation around here ever since it happened. Hopefully, officer Nell's assailant will be apprehended and justice will be served. I also hope that this incident will not serve as a deterrent to people in a popular tourist area in a world class tourist destination, because regardless of what happened the other night, I still feel safe here.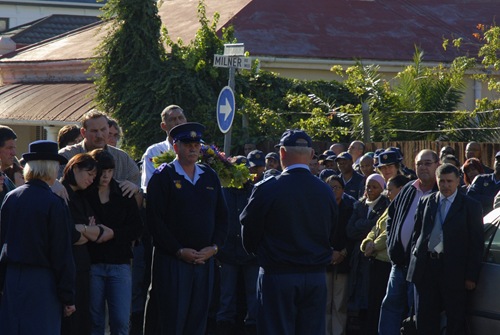 Police, family and community gather at the scene of SA Police officer Lukas Nell's death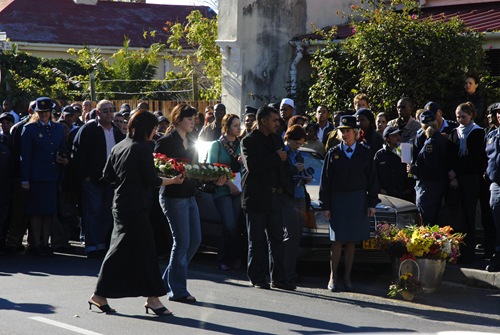 It is hard to make light of the crime in South Africa when this is going on in front of you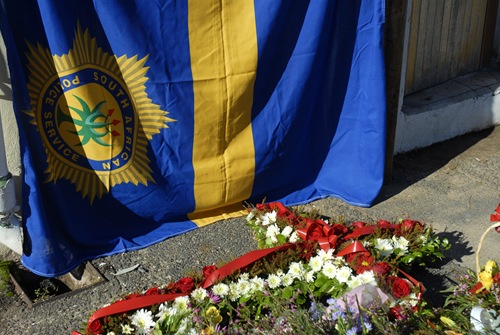 However, Tuesday's tragedy should not deter tourists from one of the best places in the world