They say once you have been to the outback, you take a part of it with you. O.K. I don't think anyone said that, but it sounds cool and is definitely relevant. The fact of the matter is, whether you want to or not, the outback does stay with you and it stays with you in the form of the red dust that attaches itself to anything and everything that you own if you venture off the sealed roads.
It would not be a true outback experience without doing a 4×4 track and putting the Tundra and the Sequoia through some outback "road trials." As such, our path took us down the Plenty Highway which consists of 600 kilometers of dirt roads stretching from Boulia in Queensland to Gumtree in the Northern Territory. A staple of the Plenty highway is the fine red bulldust on the track and there is certainly plenty of it. Unaware that the tailgate of the Tundra came with a particularly large gap between the gate and the bed of the truck, we made our way down the track, kicking up a dust trail that could be seen for miles and forcing the trailing vehicle to stay nearly a kilometer behind in order to see the trail ahead.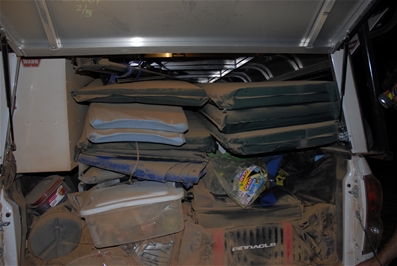 Upon arrival at our first stop on the track, we prepared to set up camp and opened the back of the Tundra only to find that nearly everything in the topper was covered in a thick layer of red dust. Dust had been blowing through the gap in the bottom of the tailgate for several hours and at a force that had even piled it up half an inch in some spots. When I say nearly everything had been covered, this is no exaggeration. Even items inside zippered luggage and sealed bins had not been spared. With jaws dropped we started to slow process of assessing the damage from this blow "pun partially intended" that was certainly below the belt. The one thing that numbed the blow to a certain extent was that it was a result of something that was not directly our fault. However, given the issues we had with customs and quarantine, there is no doubt that we have at least a day of work ahead of us once we get to Darwin to prevent further headaches when we ship the Toyotas to Singapore. Everything that was in back of the Tundra needs to be hosed out, wiped down and sterilized of the dust that has even managed to permeate the passenger cab of the vehicles… cabs that were pressurized to an extent by the use of fans and A/C. If anyone has any doubts, I am confident there will still be some hanging around when we return back to the states in a a year or two.