"Welcome!" exclaimed owner, Davis, with a smile from ear to ear.  He has many reasons to smile these days, for what started as a dream has now turned into reality.  He and his wife, Meghan, are the proud owners of the Climante Rainforest Eco-Retreat in the Chilamate, Sarapiqui region of beautiful Costa Rica.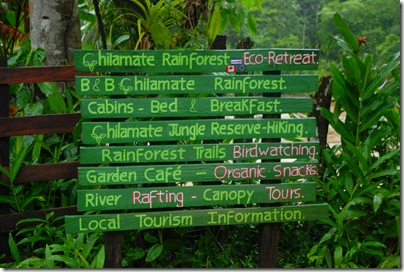 Their amazing 50 acre property of Sarapiqui Tropical Rainforest is both a reserve and wildlife refuge, and also a great place to learn and teach.  The natural landscape enable students, both local and international, to explore and study biodiversity, conservation techniques, and reforestation.
Their family bought the reserve in 2000 from Don Lindley Lumsden who protected the land for more than 60 years by standing up to poachers and people wanting to cut down the trees, pasture the land and use through development.  The property came with beautiful gardens, basic housing accommodations, and a basic kitchen, but Davis' mastery of carpentry turned basic into unbelievable.  The main lodge, kitchen, walkways and cabins that he created by hand are beyond esthetically pleasing.  One can see the hard work and dedication in the various handcrafted items he has built.  Everything is made on the property or bought locally, only adding to the impressiveness of its sustainability.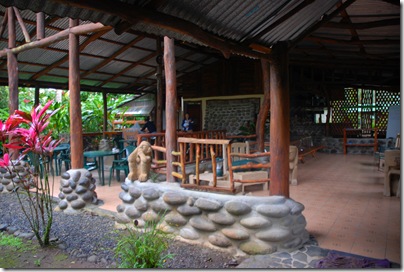 Their projects, passion, service, dedication, effort on conservation and sustainability are very admirable.  They use solar power, organic food grown from their property or food bought from the locals. Their family involvement in the project and their connections in the community bring everything together.  The Sarapiqui area functions as one, with different organizations and companies promoting each other and directing tourists to each other.  With activities ranging from rafting to cooking classes, massage to yoga classes a stay here proves to be more than just a few quiet nights in the jungle.
Our experience here allowed us to witness the magnitude of nature. The area's focal point is the Sarapiqui River, and due the big earthquake a month prior to our arrival upstream, the river was raging,  knocking down entire trees and destroying banks.  To all of us this seemed like an impending disaster but Davis saw things differently saying, "It's nothing, man, it's just nature.  It may have taken away some of my property, but the river is wider, which is good."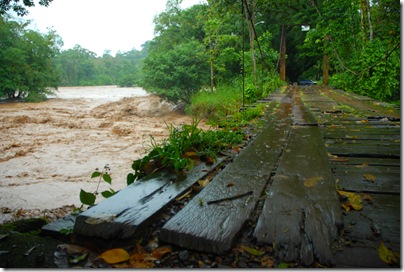 With great accommodations, hospitality, scenery and service our stay in the jungle truly encompassed  the famous Costa Rican slogan, as Davis would recited, "Pura Vida!", which translates to "Pure Life."